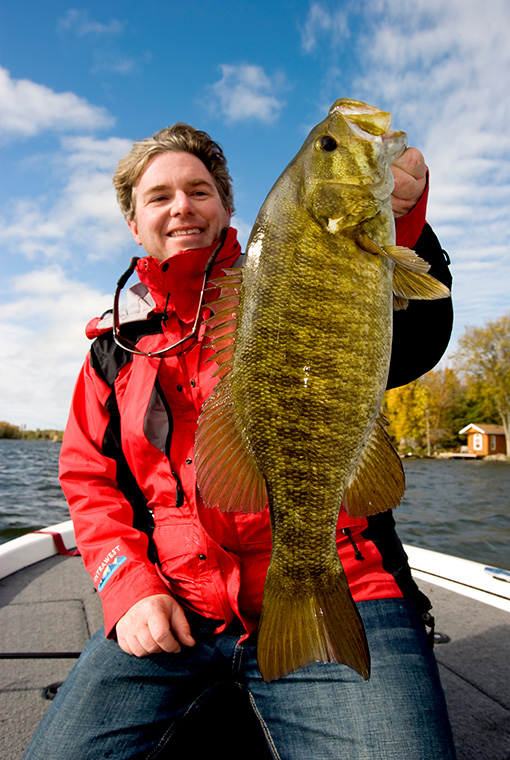 Crashing waves churned the little bay as we tried to reach our tournament limit. We tossed spinnerbaits with the wind at our backs. A bronze shape appeared only a few metres from my rod tip. I swept my rod along the gunnel. That's all the bass needed and the spinnerbait disappeared. In one arcing swing, I set the hook and launched the two-pounder into the air. With it safely in the boat, we laughed at my desperation.
A few two-pounders in 40 minutes erased a day of frustration and resulted in a third-place, showing wind doesn't need to ruin your day. Here are three techniques to be productive.
Aggressive jerkbaiting
Wind activates the entire ecosystem. Oxygen levels increase, sun penetration is limited, and water clarity decreases, all making bass better predators.
"Smallmouth are on the move when it's windy," said tournament pro Steve Neveu. "The whole system seems to be more active when wind hits a shoreline or waves roll over a point."
Neveu searches out wind-whipped locations so he can deploy his beloved jerkbait.
"I work it more aggressively than most. I try to drive the bait right into big boulders and the rocky bottom. I've smashed a lot of lips off jerkbaits," he said with a laugh.
Neveu is a fan of the Canadian step-up for jerkbait fishing, featuring a long, medium-action spinning rod and 2500 series reel spooled with 10-pound braid tipped with a fluorocarbon leader.
"I've switched to Daiwa's Kage rod and a Ballistic reel. The rod's fast taper offers greater control and forgiveness when big smallmouth go squirrelly at boatside," he said. "The reel has a quick retrieve and ultra-smooth drag, which is set light."
Neveu feels confident pairing down his jerkbait colours to just two: French pearl and perch.
Anglers can be aggressive any time the wind energizes the food chain. Jerkbaits are great, but spinnerbaits, crankbaits, and chatterbaits are equally wise choices.
Dragging bottom
In the early 1990s, the Lake Erie smallmouth fishery blossomed into a world-class option. Niagara Falls resident Gaspare Costabile has decades of experience and almost 100 tournament wins. He mapped the region and discovered core areas that held boulders and minor indentations in the mostly featureless bottom. He discovered that clumps, either weed, rock, or sand, are where bait will hold and in turn the smallmouth.
Dragging baits along the bottom with the wind soon became an art form. For the anglers who honed their skills, the trophies quickly racked up. Dragging or drifting can be as simple or complex as you make it. It's identical to trolling, but the boat is powered by nature. Making short, precise drifts across the best areas is how to really do it well. Using waypoints and your tracks on the graph help replicate the perfect drift.
A few short pulses with the trolling motor and angling your big motor will help you fine tune drifts. Keep the pace between 1.2 and 1.4 mph. Use a drift sock if necessary.
Tubes are king for this technique. Costabile focuses more on design than colour. He's a fan of short, thin-walled tubes. Green, brown, and purple are good colours where gobies are present.
"When I first started dragging a tube, I didn't move it much. At that time, crayfish were the primary prey, so I wanted the bait on bottom. Now, with gobies being so common, I'll jerk the tube off the bottom a bit," he said.
Drifting with Carolina
The Carolina rig is easy to set up and easy to fish. It doesn't require any special tricks. Cast it, sweep the rod to the side and retrieve the slack. If the wind is pushing you along at a decent clip, just hold on as you drift over productive waters. Equally good on largemouth and smallies, this set-up might be the only way to catch them when the waves get fierce.
Neveu's baits of choice for Carolina rigs are smaller Swammer or Diezel Minnowz as well as craws, and creature baits. There are times when soft jerkbaits, finesse worms, and lizards work, too.
Wind can be a curse, but it can also rescue a slow day. Turn that curse into a blessing by using wind to your advantage.
Originally published in the July 2021 issue of Ontario OUT of DOORS
For more fishing stories, click here