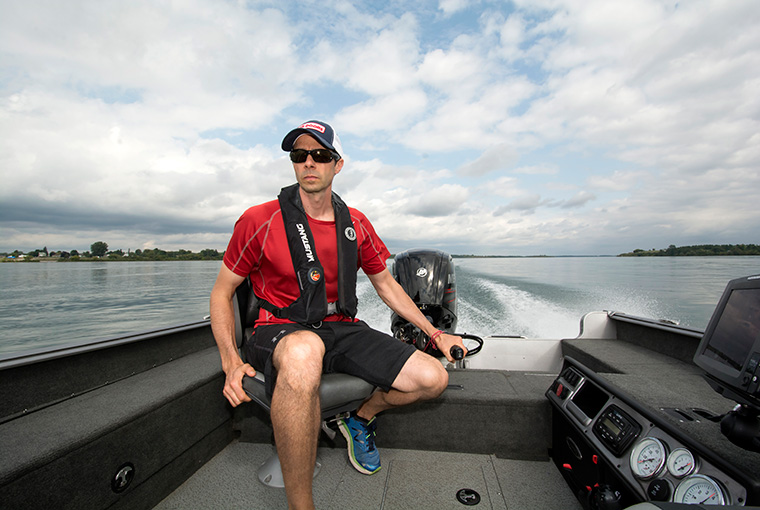 Boat clutter is distracting and takes away from your fishing time. Is my rig showroom pristine? No. But, it's tidy and all my equipment is easily accessible when needed. Keeping an orderly boat is an ongoing battle, but here are ways I keep myself on the winning side.
Keep it balanced
Brett Ramsey, Service Manager at Pirate Cove Marina in Kemptville, offers these general recommendations for an evenly balanced boat.
"Typically for weight distribution, you want to keep the heavier stuff towards the middle and the back," Ramsey said. "Too much weight at the bow or stern impacts ride, speed, fuel efficiency, and what the boat allows you to do."
Too much weight at the back can cause a boat to porpoise. A common sight with stern-heavy 14- and 16-foot tinny tiller boats.
Be mindful of port and starboard balance when storing gear.
Store to suit your fishing
I'm constantly tweaking fishing tackle and boating gear storage for better efficiency on the water.
Labelled tackle trays are under the casting deck for fishing from the bow. When it's a trolling day, I load baits and gear in the tiller console's shelving system for quick access.
Another example comes from this season. I'm trying a Fishing Specialties sonar pole for a portable Garmin Panoptix unit. The pole's Cisco mount connects to my Lund's SportTrak system, the grooves running the full length of the boat on each side. The mount easily removes when forward-facing isn't needed. The SportTrak system also suits my needs for rod holders when flatline trolling.
Many walleye anglers install aluminum mounting tracks for customizing and securing downriggers and rod holders (or rod trees). When not required, the accessories slide out of the locking grooves.
Have a tool rack
Many boats have tool organizers built into their design. Aftermarket products are also available. Cuda's Tackle Centre is a neat concept. It secures into a cup holder, storing multiple tools and knives up to seven inches. Access to a ruler is smart where there's a walleye size slot limit. Many of the latest boats have built-in ruler storage. Sadly, mine does not.
Divide and conquer
Using small storage containers to separate space in larger boat compartments is another organization hack.
Plastic food containers and Plano's Guide Series Waterproof Cases transformed my console's storage from a junk drawer into a functional hub for spare supplies, sunscreen, bug spray, documentation, and more. Underneath the containers is a section of non-slip drawer liner to minimize gear movement.
Flexible, plastic baskets are handy for bow lines, anchor rope, and drift socks. Small buckets and plastic boxes are great for organizing and storing spare oil, fuel stabilizer, fish scent, and other liquids. Using a container will also contain accidental spills.
Strategic rod storage
Grabbing a different rod to switch presentations and adjust to changing conditions can catch you more walleye. The challenge is avoiding a messy stack of sticks when cycling through multiple baits.
As my previous boat didn't have a rod box, I came up with another system when casting for walleye. I secured a foam pad across the transom's lip, and laid extra rods, tips facing out, across the cushiony pad. Rods were secured with wraps to stop them going overboard when boating.
Each season I learn new tricks to stay tidy. The way I see it, less time spent wrestling with clutter means more opportunities for fishing. Hopefully, the above gives you some ideas for organizing your walleye rig for better days on the water.
---
Extra tips
Keep safety gear handy, for acting quickly in critical emergencies. A throw-rope, whistle, and other safety gear should always be accessible.
A net should be easy to reach when you need it, but out of the way when it's not. The ideal spot I've found is hanging over my Talon shallow-water anchor. Functional? Yes. Eye-pleasing? The jury's out.
Reserve on-deck space for prime baits, a couple rods, and other necessities, like a travel mug of coffee.
Originally published in the July 2021 issue of Ontario OUT of DOORS magazine.
For more fishing stories, click here