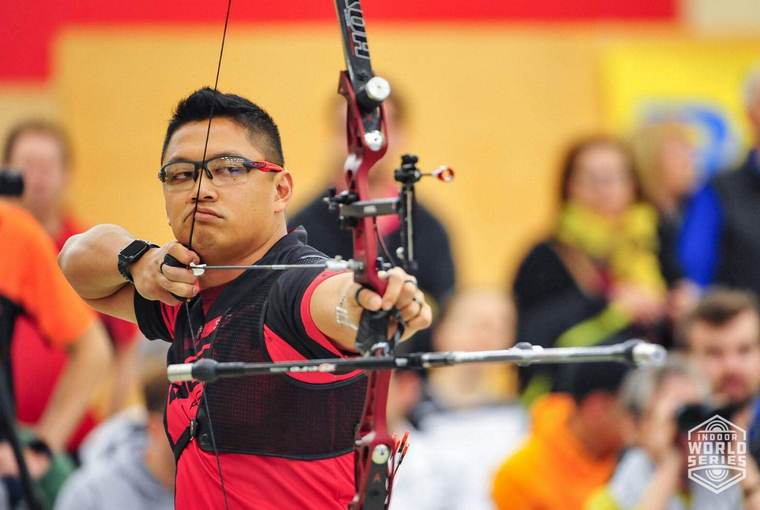 Crispin Duenas picked up a bow in 2000 and has been aiming forward — carefully — ever since. He is among Canada's recurve archer elite, having competed in the Olympic Games at Beijing 2008, London 2012, Rio 2016, as well as in three Pan American games.
Duenas earned his physics degree followed by his Bachelor of Education at the University of Toronto, while minoring in music. When not winning medals or setting records in archery or jamming with astronauts, he teaches high school math and physics as a substitute teacher.
We caught up with him during the lockdown (respecting physical distancing, of course), and he
gave us some straight-shooting pointers on archery and managing stress during competitions.
Editor's note: The Canadian Olympic Committee officially announced late last month that Duenas will compete at the Olympics in Tokyo, which begin today (Friday, July 23). Click here for Olympic updates and here for Duenas' Team Canada profile.
Gettin' going
OOD: How did you get started in archery and competition shooting?
CD: By asking my Grade 8 math teacher. Luckily, he was a member at an archery club called The Archers of Caledon, and he gave me a pamphlet with lots of information on how to get started. Once I started lessons and realized that I really enjoyed shooting, I started looking into how to register for some of the weekend competitions that the club was hosting.
OOD: Where has archery taken you?
CD: It has taken me to almost all continents in the world. I have shot in almost all the provinces in Canada and trained in some very notable places, such as Japan, the Netherlands, Turkey, England, and Colombia, just to name a few.
OOD: What's your most memorable experience?
CD: When I walked into the opening ceremonies at the Beijing 2008 Olympics with team Canada. That was my first Olympics and my dream since starting archery eight years prior to that. I had a lot of pride wearing the Maple Leaf on my back.
OOD: What lessons learned can you share with our readers about how to become a better archer?
CD: One of the biggest lessons I've learned is that consistency is the key to archery. It doesn't matter what your form looks like, all that matters are that it doesn't hurt you to execute it, and you can do it exactly the same every time.
OOD: You're an avid musician, and have mentioned that you listen to "pump up" music before a competition. Can you share a bit of your playlist?
CD: Three songs that come to mind are "Hall of Fame" by The Script, "Zombie" by Bad Wolves (cover of the Cranberries), and "From Yesterday" by 30 Seconds to Mars.
OOD: Do you cater to any competitive superstitions? (Lucky socks, pre-game mantras, etc.?)
CD: I actually don't have any superstitions.
OOD: Is training difficult during the pandemic?
CD: Training has been slightly modified, but only in terms of our physical workouts. Currently, we are still allowed to shoot on some ranges (they now allow a reduced number of people), so that's a plus. Since all gyms are closed, we are completing our physical training with our strength and conditioning coach online using Zoom.
Home turf
OOD: What do you like most about Toronto, and would you ever consider moving?
CD: I love the multiculturalism and diversity in Toronto. However, I'm also someone who loves the outdoors and wouldn't mind moving to a smaller town away from the city.
OOD: What's your favourite grade to teach?
CD: I actually love teaching grades 11 and 12 physics. The students are highly motivated and curious about the subject, and this gets me motivated to teach them as much as they can absorb.
OOD: How have you been handling Toronto's secondary lockdown? How about your students?
CD: Not much has changed for me in the secondary lockdown, but my students aren't liking it at all. They prefer to be with each other in the classroom, learning in person to be able to get the help they need. Sitting in front of a computer screen for hours a day isn't for everyone. Personally, I enjoyed the first lockdown as it brought everything to a halt and life was somewhat simpler.
Outdoor interests
OOD: Does hunting appeal to you?
CD: I've heard that turkeys have amazing sight and can spook very easily (not that deer don't). I think it could be a really good challenge for me to be able to be that close to a turkey and not have them see me move.
OOD: How do you feel about traditional and/or compound bows?
CD: In my opinion, a bow is a bow. If you like shooting it, regardless if it is a recurve, compound, or traditional bow, then do the best you can with it and enjoy yourself. I think that the challenge of shooting a bow and striving for consistency is what keeps me drawn to it.
OOD: Firearms are once again a hot topic. Do you get any backlash from people, and how do you handle negativity?
CD: Handling negativity can be pretty simple: don't hang out with those who are negative, and
don't spend your time reading social media posts that make you angry. I have spoken to people who are completely against firearms, and I accept that they have their opinions about them. As someone who enjoys shooting firearms, I don't try to sway them to accept firearms; they can think the way they want, and I can do the same. There is no reason that everyone I talk to has to have the same opinions as me.
OOD: Does sport shooting get the recognition it deserves? How would you like to see it better represented?
CD: Sport shooting is a smaller niche group than lots of other sports. I think that if it had more exposure, the general public might become a little more accepting. However, the only time that the media talks about guns is when there is a shooting in the city, so there are a lot of negative associations made with guns, and especially handguns.
OOD: Do you compete in anything else, even recreationally? If so, how is training different?
CD: Currently I'm not competing in anything else. I do enjoy keeping fit through running, cycling, and working out in the gym, though. My wife and I also play squash and tennis in order to have some fun that's different than archery.
OOD: Any advice for new archers?
CD: Archery is not a sport for everyone, but you won't know if it's for you until you try it. Get proper coaching so that you've got the best information possible, and always try to have fun.
Olympic hopes
OOD: How does it feel to have represented Canada at three Olympics? Do you consider yourself an ambassador of the sport, and the country?
CD: Yes, I consider myself to be an ambassador for Canada…but I think any athlete who competes for their country is an ambassador. Through our words and actions, we represent what it is to be from our country.
OOD: How do you feel about the postponement of the 2020 Tokyo Olympics?
CD: It was the right choice. Keeping people safe should be a priority and if major sporting events need to be postponed in order to mitigate COVID-19, then that's what needs to be done. Nobody knows everything about this virus, so let's play it safe and follow what science tells us.
OOD: What are you hoping for in 2021?
CD: I'm hoping to win a medal at the Olympics, if they happen. Other than that, I would like to get more settled with my career in teaching and hopefully find a permanent position at a school teaching the subjects that I love: physics and math.
Originally published in the July 2021 issue of Ontario OUT of DOORS magazine.
Click here for more outdoors news