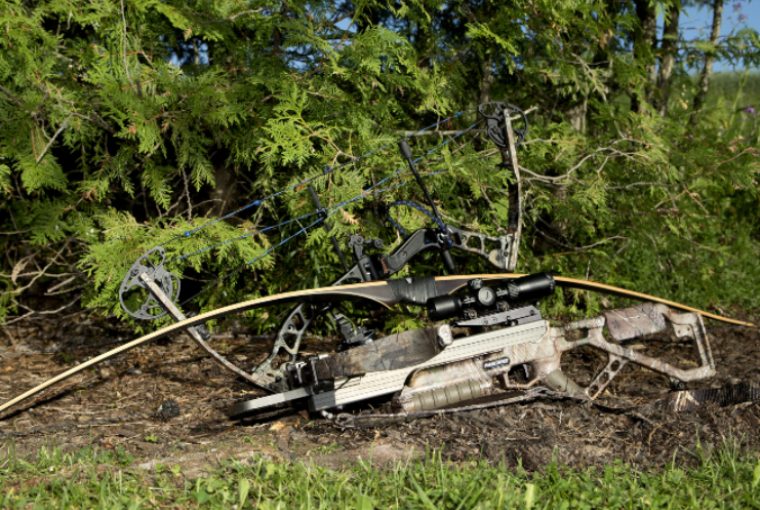 Crossbow
A gun hunter can take advantage of the longer archery season with a bow that feels like a rifle without the long learning curve of a vertical bow.
I work at a bow store and most crossbow consumers are new to bowhunting but familiar with a rifle and aren't very interested in recreational shooting. They want a crossbow for bowhunting and will seldom shoot more than a couple of dozen arrows each year. They want to sight it in and then hunt. The nuances of bowhunting are complex enough to absorb without having to also spend so much time and effort learning entirely new equipment. I don't believe there is an easier way for people to get started in bowhunting. I can take someone who has never shot a crossbow before, and, with minimal instruction, they can become proficient with it in under an hour. In that way, a crossbow is on par with shooting a .22 calibre rifle.
Modern crossbows are compact, maneuverable, and are packaged with a scope. New bows can generate arrow speeds exceeding 400 feet per second, significantly flattening the trajectory of an arrow for longer, more accurate distance shooting. With the advent of various cocking aids and cranks, it's now easy for any hunter no mater the strength or stature to use one. Crossbows are the perfect all-round option for anyone considering bowhunting.
Compound
The modern compound bow far exceeds its early predecessors by utilizing advanced cam technology and materials. They have smooth draw cycles with up to a 90% reduction in draw weight (let-off) at full draw, making them comfortable to pull and steady to aim. With axle-to-axle lengths in the 30-inch range, these compact bows will handle well in a tree stand or ground blind, and can send arrows downrange at speeds over 300 feet per second.
They can be accessorized with fully adjustable fibre optic sights, drop away arrow rests, and stabilizers and shot with one of four different styles of release aids. All of these mechanical advantages are there for one purpose in mind, to aid the shooter. Born from traditional bows, compound bows require the same basic shooting fundamentals and have a steeper learning curve than a crossbow. With proper instruction and practise, compound bows are extremely accurate and can be learned quickly compared to traditional bows.
Traditional
Before the development of the modern compound and crossbow, traditional archery was, well, archery. Traditional bows continue to take the same big and small game as the other bow styles do and do it successfully.
Not much has changed over the last 50 years with how longbows and recurves are manufactured. Many are made with the same materials and using the same processes that have been used for decades, but with many bows now sporting new alloy risers and carbon fibre layered limbs. Unless you are already utilizing correct shooting form, these advancements won't help you shoot your bow better. Traditional bows don't offer any mechanical advantages for the shooter, which compound bows do. It is archery in its rawest state and will take much longer to learn. Most archers who shoot traditionally shoot for the love of shooting and to watch the arrow flight. When I say shoot more, I mean usually shooting several times a week and all year long — thousands of arrows a year. Honestly, that is the amount of dedication and time it takes to hunt with a traditional bow.
I'm one of those people who enjoys going out into the backyard and shooting. To me, there's a beautiful simplicity and satisfaction in shooting and hunting with traditional equipment. I also enjoy seeing the new technology and bows come out every year and helping people get their start in archery, whether it be with a crossbow, compound, or with traditional equipment. They're all still just a stick and a string. What's important is taking part.
Originally published in the August 2020 issue of Ontario OUT of DOORS magazine.
For more on bowhunting, click here