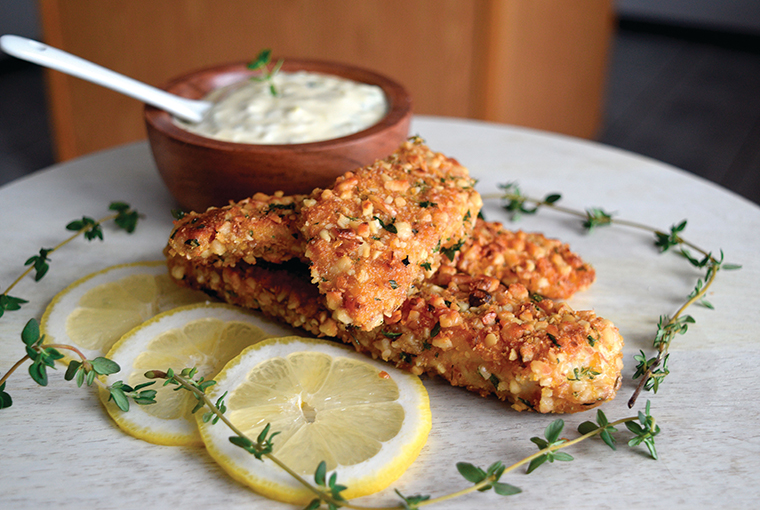 This crunchy, flavourful coating will work well with any flaky white-fleshed fish. Serve with a squeeze of fresh lemon or lime and some homemade tartar sauce. Pairs well with a sauvignon blanc wine.
Ingredients:
Serves 2
2 walleye fillets, boneless, skinless
1 cup flour
2 eggs, beaten
1⁄2 cup walnuts, crushed
1⁄2 cup breadcrumbs
1 tsp fresh thyme, picked from stems and chopped
2 tbsp canola oil
4 lemon or lime wedges for garnish, optional
Directions:
1. Coat fillets in flour, tap to remove excess.

2. Fully submerge in beaten egg.

3. Mix walnuts, breadcrumbs, and thyme together in a dish.

4. Remove fillets from egg and allow to drip.

5. Press down fillets onto walnut mixture firmly to coat well, but not hard enough to squish the fish.

6. Repeat on the other side.

7. Heat oil on medium high. Sear fish on both sides until the breading is nice and crispy, approximately 2-3 minutes each side. Depending on the thickness of the walleye, it may need to be finished in the oven at 350°F for 7-10 minutes.

8. Serve with a squeeze of lemon or lime and homemade tartar sauce.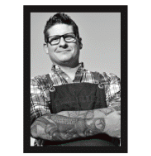 Andrew Rochon is OOD's food editor. You can follow more of his culinary adventures on Instagram: @wilderness_chef
Originally published in the 2021 Fishing Annual edition of Ontario OUT of DOORS magazine.