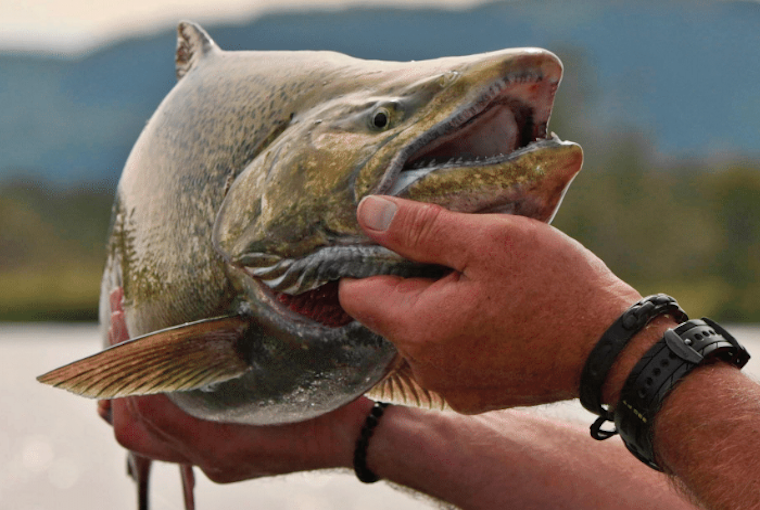 A little more than 50 years ago, Pacific salmon were introduced to the Great Lakes. Chinook salmon, sometimes called king salmon, rapidly adapted to their new home and created a big-water fishing boom and a modern day sport fishing legacy. This world-class fishery continues to evolve amid environmental changes.
Lake Superior
Compared to the other Great Lakes, Superior has minimal angling pressure for chinook salmon. The rugged shoreline, lack of major populated centres and launch ramps are likely factors contributing to the lake's healthy and stable population of chinook. Stocking on the western half of Lake Superior out of Michigan, Wisconsin, and Minnesota provided a genetic base of chinook salmon, which, over time, led to a naturally reproducing population. Currently, no U.S. boundary states stock the lake. Doug Lund, president of the Thunder Bay Salmon Association (TBSA), is pleased with his club's recent stocking efforts.
"In the spring of 2018, we were able to stock 99,000 fingerlings from our hatchery, compared with 65,000 in 2017. The eggs were obtained from the Nipigon River," he said.
The stocked salmon are clipped to assist in determining how much natural reproduction is occurring.
Local angler Bob Hoogsteen and his brother Archie, who runs a guide service in Thunder Bay, monitor the chinook fishery constantly. "Usually on a four-hour charter, Archie can count on boating four or five chinooks in the 3- to 10-pound range," said Bob. "The chinook fishery has been relatively stable in recent years."
Lake Huron/Georgian Bay
Chinook are targeted in a number of areas of Lake Huron. At Sault Ste. Marie, the St. Marys River is popular, as is the area adjacent to Manitoulin Island. Farther south, the shoreline area from Southampton down to Sarnia is a favourite. In Georgian Bay, the Owen Sound area is quite productive.
A few years ago, there was concern about Huron's chinook population due to a decline in alewife, their primary food source. Although the population and average size of chinook has diminished, a viable fishery (mostly the result of natural reproduction) still attracts anglers. Michigan has cut back substantially on stocking, but Ontario continues to make an effort to enhance the population.
A number of Ontario Federation of Anglers and Hunters (OFAH)-affiliate clubs raise chinook in their local hatcheries. In 2017, these community associations released 182,857 chinook fingerlings into Lake Huron.
"Fish stocking and community engagement are important components of fisheries management in the Great Lakes," said Adam Weir, fisheries biologist with the OFAH. "OFAH member clubs and volunteers will continue to provide significant contributions to support viable chinook salmon fisheries."
The Owen Sound Salmon Spectacular (OSSS), the largest derby on Lake Huron, is an excellent indicator of angler interest and continued stability in the lake's chinook fishery. John Ford, co-chair of the OSSS, has been monitoring the chinook action for years."
In 2018 we had over 5,000 entrants, slightly up from previous years. Significantly more fish were entered than in 2017, and the average size was larger," he said.
Lake Ontario
Anglers are virtually unanimous in their endorsement of Lake Ontario as the premier destination for chinook salmon. One reason for this is the extended season Lake Ontario offers. Starting in April, chinook follow baitfish into the warmer water at the west end of the lake. The stretch close to shore from Grimsby to Port Dalhousie offers excellent action for 15-pound-plus chinook. Moving into early June, the entire north shore from Port Credit to Wellington attracts mature salmon.
Anecdotal reports from anglers and the results of the 2018 Great Ontario Salmon Derby indicate that the average weight of mature chinook retained by anglers was slightly lower (down three to four pounds) from previous years. However, the numbers of fish caught were rated as good or better than previous years, and they appeared to be in excellent condition. Ministry of Natural Resources and Forestry (MNRF) results from previous surveys indicate that anglers release approximately 50% of their chinook catches.
Numerous anglers reported that the Ganaraska River fall run (in 2018) was one of the largest in years. Chinook can enter rivers as early as mid-August, and approximately half of the river's chinook population is the result of successful natural reproduction.
An increase in the number of river fishermen in the fall has also become apparent on several major runs, including the Ganaraska and Credit rivers, and Wilmot Creek.
Sustaining alewife population
The single most important factor affecting the health of the lake's chinook is the stability of the alewife population. In 2016, the Lake Ontario fisheries management agencies (Ontario and New York) recognized that poor alewife reproduction was a serious concern, and mutually decided on a 20% stocking reduction. In 2017, 495,685 chinook fingerlings were stocked in Ontario waters, according to the MNRF Lake Ontario Management Unit Report (LOMU) 2017. And target levels remained the same for the 2018 stocking.
Half of the Ontario fingerlings were held in pens operated by community sportsmen's associations at sites in Bluffers Park, Bronte Harbour, Oshawa Harbour, Port Credit, Port Dalhousie, Port Darlington, Wellington, and Whitby Harbour. At the time of release, these fish are larger and have twice the survival rate, according to the LOMU2017 report.
The overall status of Great Lakes chinook salmon bodes well for the future. With steady natural-reproduction rates and active fisheries management programs, the next few years should provide quality angling opportunities.
Ailing alewife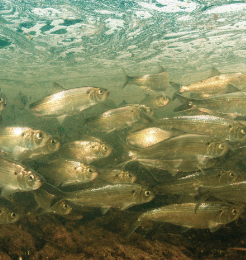 Intensive trawl studies conducted in 2018 by the U.S. Geological Survey and the MNRF indicate that growth and condition of alewife declined across all age levels. The Status of Alewife report recently released by the New York State Department of Environmental Conservation (NYSDEC) indicates a further planned 20% reduction in chinook stocking numbers for 2019, bringing NYSDEC's target stocking numbers to 1,056,960 fish.
The MNRF plans to reduce its numbers by about 20% in 2019 as well, with a projected stocking target of 393,000 fish, half of which will go to pen projects.
"A conservative approach to stocking has served Lake Ontario anglers well. We are optimistic about the future of this world-class fishery. The decision to reduce stocking is consistent with the Lake Ontario Fish Community Objective to maintain chinook salmon as the top predator to support a trophy fishery," stated Andy Todd, manager, LOMU, MNRF.
Originally published in the April 2019 edition of Ontario OUT of DOORS magazine.
For more outdoors news, click here