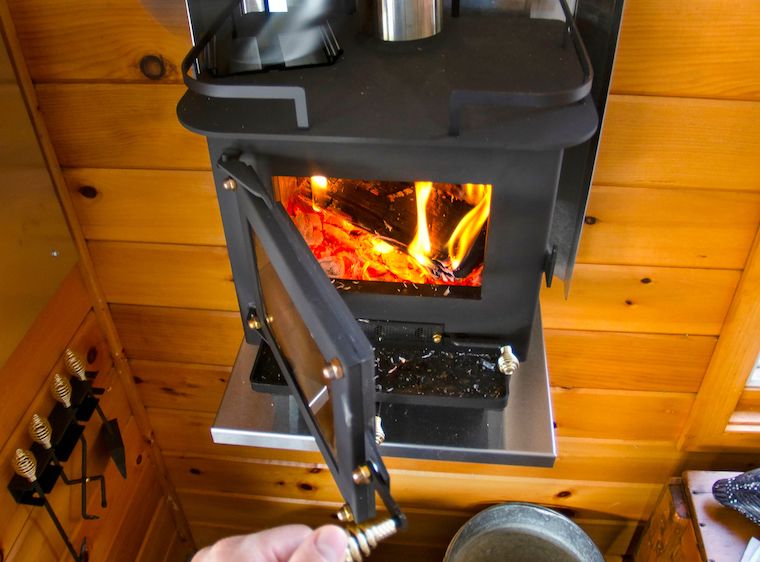 What it is
A small, Canadian-made, wall- mountable, DIY-friendly wood stove for small spaces (bunkies, cabins, RVs, larger boats, etc.).
The test
The Grizzly is Cubic Mini's larger (but still tiny) wood stove, rated for between 8,000 and 18,000 BTUs.
I ordered everything (stove, flue pipes, heat shields and roof exit kit) online and had it at my door in just over a week. The materials are very well made. It's a solid stove with high-quality stainless steel flue pipes.
I installed it at my cottage to warm a 320-square-foot space. Installation was straight forward. I had it all up within about five hours (including cutting the hole through my roof).
I first fired it up in late September. The factory coating takes a while to cure and releases a horrible chemical smell and some smoke as it does. The instructions do say to fire it up outdoors before installing, but it was in small text and I missed it. Definitely burn it outdoors for at least 24 hours before you install.
Throughout the fall, heat output was fine. The space (7-foot ceiling, 1980s mid-range insulation, and lots of large windows) warmed up from a chilly 60°F to a comfortable 69-ish in about an hour.
In the winter, at -10°C temps, the stove really struggled to warm up that much space. I ran it for 5-6 hours several times while I popped up to the cottage to ice fish, with barely a perceptible rise in temperature. With time, I think it could warm the place up but it just can't get the job done in a relative short time.
Verdict
Awesome for spring and fall in the right space. I'd say this stove would shine for RV users, van-lifers, or if you have an off- the-grid cabin that's a couple hundred square feet and has modern insulation. Although tiny, it's really well built.
Pros
It's tiny at 13″x15x12″
Can be wall mounted to save floor space
Requires minimal clearance
Great customer support
High quality stove and pipe
Made in Canada
Website offers all you need (roof kits, pipes, etc)
DIY friendly so you can save on installation cost
Burns wood (not pellets)
Good air flow adjustments for optimum burn
Cons
The fire box is small. This means cutting your standard firewood pieces into thirds.
Small firebox means you also need to stoke it more often.
Instructions could be printed slightly larger with clearer diagrams.
Originally published in the May 2022 issue of Ontario OUT of DOORS