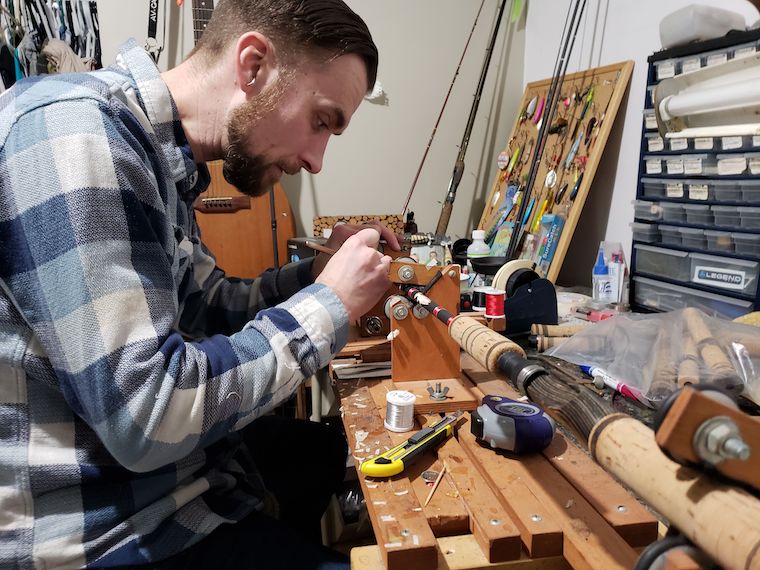 For most Ontario anglers, a good quality, factory-made fishing rod is the best and most obvious choice. Modern rods are affordable and of good quality. Even cheaper models are often well built. But for anglers who want something more specialized, and just a little different, there are custom rods. Having a rod built for you is usually more expensive, but it can be catered to your every whim and preference. It's also fun to fish with something that no one else has.
Building out of necessity
In my early days of steelhead fishing on Lake Superior's north shore, building rods was quite popular. The building was done out of necessity as there were very few longer spinning rods made in the late 1970s and early '80s. Anglers were building rods on fly blanks but using guides and reel seats borrowed from gear angling.
A Martin fly reel loaded with monofilament was then used on those rods for drifting yarn flies and egg sinkers on bottom. My father built my first custom rod on a yellow Lamiglas blank. That rod caught my very first steelhead when I was 12 and remained in service for many years. In my later teens, I built a few rods of my own and in retrospect, they were pretty crude. However, they were rods made specifically for the type of fishing I was doing. By that time, I'd added classic fly fishing to the mix.
When the jobs started and there were a few more bucks in the wallet, I sought out rods tear were of higher quality. Sometime in my early 20s, there was a custom rod for sale by a Minnesota builder named Cedric Knuckey. The builder travelled to the north shore of Superior to fish each spring and had met several anglers who bought his rods. If memory serves, I dropped several hundred bucks on a Knuckey-made 8-weight Sage that was to die for.
Keep in mind, this was in the mid-'80s, when a couple hundred bucks for a fly rod was serious dough. The very first trip out with that rod was to a stream east of Thunder Bay, where the run was on strong. That rod got a workout that day, and more than lived up to the hype. Back at the truck, feeling spent and fulfilled, I leaned that rod on a tree, took off my waders, and jumped in the truck. An hour later, while unpacking at home, the rod was missing. You know how the story ends. It took a while to get over that loss.
A thing of beauty
In the early 1990s, tournament fishing came onto the radar, and I was meeting a lot of people in the industry. Through Winnipeg-based angler Don Lamont, I learned about a fantastic rod builder. His name was Zane Hyrnewich, and he had a Saskatchewan-based company called Walleye World Custom Rods. To this day, I've rarely seen a rod so beautifully made. The Walleye World rods were functional works of art, immaculately constructed with graphite reel seats to match the high- tech guides and black Loomis blanks.
Holographic fish were added to the blank as was the name of the angler. I ended up with several "Zane" rods including my all-time favourite trout rod, a nine-foot IMX built specifically for jig fishing brookies and steelhead. That rod caught hundreds of trout over nearly two decades. When it finally died a horrible death in the tailgate of my truck, I was sick for a week. However, several other of those 30-year-old Walleye World rods remain in use to this day.
Early days
In the early 2000s, I met a rod builder in Fort Frances named Richard Garbowski. He crafted a bunch of unique things for me, including custom crankbait and topwater rods. A 13-foot centre-pin rod and a 10-weight fly rod perfectly suited for throwing pike- and muskie-sized streamers. The rods were all well-built and featured some unique wraps and thread colours. They were also built on St. Croix blanks that were rugged and took abuse. Several of these rods have become like old friends and continue to find a place in the starting lineup.
A couple of years back, I received a tip that a rod builder named Scottie Redin had moved to Thunder Bay from southern Ontario. We ended up meeting in the oddest of ways: he hooked an ice jigging rod that I'd dropped down the hole in a rental shack the day before. We later met up and I looked at some of his custom work. It didn't take long for me to order a speciality trout spinning rod.
Redin did great work, asking my thoughts on all components and doing some very cool things with thread colours and finish. He built me two more beautiful fly rods, a 5 weight and an 8 weight. These rods featured gorgeous thread work, the highest quality components and utterly unique and beautiful cork handles. The incredible final touch was a hand blown, glass butt.
The verdict
The rods were gorgeous, unique but also great to cast. The first time out with the 8 weight was on a video shoot for the New Fly Fisher with Bill Spicer. It was exciting to use a personalized and unique rod on the show, while catching some beautiful Nipigon brookies in the process.
Custom rods will not appeal to all anglers, and they do cost a few more dollars than a rod off the rack. If angling is your passion and you want to fish with unique tools, however, it is worth tracking down a builder and making your dream rod come to life.
Originally published in the May 2022 issue of Ontario OUT of DOORS
To read Gord's blog, Free Range click here
Click here for more outdoors news