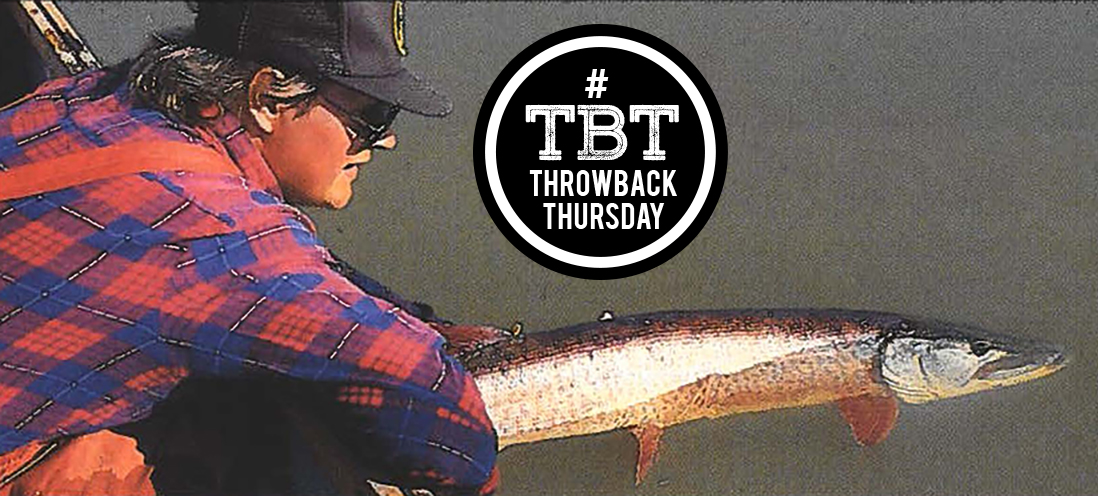 Ontario waters hold some of the world's largest muskie. The provincial record is a 65-pound (29.5-kg) giant taken by Ken O'Brien of Toronto from Georgian Bay's Blackstone Harbour. It was only a few pounds smaller than the 67.5-pound (30.61 kg) world record from Wisconsin. Will Ontario produce an even larger fish?
Dr. John Casselman, a Ministry of Natural Resources researcher and a world authority on pike and muskie, says it's probable. His data shows the waters that have the best chance of producing the next record. Casselman ages pike and muskie and determines their growth rate by examining cleithrums, bony structures just behind their gill-plates. There are several different types of muskie waters in the province, in which ultimate maximum fish size differs appreciably. Using his age and growth techniques, Casselman can predict the approximate maximum size for most of Ontario's muskie waters.
He suggests the next world record will be a female, at least 30 and perhaps 35 years of age, about 60 inches in length (152.4 cm), and will come from one of seven Ontario waters: the St. Lawrence River; Lake of the Woods; Wabigoon Lake; Eagle Lake; Lac Seul; Georgian Bay; or the Ottawa River.
Waterbody factors for muskie
Factors influencing a waterbody's capacity of producing a record fish include its size (large area), unique fish genetics, and an abundance of preferred forage fish. Big waters consistently produce thick-bodied muskie with slow, steady growth rates over a long lifespan. Besides girth, length if the most important factor determining weight, and length comes with age. Some intermediate waters, such as the Niagara River, have fast-growing muskie, but their average ultimate size is much less than that of the group of seven.
The Kawartha lakes, which lack an abundance of fatty forage fish, produce a lot of long, sleek muskie, but they seldom reach 40 pounds (18 kg), and a few exceed 30 pounds (13.6 kg). At the bottom end of the scale are small waterbodies like the northwest's Maskinonge Lake, which produce lots of feisty muskie that seldom reach 34 inches (86 cm). Applying the lowest recommended minimum size limit (36 inches/91.4 cm) would unnecessarily eliminate any muskie harvest from such lakes.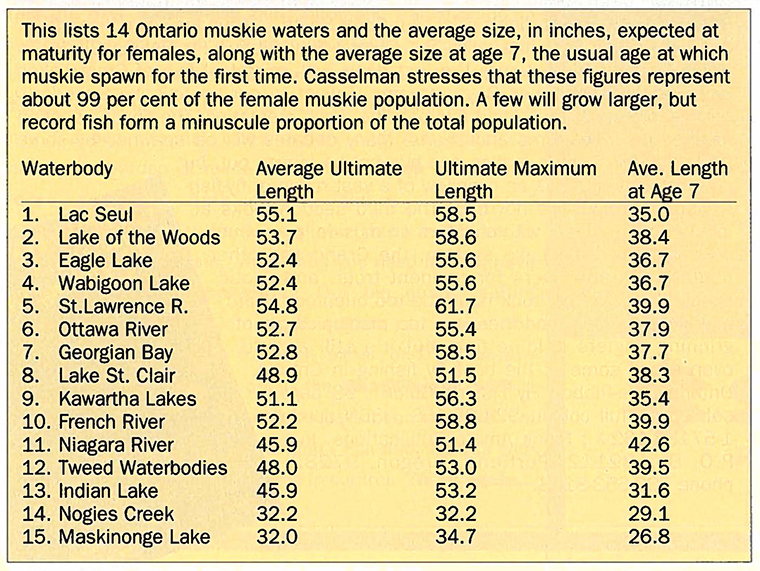 Originally published in the Dec.-Jan. 2000 issue of Ontario OUT of DOORS
To view the OFAH/Ontario Record Fish Registry, click here