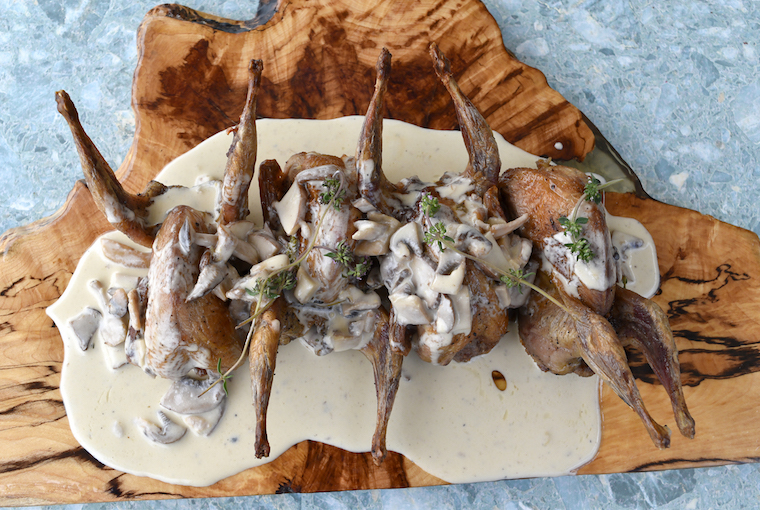 Woodcock are small, delicate game birds, and an underrated culinary treat. They have been a delicacy in both European and western cuisine for centuries.
Ingredients
Serves 2
4 woodcock, plucked and cleaned
1 tbsp kosher salt
1 tsp ground black pepper
1 tsp ground thyme
4 cloves garlic
4 slices of lemon
1⁄4 lb butter, sliced into 4 cubes
Sauce
1⁄4 lb butter
1 large shallot, minced
2 cloves garlic, minced
1 cup cremini mushrooms, chopped
1 cup white wine
1⁄2 tbsp Dijon mustard
1 cup heavy cream
1 sprig fresh thyme
Salt & pepper
Directions
1. Preheat oven to 425 ̊F
2. Mix salt, pepper, and thyme together and rub the woodcock inside and out.
3. Stuff each bird with a garlic clove, lemon slice, and butter cube.
4. Roast woodcock until internal temperature reaches 155 ̊F (about 12-15 minutes).
5. While the woodcock is cooking, melt the other 1⁄4 lb of butter in a heavy-bottomed pot on medium-high heat.
6. Sauté shallot, garlic, and mushroom for 8-10 minutes until tender.
7. Deglaze with the white wine and cook off for 1 minute. Add Dijon mustard and heavy cream and thyme.
8. Reduce on medium heat until the sauce is thickened. Season with salt and pepper to taste.
9. Pour sauce over the roasted woodcock and enjoy!
---
Andrew Rochon is OOD's food editor. You can follow more of his culinary adventures on Instagram: @wilderness_chef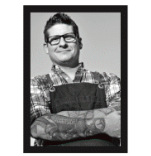 Originally published in the August 2022 issue of Ontario OUT of DOORS.