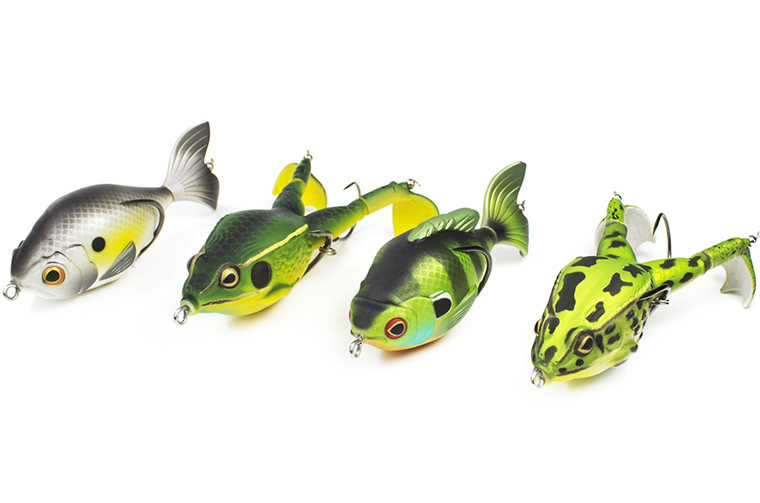 Imagine a topwater lure that skims across the surface, churning water, gurgling, and splashing during the retrieve. On the pause, it floats, doing a deadly imitation of game fish forage, tempting even the most finicky fish.
What can create that kind of excitement? Until recently, only live bait, but now, anglers can throw a prop bait that gives frogs a run for their money. Lunkerhunt has just introduced a family of these gems, which combine lightweight soft-plastics with the technology of the hard-body prop.
Add super-soft, streamlined weedless design, premium hooks, and high-quality patterns and you have the makings for a truly memorable day on the water.
Pads, wood, and slop
Prop lures are terrific for imparting realism, but with exposed hooks, they simply can't cut through pads, slop, or wood. Fortunately, the industry has specifically engineered a line to do just that. The Lunkerhunt Prop Frog, for example, is designed to cruise over the top of cover, re-enter the water, and start churning up water without skipping a beat.
Its double-prop feet make a lot of noise and disturbance on the water surface, which make it an easy target to track down. Active and reactive fish cannot resist its call. And when they hit, weedless hooks are ready to greet them.
The hook system on the Prop Frog is designed to deflect from cover, but hang on to fish. It encases the body and sits perfectly between the prop feet, delivering optimum performance and high hook-up ratios.
Pressured, spooked, and super shallow
We've all been there. Your favourite spot-on-spot is also a top-10 waypoint on the GPS of countless other anglers. When fish are stressed or easily spooked, it's time to get super subtle.
Bring out lures that mimic the most popular freshwater game fish forage species, like panfish. Good options for this scenario include a single-prop system, like Lunkerhunt's soft-plastic, hollow-bodied Prop Fish Sunfish or Prop Fish Shad.
The single-prop system has a more subtle action than its cousin, the double prop. During the retrieve, the Prop Fish Sunfish and Prop Fish Shad throw up a surface-churning action that closely mimic baitfish breaking the surface, while their weedless hook systems and streamlined body shapes enable them to effectively torpedo through and skip under cover.
They can get into hard-to-reach places where no other prop baits have been before. And when fish strike, high quality, super sharp, hooks help keep them on the line.
If you're ready for all of the realism and action of live forage but want the convenience and easy prep of imitation, consider a single- or double-prop system bait for your next topwater trip.
Click here for more great fishing tips.