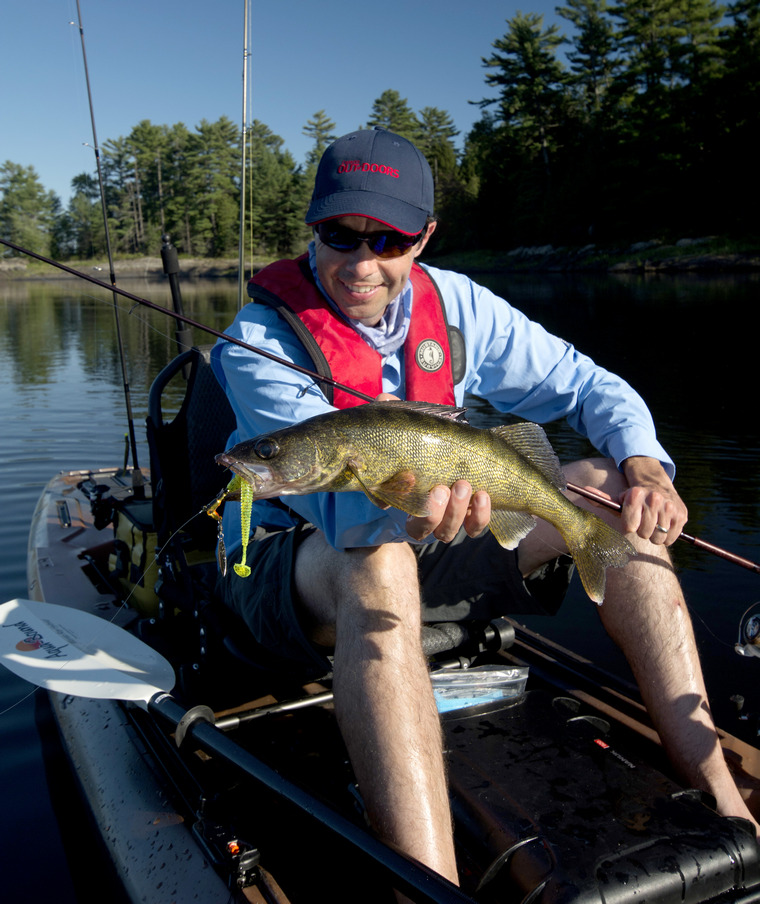 Like many angling-obsessed youths, I would fish whenever and however I could. Canoes and sit-in kayaks were some of the first ways I got off the bank. Big red was the heavy, fibreglass canoe I owned during university and we enjoyed some good camping and fishing adventures together. These days, I paddle my way to walleye from a kayak. Both boat styles offer unique experiences for catching walleye.
A+ for access
One reason I kayak fish is to access water off limits to large powerboats. Consider all the streams and small lakes holding walleye, but lacking decent boat ramps. Get a kayak or a canoe to their shore and you can go fishing. Portaging into back lakes is another benefit.
It isn't just about tiny waterbodies. Large rivers can have sections impassable for larger boats. The Ottawa River has sections like this and a kayak allows me to reach the calmer water between rapids.
Back to basics
Fishing from a canoe or kayak is good for the soul. You're low to the water, almost immersed in it. You must take it slow and take things in. You have a limited cargo capacity, so for many, it's a minimalist deal, too. All these virtues culminate in a Zen-like angling experience when the conditions are right.
Paddle, drift, and cast
Making some paddle strokes, then taking a few casts is a good way to steadily cover water. Drifting is also effective.
Tip: Have an anchor or kayak stake-out pole to stay in place after you've found biting walleye. Use a quick-release knot or other device to quickly release the rope as a safety precaution.
Use small crankbaits, minnowbaits, and jigs when fishing in small rivers and lakes. Eddies, current seams, weededges, log jams, boulders, drop-offs, points, and other typical walleye hangouts are all fair game.
Troll 'em up
Paddling and pulling baits is another reliable way to haul in walleye. OOD contributor James Smedley frequently explores walleye-filled rivers with his canoe. He offers this advice.
"I look for narrows with a bit of current. Provided the water is not too deep — less than 12 feet — I like to flatline a Rapala Husky Jerk (HJ12 or HJ14) well behind the canoe while paddling slowly upstream. Pausing between strokes to give the lure a sharp jerk or two is irresistible for walleye. Their fins are tied. The jerkbait presentation also tends to weed out smaller fish and it's lots of fun because there's no nibbling involved, just a hard smash."
Trolling walleye is just as good from a kayak. Experienced whitewater kayaker and 'yak angler Brendan Mark notes trolling from a kayak is not only quiet, but adds a unique action to bait.
"Each paddle stroke gives a slight acceleration to my lure, giving me a little more action than trolling from a powerboat," Mark said. "I use a Zooka II rod holder from YakAttack to free my hands and focus on a proper paddle stroke, and my lure of choice is a Rapala Original Floating F9 or F11 Custom HD Live Walleye pattern."
Tip: My snag rate is higher from a kayak than from my power boat so I bring plenty of jigs when paddling.
A spinner rig tipped with a real or artificial night crawler is another trolling option. Use a bullet or walking weight and drag the rig over deep vegetation, and along weedlines and drop-offs.
Vertically jig
Straight-down jigging is a good technique over holes, drop-offs, and other deep structure. During an Ottawa River adventure with Brendan, we slipped in the flow while bouncing jigs along bottom, working depths spanning 15 to 25 feet of water. I know the depth because our kayaks had sonar/GPS units, a major advantage over the paddle rigs from my youth.
After finishing the drift, we'd tuck into the slack water, paddle back up to the start, then slip over into the current seam and do it again.
Terra-firma tactics
Another canoe and kayak fishing strategy is paddling to a productive shoreline, beaching the boat, and fishing from shore. This works great above or below rapids. Wading flats and casting to deeper water while towing the boat on a rope can work too.
Kayaks and canoes are great for exploring small rivers and lakes, catching shore lunch during a camping trip, and enjoying quiet, relaxing angling. If you're looking to mix up your walleye game, perhaps some paddle-time is in order.
Tip: If you plan on catching anything while paddling, a small sonar unit is a must.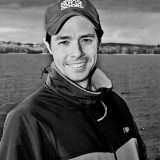 Tim Allard is a full-time freelance journalist and photographer based in Ottawa. He's the author of the multi-award winning book Ice-Fishing – The Ultimate Guide. Reach Tim at mail@oodmag.com
Originally published in the July 2020 issue of Ontario OUT of DOORS.
Click here for more outdoors news
For more fishing stories, click here