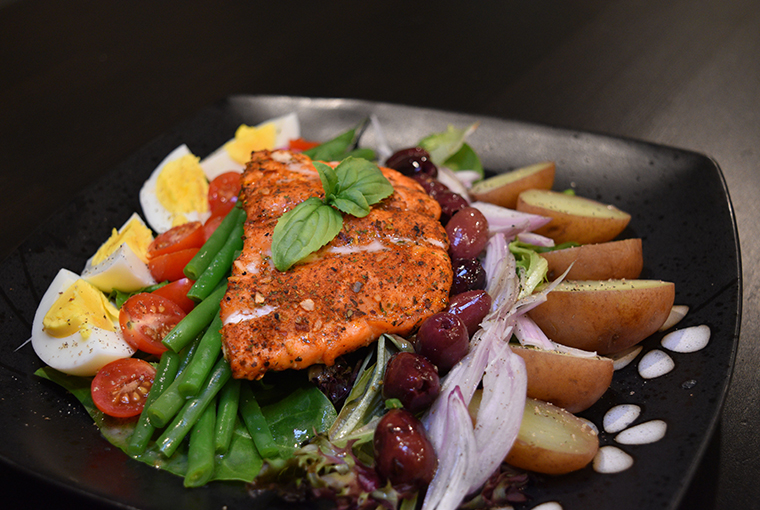 This classic French salad is traditionally made with tuna, but fresh local coho salmon is a great substitute. Feel free to play with non-traditional vegetables, such as grilled zucchini or roasted beets.
Ingredients
Serves 2
Two 6-oz coho salmon fillets, boneless, skinless
2 tbsp Cajun spice
1⁄4 cup canola oil
For dressing
1⁄4 cup red wine vinegar
1⁄2 cup olive oil
2 tsp Dijon mustard
1 tbsp chopped basil
1⁄2 tbsp chopped tarragon
Salt & pepper, to taste
For salad
4 cups spring mix lettuce
6 baby red potatoes
1 handful of green beans, 20 beans
2 eggs, hard boiled, cut into quarters
2 shallots, thinly sliced
1⁄4 cup pitted Kalamata olives
10 cherry tomatoes, sliced in half
Directions
1. Season both sides of salmon with Cajun spice.
2. Heat canola oil in a non-stick pan on medium-high heat.
3. Sear each side for 3 minutes and let rest in the pan off the heat.
4. For dressing, combine all ingredients in a blender and blend until smooth. Or put all ingredients in a cup and pulse with a hand blender until well blended.
5. Bring a pot of lightly salted water to a boil. Blanch green beans for 4-5 minutes until just cooked. Remove from pot and run under cold water.
6. Repeat same step with baby red potatoes. These will take about 10-15 minutes, or until a knife just slides into them when poked. Also run under cold water to stop cooking process.
7. Drain and dry potatoes and green beans.
8. To plate the salad, start with a bed of spring mix lettuce. Place potatoes, green beans, hardboiled eggs, shallots, olives, and cherry tomatoes in rows across the lettuce.
9. Drizzle generously with dressing.
10. Top with seared salmon and serve.
---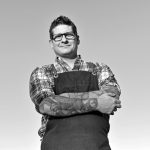 Andrew Rochon is OOD's food editor. You can follow more of his culinary adventures on Instagram: @wilderness_chef
Originally published in the June 2021 issue of Ontario OUT of DOORS magazine.