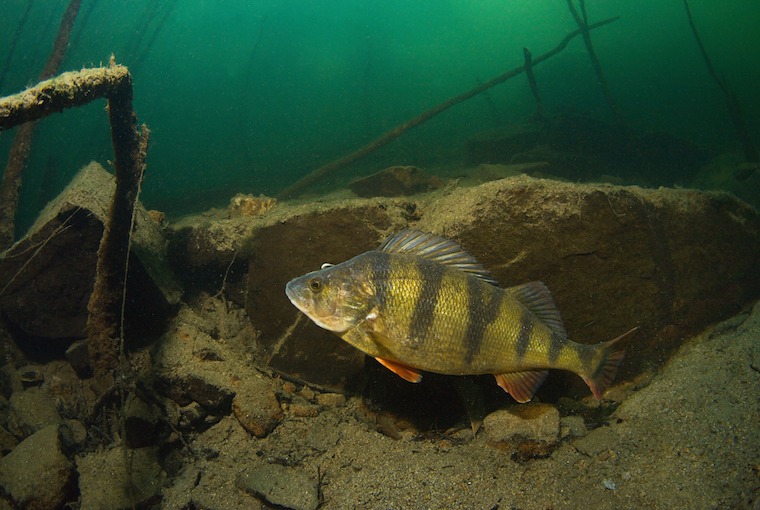 As a kid, I loved it when my dad took me perch fishing at Cook's Bay, on the southern end of Lake Simcoe. The action was fast and so much fun. Recently, I've rediscovered the joys of perch: the fight on light gear, the challenge, and the fine table fare.
Perch are a terrific sport fish for anglers of all ages. Distributed over most of the province, perch are an abundant and highly sought-after prize. Surprisingly, these panfish spend much of their lives in deep water, eating everything from larvae to minnows to crayfish. The key to catching them, as with all gamefish, is finding their food source.
Depending on the time of year, big perch relate to hard-to-soft-bottom transitions, gravel to sand, and even a pure soft bottom. Each waterbody's natural cycle can differ, but for the most part, perch follow distinct seasonal movements and feeding patterns.
Summer
Years of guiding from Lake Nipissing south to Lake Simcoe, have taught guide and OOD Muskie/Pike columnist JP Bushey that sandy and soft bottoms hold huge schools of perch that feast on mayfly and stonefly nymphs. During the heat of summer, Bushey works water as deep as 50 feet.
Winter
Greg Klatt, (owner of Profish'nt Angling Services) of Fenelon Falls also finds that Lake Simcoe perch favour soft bottoms, and this focus also shines in the winter months, as big females feed heavily for egg production before spawning in April.
Spring/Fall
As soon as ice is off the lake, Klatt is onto perch and enjoys fantastic pre-spawn fishing. "A number of the really big perch I've caught the past few years are full of crayfish and gobies, and they prefer hard bottom and gravel/rock areas throughout the year," says Klatt.
Determining when perch shift from a soft bottom to sand and gravel just takes time on the water.
Where to find perch
Both Bushey and Klatt have logged countless hours locating active schools, and good electronics are key to finding both bait and perch. The sensitivity and resolution of today's fishing electronics makes it so much easier. Using downscanning in conjunction with sidescanning can really speed up the process of determining where perch are, and what they are eating.
You may need to cover considerable distances to locate ideal bottom substrate and schools of minnows (and hopefully perch). But, marking those locations with GPS will help you establish travel corridors perch use throughout the open-water season, year after year. Surprisingly, perch can be found year-round in deep water. Even during the height of the spawn, there are good numbers of pre-spawn and post-spawn fish in deep water.
Usually, they're more willing to bite than spawning fish, and you'll often have them to yourself.
Deep water is a relative term, but anything below 20 feet is a good starting point. In the heat of the summer, 35 to 50 feet of water will have the largest concentrations. Finding fish can be half the battle, but figuring out how to catch them, especially perch over a foot long, isn't easy.
Here are three great ways to get you in the game.
Drop-shotting
The drop-shot is one of the most versatile and easy presentations. Effective even at the deepest depths, it can be rigged with small-to-medium-size hooks that fit perch-sized plastics on thin braided line on a spinning outfit.
Main line: I find 6-10-pound test braid sturdy yet nimble. The thin diameter helps the bait dropdown deep quickly, and it's ideal for smaller spinning reels. Switch to hi-viz braid to make line-watching easier.
Leader: Join the braided main line to a 4-8-pound monofilament or fluorocarbon leader using a tiny, high-quality swivel. Since line twist is common, especially fishing vertically at depth, a swivel will ensure neither your line nor your patience will spin out.
Hook: Surprisingly, perch can swallow bass-sized baits, but smaller hooks allow dainty plastics to dance naturally. Bushey and I find long-shanked hooks more effective for perch than traditional octopus drop-shot hooks.
Perch are notorious for nipping the tail of soft plastic baits; this should put more finicky fish in the boat. The longer hook makes unhooking fish a snap, as perch can swallow small hooks. Match the hook with the soft-plastic swim bait, grub, or minnow bait.
Weight: After the hook is attached, secure a drop-shot weight or bell sinker about a foot below it. Play with leader length as you only need a few inches of line if perch are hugging bottom. Depending on the water, current, and wave conditions, weights up to a full ounce need to be packed. I find 3/8 ounce is the most versatile for deep fish.
The beauty of a drop-shot is that even the heftiest weights don't affect lure action. Keeping bottom contact while maintaining a vertical presentation is key to feeling every bite.
Bait: Many anglers don't give perch credit, but they can be just as choosey as any other fish. There are two schools of thought when it comes to selecting colours: natural and outrageous. Both work well at times, so have a wide range of colours to keep them biting all day long.
Alewife, Arkansas shad, ayu, pearl, and watermelon are all perfect "natural" minnow matching softbait colours. If your favourite lake has gobies, then dark tan, brown, or pumpkin with a hint of purple can be the ticket. But don't neglect the outrageous options. Atomic chicken, chartreuse, fire perch, morning dawn, and rainbow trout can also be hot producers.
Rod: Perch are a powerhouse with a light-action rod. Spinning rods between 6'6′′ to 7′6′′ from medium-light to ultra-light are great choices. A whippy tip casts small baits well and indicates light bites. Don't select too wimpy a rod though, or hooks-sets will be impossible.
Technique: Bushey advises his clients to pound the bottom with the big weight to stir the silt. "I always tell my guests to 'play the pause,' which means first hop then hold still," says Bushey. "A long pause really triggers them."
Having several anglers in his boat allows this guide to experiment with multiple baits at one time. He's discovered that a dew worm is tops when the perch are over a soft bottom. Worms are easy and fast to re-bait. For soft plastics, the Berkley Power Nymph or Custom Jigs n Spins' Ratso have been his best producers.
Trolling
Trolling or controlled drifting is a secret perch technique among guides. I realized its effectiveness a few years back. Hundreds of perch were being boated by a fleet of anglers surrounding me. I was catching several tiny perch for every one eater. Circling around us was a black bass boat with its trolling motor purring, constantly on the move.
I arrived back at the boat ramp at the same time as the pair in the black boat and we got to talking. They proudly showed off their live well full of 12- to 14-inch fish, and explained that every catch was a big one.
In stark contrast to a drop-shot, where the boat hovers directly over the perch, trolling keeps the bait well away — perfect when perch are scattered or spooky. When the bite is on, packs of anglers will corral the large deep-water schools of perch. Usually, the largest perch will evade the circus of boats and move to the perimeter. This is when trolling excels.
Jig: The jig is the heart of the trolling technique. A 1/4-ounce jig with a small, ultra-sharp hook is the universal choice in up to 30 feet of water. In strong wind, current, or deeper water, upgrading to a 1/4-ounce head is wise.

The Mustad Fastach and Freedom Tackle style jigs make it easy to refine the jig head, hook, and bait to match the depth and mood of perch.
Line: "Over the years I have found that using really light line is one of the most important elements to consistently catching bigger fish, hands down," said Klatt. "My favourite combination is using Sufix 4-pound braid line and a 6- to 8-foot leader of 3-pound Sufix fluorocarbon." He scales way down with all his open- and hard-water perching gear and it pays off.

No-stretch braided line with a fluorocarbon leader is really your best option to have a stretch-free connection to your bait.
Technique: Trolling is simple. Cast out the jig rigged with a 1 1/2 to 3-inch swimbait, grub, or minnow/fluke bait. Continue to feather line out as the wind or trolling motor moves the boat along. Most anglers keep the bait at least 50 yards behind, but it's not an exact science, so experiment on your water body.
"Make sure you adjust your speed so that you can make bottom contact every 30 seconds or so, "instructed Klatt. "If it's windy and hard to drift or troll slowly, I will often go with a heavier jig so that I can maintain contact with the bottom, as this is key."
I have found over the years that really big jumbo perch spook easy, and can sense boats above them, and hear the pinging of the sonar," said Klatt. "It's not such a big a deal in 50 feet of water, but in 30 feet or less it's important to get the lures out away from the boat."
Live bait
Minnows are the main go-to live-bait for perch anglers. They'll produce everywhere, but expect to catch plenty of smaller fish, too.
Traditional double-hook perch/crappie rigs are popular for bait, and double-minnow rigs are perch-catching machines. Almost identical to a drop-shot rig, two hooks dangle from the mainline from wire spreader arms.
Several two-hook bait rigs are available, but I find the Thundermist T-rig to be one of the best. It uses quality hooks and fluorocarbon line. Just clip on a weight, thread on minnows, and you're set.
Ivo Coia, inventor of the Thundermist T-Turn insists emerald shiners work best. "The smaller minnows tend to get bites even when the perch are hesitant. Perch, even the biggest ones, eat small minnows," said Coia. If small shiners are difficult to find, Coia suggests cutting larger minnows into thirds, but lively shiners are best.
"Rigging minnows through the lips or the tails keep minnows lively. The T-Turn swivels permit the minnow to swim freely without tangling the two-minnow rig."
If your minnows are not lively, a great way to attract and trigger bites is to cast and let the rig settle to the bottom. Wait about 30 seconds, then slowly drag your line about three feet toward the boat, then pause. This drag-and-wait approach helps locate perch and trigger bites, says Coia.
Coia will snap a 1-ounce bell weight to the bottom of his T-Turn rig to ensure it hits the bottom of Lake Erie or the Niagara River, where Coia does most of his perch fishing. His usual outfit is a medium-action spinning rod and reel with fluorocarbon line. Try these techniques and enjoy fishing deep for perch, whatever your skill level.
Staying on schools of deep-water perch is not as easy at it might look. Here are some great boating accessories that will make catching them simpler.
Big anchors and a lot of rope:
Anchoring is a solid way to stay put. Have plenty of line to safely and securely lock yourself in place. This is no place to be underpowered — big anchors are key to staying on biting perch. Bring along a cardboard box or thick bath mat to cushion the anchor and protect your boat.
Sea anchors / drift socks:
Make precision drifting a cinch. Big water can kick up in a jiffy, blowing you right past deep perch. Stay on fish and bring that drift down to a crawl by putting out one of these boat parachutes.
GPS:
Auto navigation is a fantastic feature found on several MinnKota and Motorguide trolling motors. They are expensive, but so handy anytime deep-water perch are the quarry.
Originally published in the April 2019 edition of Ontario OUT of DOORS magazine.
Click here for more fishing stories

For more outdoors news, click here