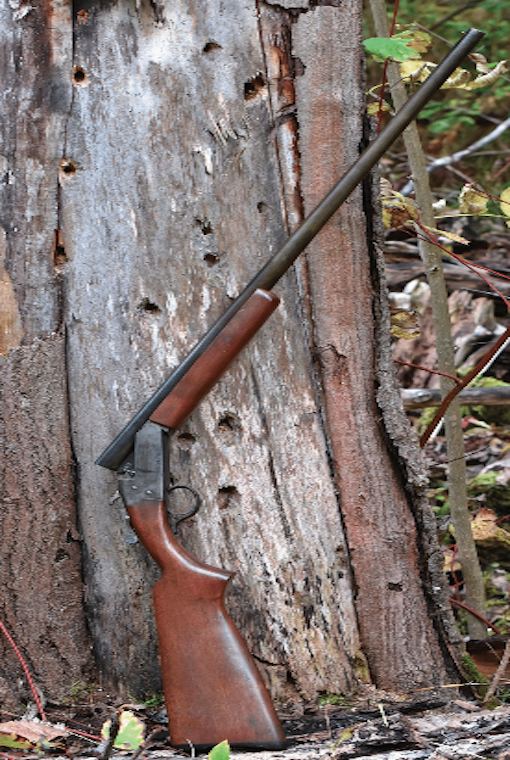 Made: 1948 to 1979
AKA: Cooey Model 840, Winchester 370/370A
Type: hinge or break-action shotgun
Gauges: 12, 16, 20, 28, .410 bore
Original price: $23.95 to $27.50 (Eaton's catalogue, 1948)
Current value: $50-$199 (10-15% less for store-branded models)
Like many rural Canadian youth, my first real gun was a full-choke, single-shot Cooey Model 84 shotgun. This 16 gauge was used for cottontails, grouse, and ducks. I quickly learned to make the first shot count, and to hold extra shells between my fingers on the gun's forend. Reluctantly, I returned it to my uncle after I replaced it with a pump.
Last spring, I scooped up what appeared to be my original gun's twin at a local gun shop for $99. Despite its appearance, however, the gun is stamped as a Ranger — not Cooey!
Researching this story solved that mystery.
The Model 84 was designed and produced by the H.W. Cooey Machine & Arms Company of Cobourg, Ontario. It evolved from the company's experience crafting quality small-rifle parts during World War I; their post-war introduction of the Cooey Canuck/Ace, a single-shot, bolt-action 22; and contracts to produce Iver Johnson Champion shot guns throughout the Great Depression.
A reputation
Unveiled in 1948, Cooey's signature single-barrel shotgun quickly earned a reputation as well made, simple, reliable, practical, and affordable. Its distinguishing features include a rounded forend with tension spring release, a separately cocked hammer, a three-pronged trigger guard, and a concave receiver at the stock end.
The family sold the business to Olin Corporation in 1961. Cooey was placed under the Winchester Western Division. The Model 84 evolved into the Model 840, and the Winchester 37A and 370. Production continued until the plant closed in 1979.
Cooey also produced shotguns for major department and hardware stores under those brand names. So, the classic 84 also exists as: Champion, Sureshot (Sears), Mercury, Hiawatha (Marshall Wells), Ranger (Eatons), and Sears Model 684.
Collectors abound, as evidenced by the Cooey Machine & Arms Collectors Facebook group.
So, if it looks like a Cooey…
Originally published in the April 2019 edition of Ontario OUT of DOORS magazine.
For more guns and gear, click here