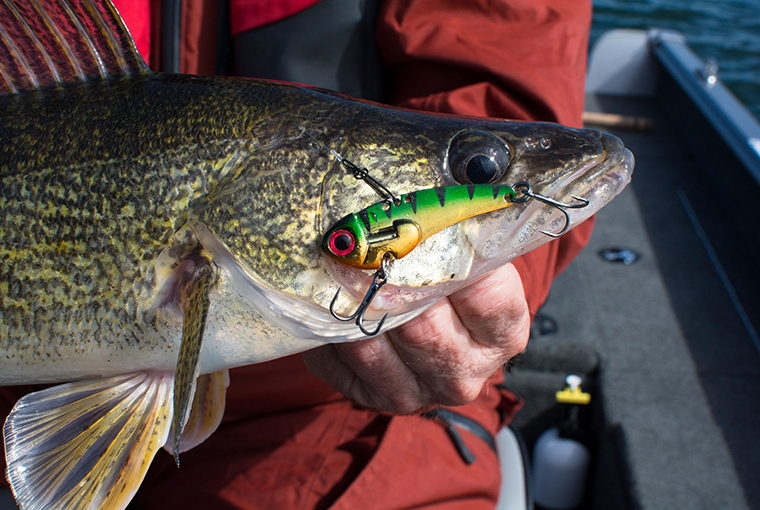 Confession time: I have an affinity for green walleye baits. I'm not obsessed, mind you. No need to lump me in with those uber-cheerful Emerald City residents from the Jolly Old Land of Oz. I catch walleye on other colours. But, one night while organizing gear, I found myself muttering out loud, "Tim, what's with all the green?" It's time to answer this question.
It's not easy being green
Imitating walleye forage is one reason to go with a green bait. Kermit sang it best, "It's not easy being green." Walleye greedily gobble up frogs. And, opportunity knocks loudly every fall when frogs leave forests and fields to overwinter in the mucky bottom of lakes and rivers. Walleye wait in ambush near the water's edge and can be caught using various froggy looking lures.
Perch are another food source for walleye and pack plenty of olive accents across their scales. Perch aren't alone. The ROM Field Guide to Freshwater Fishes of Ontario describes many shiners and chubs with backs coloured olive, green-gold, green-yellow, pale-green, and olive-brown. Sides and bellies are typically lighter silvers and whites.
Greenish hues are also common camouflage for invertebrates scurrying within a walleye's world. Crayfish and mayfly nymphs can span shades of olive and brown. As do some leeches. Green pumpkin, anyone?
Can't kick chartreuse
When I was a new angler, a three-inch chartreuse Mister Twister Grub on a jig could do no wrong; it still catches them. Chartreuse flake, white-chartreuse, or black with a chartreuse tail are good too. A chartreuse Berkley Gulp Alive Minnow Grub has been putting walleye in my boat since it was released. The PowerBait Pro Twitchtail Minnow in chartreuse, black-fleck, orange is another goodie.
Fantastic firetiger
Firetiger is another reliable walleye pattern with a good amount of green in it. Firetiger is like a perch neon sign. It's a loud paint job great at getting a walleye's attention so I use it in a variety of baits.
A Northland Buck-Shot Rattle Spoon in super-glo firetiger is one of my most productive vertical jigging baits.
I concede firetiger can be too bold sometimes. If walleye won't hit it, switch to a natural perch or baitfish pattern.
Green + flash = eaten
Green lures with some chrome or gold also see a lot of action in my boat. These are particularly productive in clear water. A green + metallic bait is tops when walleye are eating emerald shiners. When fish are feeding on a deep flat, sand bar, or point, I've had success casting either a Luhr Jensen Krocodile spoon in chrome with a neon green side stripe or a Johnson ThinFisher bladebait in metallic perch. Let the lure get to bottom, snap it up, and let it sink again. Strikes are common on the drop. Walleye will also eat the bait off the floor.
Trolling a flashy green bait is another option. Last fall, a green and silver custom-painted BanditDeep by Wackm Tackle was a hot bait, as was Storm ThunderStick Madflash Deep in green, chrome, and orange.
Great green softies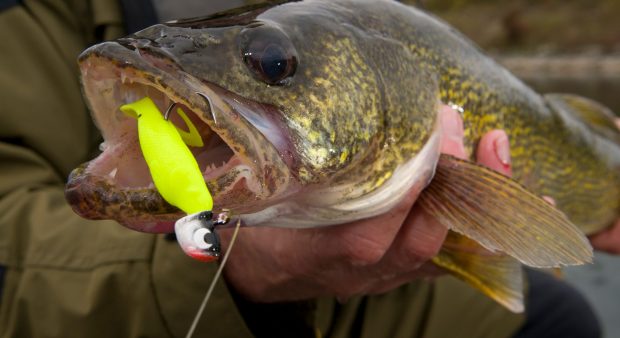 Walleye gobble up two-tone and multi-coloured soft-baits with green accents. I hoard these like a pack rat. Emptying out my tackle bag of four-inch minnows and flukes reveals a sea of green. Some favourites include the firetiger Angler's ChoiceWally MinR, chartreuse shad and emerald shiner Berkley PowerBait Minnows, baby bass Zoom Fluke, chartreuse ice Fin-S Fish, and perfect perch Z-Man Scented Jerk ShadZ.
The trend continues with worms. Trolling a green pumpkin or a watermelon pearl BerkleyGulp Nightcrawler on a worm harness is a reliable presentation for summertime walleye. A four-and-a-half-inch Roboworm Fat Worm in bold bluegill (brown, black, and lime) and a B-Fish-N Moxi in a variety of chartreuse patterns are favourites for drop-shotting. A trimmed-down Mister Twister Phenom in perch is another cool pattern.
Fishing a greenish bait gives me confidence on many waterbodies. Logically, I know it matches many types of walleye forage. But, maybe my affinity for emerald is partly my Irish heritage shining through. No matter the reason, green catches 'em. Perhaps it's best to leave it at that.
---
Fallbacks
While I lean towards green, there always comes a time when it lets me down. Try these shades when green is a bust:
•Pearl and silver soft-plastic baits
•Black-gold, black/grey-pearl, and blue-silver hard-baits
•Trolling crankbaits finished in funky combinations with pearl, pink, black, and orange
•In tannic water, purple baits are a must.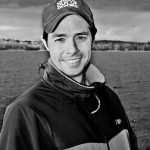 Originally published in the May 2021 issue of Ontario OUT of DOORS magazine.
Tim Allard is a full-time freelance journalist and photographer based in Ottawa. He's the author of the multi-award winning book Ice-Fishing – The Ultimate Guide. Reach Tim at: mail@oodmag.com
Click here for more outdoors news