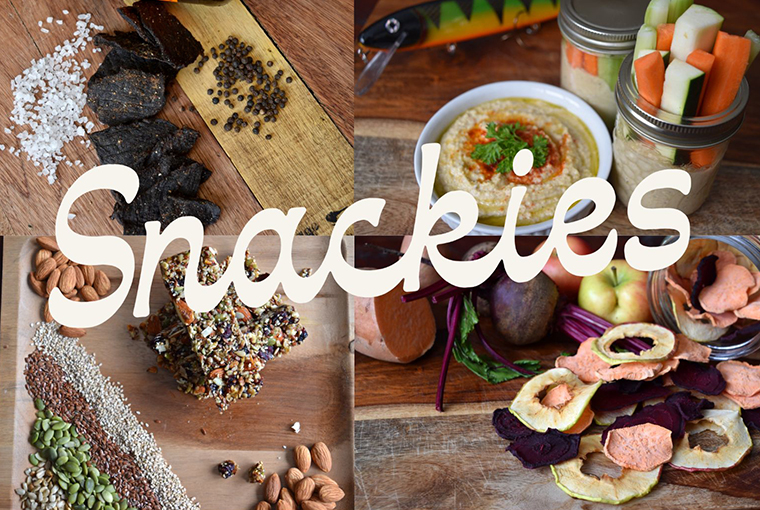 Even as a chef, I occasionally find myself on the way to the boat launch in the early morning snacking on pepperoni sticks or a bag of chips bought from the gas station. But with just a little effort the night before, these tasty and healthy snacks will help keep you energized on the boat all day.
Paleo nut bars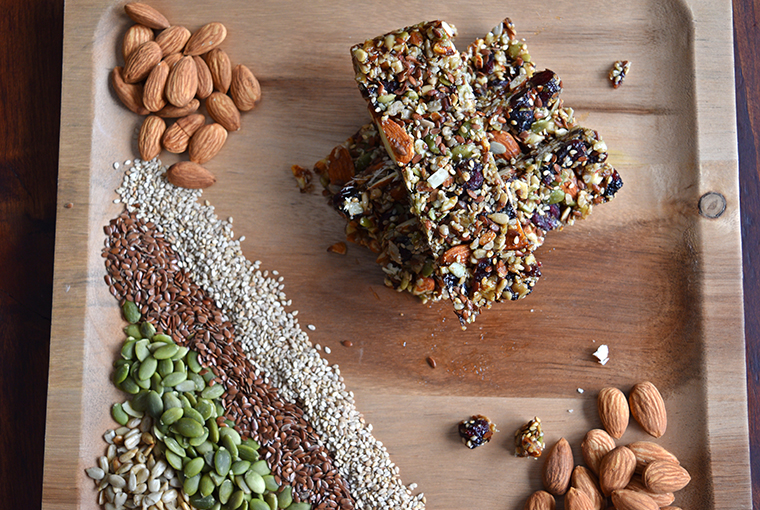 These all natural protein-packed nut bars are the perfect snack to tide you over until lunch.
Ingredients:
• 1⁄4 cup dried cranberries
• 1⁄4 cup sesame seeds
• 1 cup almonds; whole, unsalted
• 1⁄2 cup shelled pumpkin seeds
• 1 cup shelled sunflower seeds
• 1⁄2 cup whole flax seeds
• 1 cup honey
• 2 tbsp. maple syrup
• 1tbsp. macadamia nut oil
Directions:
Preheat oven to 300 ̊F. Roughly chop almonds and dried cranberries. Combine all ingredients in a bowl and mix well. Line a baking dish with parchment paper. Pour mixture into a 3-quart dish and spread evenly with a spatula. Bake for 20-25 minutes. Remove from oven and allow to cool. Cut into snack-sized bars, individually wrap, and freeze.
Venison jerky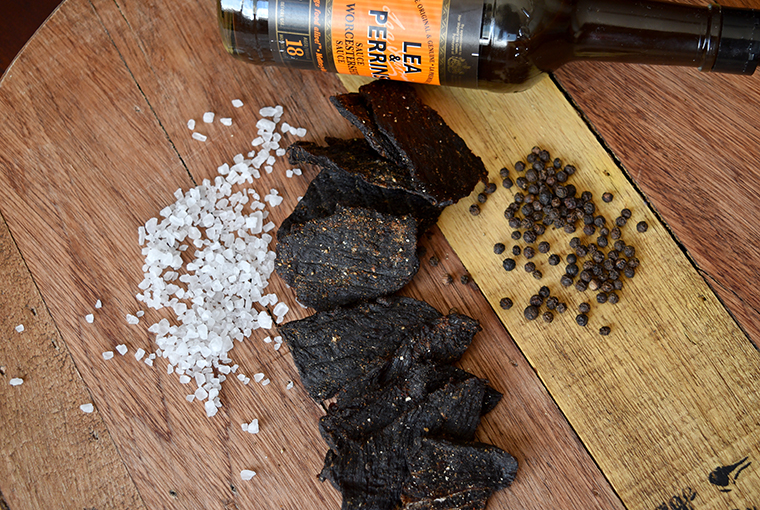 This recipe is best with a dehydrator but a low-heat setting in an oven will do the trick too. The longer you leave the venison in the marinade, the more flavourful your jerky will be.
Ingredients:
• 1lb. venison meat; round or loin, sliced into thin strips
• 3 tbsp. Worcestershire sauce
• 3 tbsp. reduced salt soy sauce
• 1 tbsp. maple syrup
• 1 tbsp. orange juice
• 1 tsp. meat tenderizer
• 1⁄2 tsp. chipotle powder
• 1⁄2 tsp. ground mustard
• 1⁄2 tsp. kosher salt
• 1⁄2 tsp. garlic powder
• 1⁄2 tsp. onion powder
• 1⁄2 tsp. ground black pepper
Directions:
Mix all wet and dry ingredients together. Pour over meat and mix well. Pour marinated venison into a zip-lock bag and refrigerate for 6 hours or overnight. Remove marinated venison from bag and dry off any excess marinade. Evenly space slices of venison on dehydrator trays. Set on high for 6-8 hours. If you don't have a dehydrator, place meat on wire rack and bake in oven at 160 ̊F for 6 hours. Vacuum seal finished jerky or store in an airtight container.
FYI: Jerky doesn't keep forever. Keep it in a sealed container for up to two weeks, or vacuum seal and freeze it for up to a year.
Beet, sweet potato, and apple chips
(dehydrator required)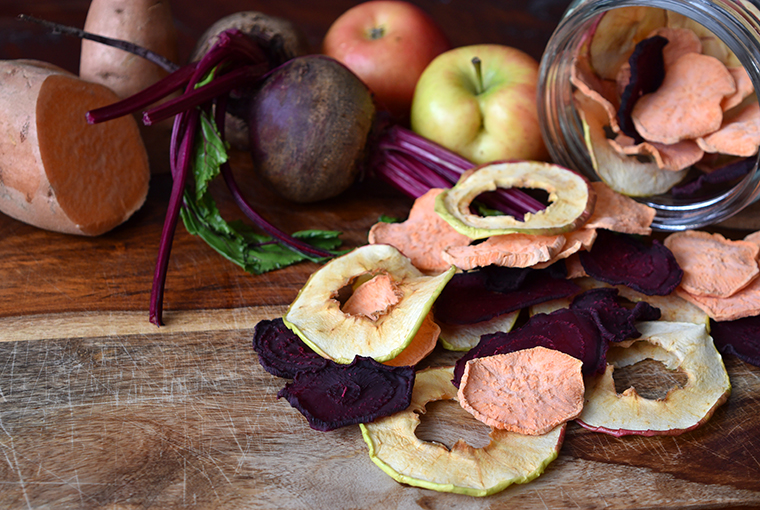 These crunchy, sweet, and salty chips will disappear quickly, but good news, they are super easy to make.
Ingredients:
• 1 medium red beet
• 1 gala apple
• 1⁄2 sweet potato
• 1 tsp. cinnamon
• 1 tsp. salt
Directions:
Boil the beet for approximately 20 minutes. Peel and slice thinly. Peel and blanch the sweet potato in boiling water for 2 minutes and slice thinly. Core and slice apple. Place apple, beet, and sweet potato slices on individual dehydrator racks. Season with a dusting of cinnamon and a pinch of salt. Set dehydrator to 135 ̊F. Dehydrate for 7-10 hours or until dry and crispy. Store in a paper bag or breathable container.
Hummus and veggie sticks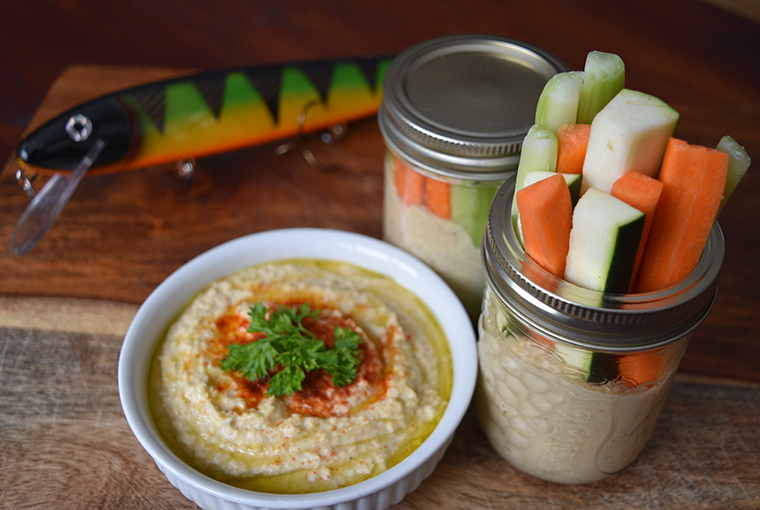 Homemade hummus is healthy and delicious. You can mix and match whatever raw veggies you like.
Hummus Ingredients:
• 11⁄2 cups chickpeas, drained
• 1⁄4 cup tahini
• 2 tbsp. olive oil
• 1 clove garlic, minced
• 1⁄2 lemon, juiced
• 2 tsp. white wine vinegar
• 1tsp. ground cumin
• 1⁄4 tsp. cayenne powder
• 1⁄2 cup water
• Salt and pepper, to taste
Veggies:
• 2 ribs celery, cut into sticks
• 1 small zucchini, cut into sticks
• 1 small carrot, cut into sticks
Directions:
Combine all hummus ingredients in a food processor. While blending, slowly add water to adjust consistency. Season with salt and pepper. Spoon hummus into bottom of Mason jar. Fill with veggie sticks, seal with lid, and you're good to go.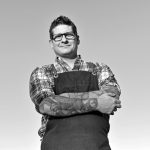 Also, bring some wipes on the boat. You'll be handling fish, lures, lead, and bait covered in who-knows-what.
Andrew Rochon is OOD's food editor. You can follow more of his culinary adventures on Instagram: @wilderness_chef
Originally published in the 2017 Fishing Annual of Ontario OUT of DOORS.
For more fishing stories, click here