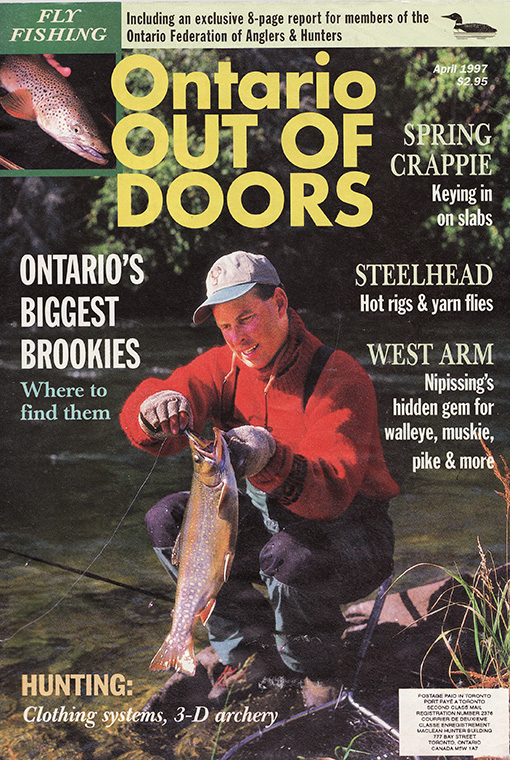 I have mixed emotions when it comes to anniversaries. On one hand, it's great to celebrate milestones and important dates in your life. On the other, these occasions remind you about how quickly time goes by.
That is certainly the case as I reflect on 30 years with Ontario OUT of DOORS. It seems inconceivable that three decades of writing for the magazine have passed.
OOD origins
Although I've been writing for OOD a long time, my relationship with the magazine stretches back even further. Like many, I grew up reading OOD and its newsprint predecessor, Ontario Fisherman & Hunter. My father was and remains a keen outdoorsman, so publications like OOD and Outdoor Canada were subscribed to along with American-based counterparts Outdoor Life and Field and Stream. These magazines were read cover-to-cover and Gord Sr. would clip the most pertinent articles to our area and create files. My favourite articles were written by people like Bob Jones and John Kerr, both on the OOD masthead. These writers revealed the wondrous fishing possibilities in Ontario — many on my doorstep in Thunder Bay — while spinning tales that spurred the imagination.
In the mid 1980s, my outdoor writing career began with a now long-defunct publication. I was hired as an editor for the publication, although I was as green as you could get. What I lacked in skill was made up for with enthusiasm. My dream job was to be an outdoor writer and tell stories about fishing, hunting, and other outdoors adventures. That first job gave me the confidence to start marketing outdoor stories and I managed to sell a few. It was around this time, that I met Thunder Bay writer Russ Swerdlyk, who was already freelancing for OOD. Swerdlyk was a mentor and he taught me a lot about the outdoor writing world.
Outdoor Writers of Canada
In 1988, I was invited to take part in a writer's outing at the French River. It was sponsored by Lowrance Electronics, and many of the best writers in North America were there. It was there I met Bob Jones, then a premier writer at OOD. He took me under his wing and introduced me to a group called the Outdoor Writers of Canada (OWC).
A year later, at an OWC conference in Sault Ste. Marie, I met Kerr, and we hit it off. Kerr was Fishing Editor of OOD and one of my heroes. We went fishing for steelhead in the rapids one morning and in the evening, talked Nipigon brook trout and ice fishing. We didn't talk about writing, as I was affiliated with another magazine at the time. However, a couple years later, things changed, and my first manuscript was sent to OOD. The rest, as they say, is history.
Becoming a writer with OOD was exciting and a great learning ground. Both Kerr, and then editor and associate publisher Burt Myers, were encouraging, but also demanding. There were many long phone calls from both of them, about everything to do with writing and delivering quality stories. Yukio Yamada, who was art director then, came to Thunder Bay one fall to take photos. I learned an incredible amount about outdoor photography from him. Yamada also took the first photo of me to make the magazine cover.
Field Editor
For the first several years at OOD, I was listed as a field editor, regularly providing fishing and hunting content to the magazine. Then, one evening in the late 1990s, the phone rang.
"Gord, it's Burt."
It was not out of the ordinary to get calls from the editor, but it was 9 p.m. On a weekday.
"I've been thinking about some stuff," he said. "John is getting more editorial responsibility, so I want you to be fishing editor."
I nearly dropped the phone. For as long as I could remember, Kerr had been the fishing editor of OOD. Besides being the man at OOD, he wrote an outdoors column for the Toronto Sun. He was a steelhead guru in southern Ontario. A legend.
His shoes were big to fill for a writer from the north.
"Yes, I'd love to do that," I said to Myers.
Fishing Editor
As (bad) luck would have it, my first column as Fishing Editor was about steelhead, and Kerr was going to be the one to edit it. I've heard through the grapevine my initial offering had Kerr shaking his head but, over time, I eased into the job. Being fishing editor for OOD opened many doors for travel and experiencing what Ontario had to offer. Myers felt it was important to experience the southern Ontario trout opener, so I did that a few times, as well as chasing crappie in Kawartha Lakes, trolling muskie on the Ottawa River, and fly-fishing for brown trout on the Forks of the Credit.
The new position also allowed me to travel to the International Convention of Allied Sportfishing Trades (ICAST) show a few times, where the sheer breadth of the angling industry started to sink in. One of the best parts of being on the OOD masthead for so long is getting to know the writers and editors. I've spent many, many hours outdoors with my dear friend James Smedley, who has been at OOD even longer than I. I've shared a boat, blind or cutover with Tom Goldsmith, Luigi DeRose, Bruce Ranta, Tamas Pal, and associate publisher and editor Ray Blades. I was lucky enough to guide Blades to his biggest brookie ever on the Nipigon River a few years ago, a moment I'm sure we both will never forget.
An honour
It's been an honour to write for OOD readers all these years and I'm thankful for the support of the publishers and editors of this magazine past and present. I am especially grateful for the kind words and feedback from readers over the years. I've also slowly gotten used to being told "I've been reading you since I was a kid."
God willing, I plan to be here for your grandkids, too.
---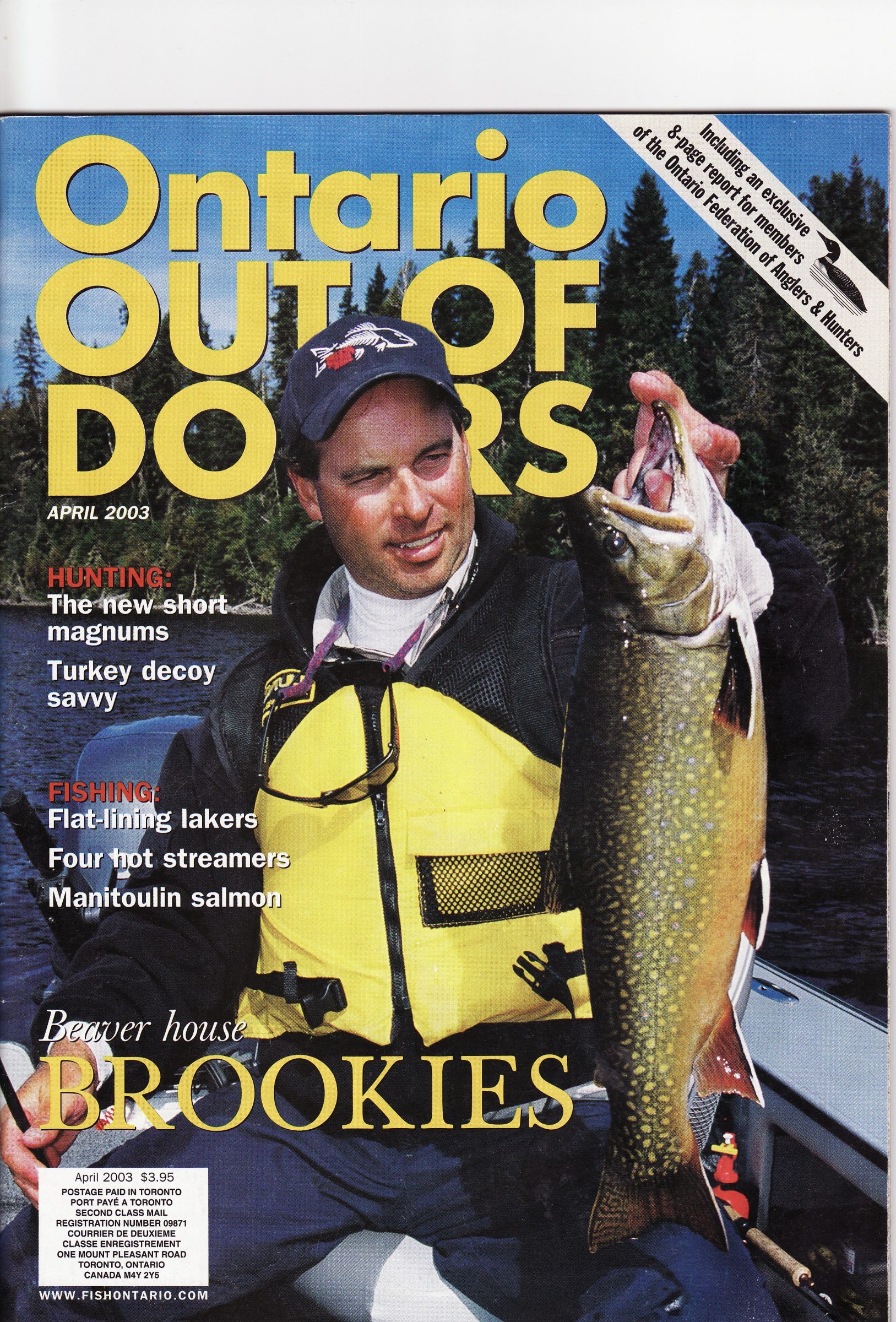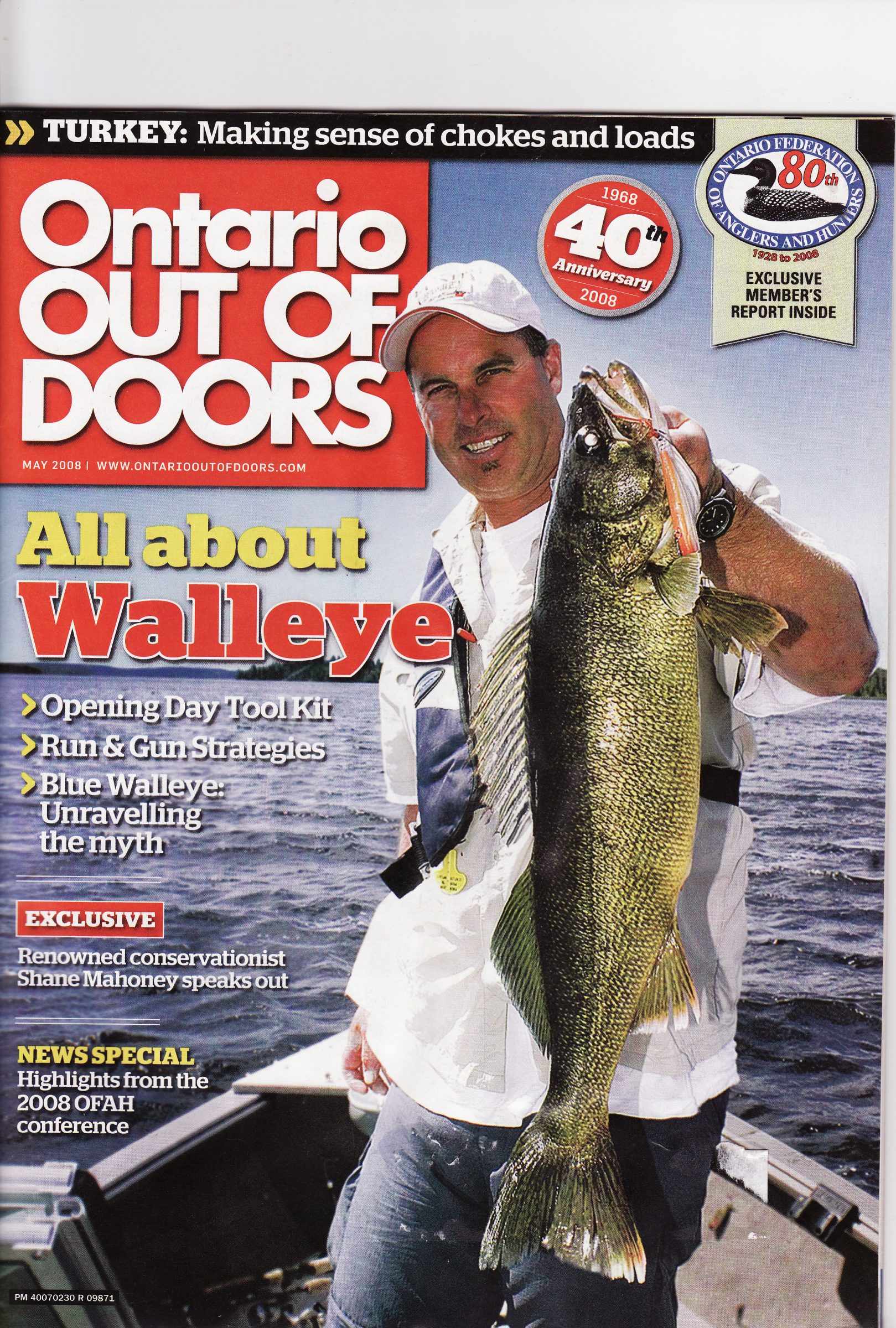 Just a few of the covers I was happy to hoist a fish for.
---
Senior Editor Gord Ellis is a journalist, radio broadcaster, photographer, and professional angler based in Thunder Bay. Reach Gord at mail@oodmag.com and Twitter: @GordEllis
Originally published in the Jan.-Feb. 2022 issue of Ontario OUT of DOORS
For more fishing stories, click here