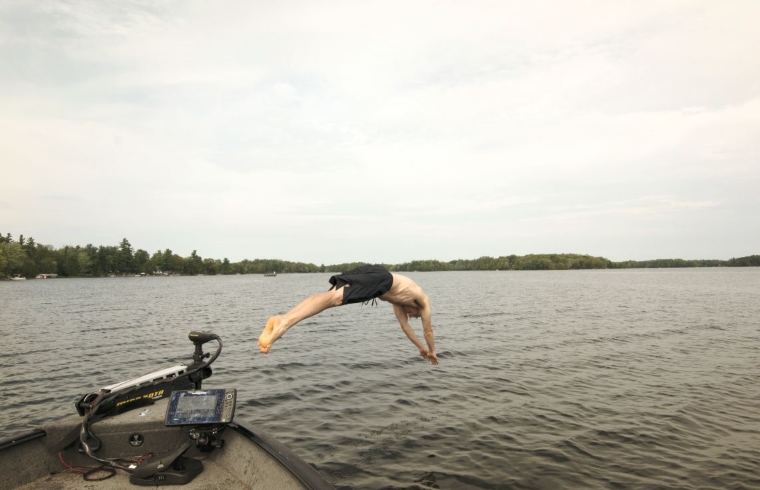 Fishing for walleye on a stifling hot day can be tough slogging, but nothing will make you forget about the heat faster than set­ting hooks on some fish.
Summer sees walleye populations spread across a range of areas, from shallow vegetation to deep structure. As such, anglers must cover water to find fish. Forage is also abundant in summer, so we're forced to experiment with presentations to decode walleye preferences and put fish in the boat.
Start early, try shallow
Here are several hot-weather walleye spots and approaches to try this summer.
Hitting the water at dawn is a good sum­mertime strategy. Boat ramps aren't busy and lakes are quiet. More importantly, walleye are active during low light.
"I'm a firm believer that all year there are walleye shallow and these are usually aggressive fish," said Lanark County fishing guide Jim Miles. "When I start the day with clients, it's always shallow but on spots that are also close to deep water."
When he's fishing for fun, Miles is out at the crack of dawn. With clients, it's more like 7 to 7:30 a.m. before the first casts are made.
Sunken islands mean vegetation
Miles likes points leading into deep water and sunken islands in 6 to 12 feet, especially when these structures contain sparse, broad-leafed vegeta­tion such as cabbage. Unlike thick coontail, cabbage is sparser and easier to fish with a jig, yet still holds bait­fish and provides walleye with cover.
Miles' shallow-water program pre­dominantly involves pitching and swimming a 1/8- to 1/4-ounce jig­head rigged with a 3- to 4-inch pad­dletail swimbait.
He casts jigs to outside edges in vegetation and through openings and pathways. Working a bait over deep plants is also effective in the early morning.
"If you get hung up in weeds, rip the rod hard, and then kill it," Miles advised, as the rip-jigging's com­motion attracts and triggers wall­eye to strike.
Miles stays shallow until the wall­eye bite ends, which may be as early as 8:30. Other days fish gorge until 10 o'clock. And, on some magical over­cast days, Miles has been known to spend all day setting hooks on walleye in less than 12 feet of water.
Jigging out deep
During the dog days of summer anglers will find walleye in deep, cool water. It's in these zones that long-time Lake Nipissing guide Rob Hyatt focuses his efforts from early morning on. While he fishes walleye shallow in June and into mid-July, he finds better concentra­tions of fish are deep by midsummer.
"Usually in the heat of July and August, I fish deep, rocky humps in mid-water because they're feeding stations," Hyatt said. "Any hump is good, especially if there's rock on it on Nipissing. I look for 40 to 50 feet of water on the outside, with the hump rising up to 28 to 30 feet."
Structures ascending out of a 40- to 60- foot basin are textbook walleye hotspots. There's something about this surrounding depth of water walleye like. Miles referenced it, and most of the 25- to 32-foot flats and humps I fish rise out of 40- to 60-foot basins.
Summer scatter
Miles, Hyatt, and I also agree on the strategy of scanning areas with electronics first. During our conversa­tion, Miles often repeated that walleye are scattered in summer, and sonar is important for locating fish. Hyatt always scans a hump before fishing, by driving in circles around the structure, start­ing at its highest point and progressing deeper with expanding rings until he's surveyed the entire hump.
"Walleye aren't always in the same place as last time because they're fol­lowing bait, but usually when you see bait there's fish under them," Hyatt said. "When I see pods of fish, I sit and jig over them."
Hyatt hovers over fish, vertically jig­ging a 3-inch Ripple Shad while watch­ing his sonar for fish interest. A slow to moderate lift of a few inches is Hyatt's finesse jigging cadence. He makes fre­quent bottom contact to stir it up and attract fish. A swift lift of 12 to 24 inches off bottom is his go-to stroke for active walleye or to trigger a reaction strike. Regardless of jigging cadence, Hyatt begins by slowly raising the jig one to two inches. This is done to feel for a fish's weight that may have bitten the jig on the fall, or while it's resting on bottom. If there's weight, the rod is lowered briefly to feed the fish some line before the hook is set.
Metal lures are also worth trying. My buddy Mike Bredlaw is a walleye-catching machine with a 1/2-ounce slab-style spoon, like a Luhr-Jensen Cast Champ. I recall one hot August day when he was unstoppable with this lure on pretty much every 25- to 30-foot hump we fished. I can't help but think part of its appeal was many walleye wouldn't have seen this bait since ice-fishing season.
Spinners for suspenders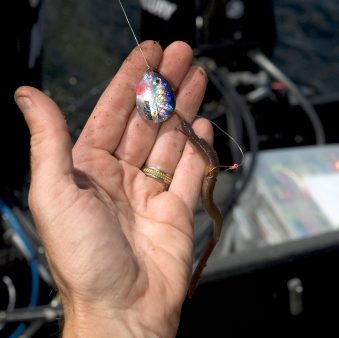 Trolling spinner rigs isn't just for bottom-oriented walleye. When combined with inline weights, spin­ners also catch suspending fish. This tactic is best done using inline planer boards to move to the sides as wall­eye high in the water col­umn often get spooked by the boat.
One presentation option to run baits at a spe­cific depth is the snap weight 50/50 method.
First, let out a crawler harness on 50 feet of 10-pound mono, then clip on an Off Shore Tackle snap weight, then let out another 50 feet before attaching an inline Offshore Planer board and sending it away from the boat. Dive curve info is provided in Offshore's snap weight kit and can also be found using the Precision Trolling app (books are no longer printed). For another inline weight option, see the May 2019 issue, page 39.
Taro's tree trick
Taro Murata is a full-time, multi-species guide based in Toronto, who isn't afraid to try "out of the box" tactics. While he can pitch jigs, rip hair, and troll spinners and cranks with the best of them, he reminds anglers that walleye will relate to wood.
Murata says wood can be gold on deep, clear lakes with little vegetation. In these waterbodies, walleye will relate to deep mud flats and basin structures, but Murata's expe­rience is that sunken trees along steep, rocky shorelines will hold above-average walleye that are willing to bite, even during hot, high-sun conditions.
"You want big, branched trees," Murata said. "The first break [under them] may be shallow, but then it will break again real fast into deep water. Could be 20 feet or more."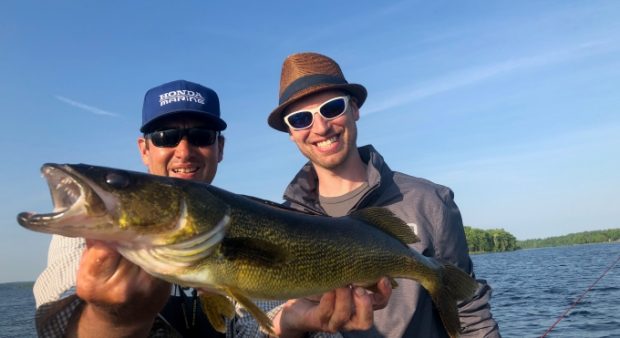 "Just slowly crawl the swimbait on the outside," Murata said. "Go down a bit, too, and let it bump some of those branches. You could also try a slip float and leech in there, but then you might get into rock bass problems."
I've fished this wood-walleye pattern before and have caught fish using a light jig and grub or 1/8-ounce drop-shot weight and a nose-hooked or wacky-rigged finesse worm. A straight, slow fall reduces hang-ups and makes it easy for walleye to strike the lure.
The night shift
Sunset and nighttime afford anglers another win­dow of opportunity to catch hot-weather walleye. Bredlaw and I have had our fair share of evening walleye action on rocky humps using jigging spoons, various jigs, and drop-shot rigs. Casting and slowly reeling a Berkley Flicker Shad or a Rapala Tail Dancer over weed tops and along shorelines has also put walleye in my boat from twilight into dark.
Murata encourages anglers to try shallow sand flats at night in summer. He describes one 5- to 8-foot flat he likes as follows:
"It's got a little grass on the bottom in spots, along with some rubble piles. The walleye show up at night. We'll swim grubs and cast cranks, anything, really. Just keep it slow and steady. I've even caught walleye on topwaters there."
Nighttime Trolling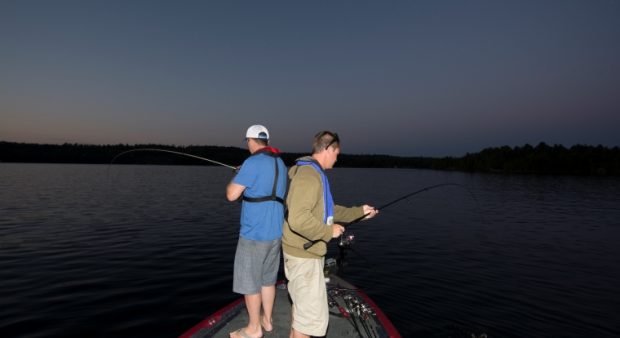 Trolling is also a savvy nighttime play. Again, it comes down to covering water. As for baits, it all depends on where walleye are feeding. I've had incredible nights pulling shallow-running Rapala Shad Raps through depths spanning 4 to 10 feet, catching fish relating to vegetation, sand flats, rocky points, and tributary inlets.
Sometimes, though, walleye feed deeper. Here the Berkley Flicker Minnow and Flicker Shad, Rapala Deep Tail Dancer, and Yo-Zuri Crystal Minnow Deep Diver will all catch fish. Troll baits over deep structures and along deep water drop-offs adjacent to shallow feeding shelves.
"You can catch a lot of walleyes in the heat of the summer around here, but you've got to keep moving…there are always fish biting somewhere," Miles said. This attitude, combined with a will­ingness to experiment with presentations and fish several areas will serve anglers well when chasing hot-weather walleye.
Cover up
Walleye get aggressive at sunset, but so do biting bugs. Cover up with a lightweight long-sleeve shirt or jacket and pants. Don't forget the bug spray. Bugs may not be bad on the water, but expect the mosquitos to be waiting back at the launch.
Oh, and remember to drink plenty of water to stay hydrated and reapply sunscreen. Sunstroke is worse than getting skunked.
Guide contacts
Jim Miles
jimmilesguideservice@gmail.com
613-227-0607
Rob Hyatt
robhyatt2001@yahoo.ca
705-498-1700
Taro Murata
taro.murata@gmail.com
647-278-5780
Originally published in the August 2019 edition of Ontario OUT of DOORS magazine
Click here for more fishing stories
For more outdoors news, click here