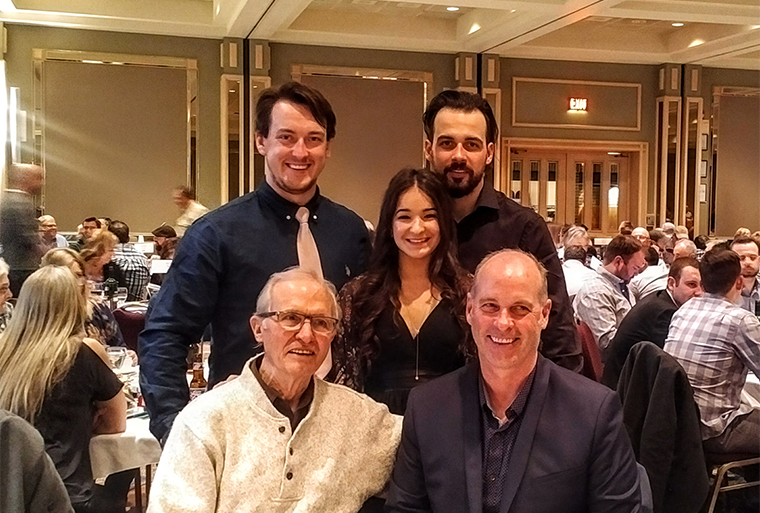 The first conservation-oriented fundraising dinner this columnist ever took part in was over 30 years ago, in my hometown of Thunder Bay. It was one of the very first dinner auctions put on by the North Shore Steelhead Association (NSSA).
The dinner was put together to help raise funds for some of the projects the club had in the works, including plans to build fish ladders on both the McIntyre and Current Rivers, in Thunder Bay. I was in my 20s then and a member of the club, but not really in a position to spend a pile of money.
So my friend Geoff Coleman and I volunteered at the dinner, and were basically tasked with setting tables up, and then putting prizes out on the tables. Back then, seeing some of the swag, including Sage fly rods, Beckman nets and Columbia steelhead vests, was akin to being an elf in Santa's workshop. It was a trout bums dream.
There were a couple hundred people at the dinner, live auction, silent auction, and expansive raffle. I don't think I bought tickets that first year, but the sheer level of good stuff on the line ensured I would be saving my pennies to buy a dinner ticket and some raffle tickets the next time around.
Over the next few years, I would become more involved with the club, and did indeed end up buying both dinner tickets and quite a few auction items.
At some point in the early 1990s, yours truly became president of the NSSA, and it was around this time that I began getting my own table. This made for an extra fun evening as I could have friends, family, and fishing buddies together for a fun night.
Best of all, the money we dropped was going towards cold water stream restoration and fishery improvement. We all loved catching steelhead.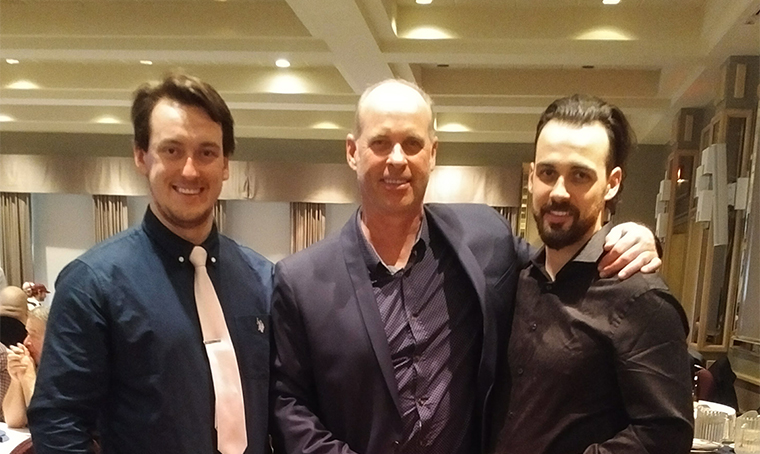 When my kids got into their early teens, they started to join me at the dinner. Both Devin and Austin used the occasion to dress up, breaking out their best duds. Their Dad bought them raffle tickets, to keep them interested. The steelhead dinner table was now half family, with some close friends and people I'd had at the table for years.
In recent years the table has included my sister, Marlo, and long time friends like: outdoor writer and publisher Shawn Perich, Quebec lodge owner Ray Rivard, outdoor writer Tom Armstrong, and Thunder Bay accountant and all-around good guy Michael Harding, who I've drug all over the northwest fishing.
The longest standing table member – outside of my father –  is Dave Krawchuk, an accountant in Thunder Bay. Dave is a long time club member and has donated thousands of dollars worth of art, fishing gear and collectibles to the dinner auction. He is also not shy about buying from the live and silent auction as well.
The dinner has changed over the years. It's moved venues, and has gone from a couple hundred people in the early 90s to half a thousand paid entrants in 2018. No longer is it just a bunch of steelhead anglers and their buddies. It's people from all walks of life and, increasingly, there are a lot of couples.
This year my youngest son Austin brought his girlfriend Sandy along and she seemed to enjoy herself. Although she did confess – with a smile -she was disappointed not to win the boat. The end of the night draw for a boat is one of those things that has always kept people around right until the end. And our table has never won it. Yet.
But there is always next year.
Read more about Gord and his outdoor adventures here.