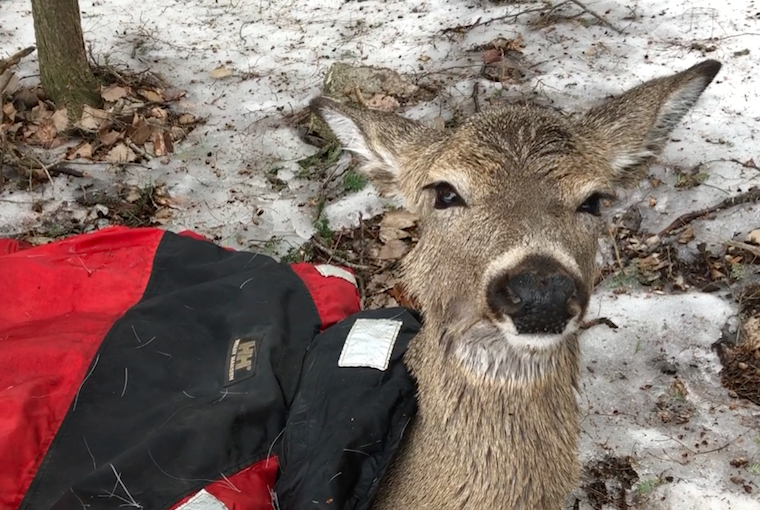 When Cory Veitch pulled into work at Brown's Appliances in Port Carling on March 19, he wasn't thinking that day would be one that would live in his memory. This changed, however, when he looked towards the Indian River on the Lake Rosseau side, and saw a deer that had broken through the ice some 250 yards away.
Veitch, an avid outdoorsman and hunter and firearms education instructor, knew he could not ignore the animal's suffering. He soon rounded up an aluminum boat, put on his flotation coat, and enlisted a friend to help him lower the boat down a steep slope into the water further down shore.
Working together
Then the 48-year-old man paddled 500 metres across open water until he got to the ice pack and saw the deer 75 to 100 yards beyond, floundering in an attempt to get atop the ice it had broken through. Undeterred, Veitch used a spade to break the ice and get to the mature doe, which he thought might be carrying a fawn.
Veitch held the doe beside the boat and backtracked to open water, paddling with the spade, until he was met by a couple in another boat, who helped him get the deer to shore. Once near land in shallow water, Veitch jumped in and dragged the exhausted animal ashore with the help of the couple.
The trio then tried to warm up the animal by covering it with personal flotation devices, Veitch's coat, and a blanket. Veitch said the deer lay there for about two hours and when he when went check on it again, it got up and knocked him over.
Then, when the animal could not make it up the icy slope, he came to its rescue yet again and herded it along a less treacherous route until it was able to run off. When asked about the effort required to complete the rescue and how he felt when the deer left, he said, "I was happy she was OK. It was worth it."
Safety precautions
Dr. Keith Munro is a wildlife biologist with the Ontario Federation of Anglers and Hunters with extensive experience capturing and radio-collaring white-tailed deer. Dr. Munro has also trained government staff and university researchers on how to handle deer safely and effectively.

"I'm happy to hear that this worked out well for both Mr. Veitch and the doe, but I want to stress that personal safety needs to be the primary concern in these situations. Wild animals, including deer, are unpredictable and should be treated with caution. Additionally, the inherent danger of working on ice that has already allowed an animal to fall through needs to be considered."
Click here for more outdoors news
For more on big game, click here