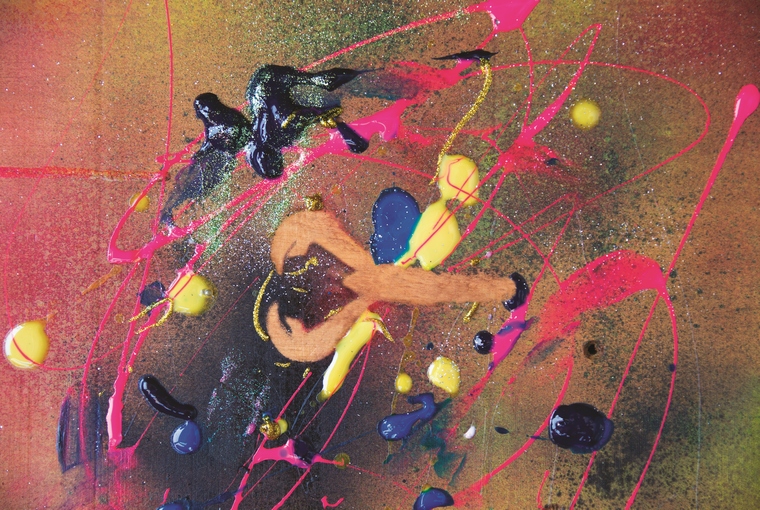 If the bite has slowed to a crawl, a change may be in order. The quickest way to spice things up is by adding a hint of colour to your baits. Here are some of my favourite ways to customize.
Commercial dyes and bait paints
Dying soft plastics isn't a new technique, but is grossly underused. Spike-It lure-dye company offers the best assortment of scented dyes for lures, metals, and plastics. Dye jars, markers, and sprays work quickly, making on-the-water modifications easy. Blue, red, and orange sell well, but nothing to me competes with chartreuse. Adding bright yellow to a swimbait or dipping one end of a stickbait or pinchers of the jig trailer can be magic. With the aid of a tiny brush, add racing stripes, throat splotch, or two-tone tails to boost appeal.
Rarely considered is partially dyeing jig, spinnerbait, or buzzbait skirts or trailers. Adding a few stripes of orange or chartreuse on the weed guard and more on the bottom strands of a flipping jig helps convert it to a more realistic-looking crayfish.
Permanent markers
Markers have a wide range of uses. Mark up a few strands of spinnerbait skirt with metallic silver for added flash. Light blue, orange, or lime green can really perfect a sunfish imitation that bass love. Bright pink, chartreuse, or red can add something special to a bone-coloured drop-shot bait or silver crankbait.
Chatterbait fans can tone down a silver blade with a few swipes of a marker. I like to use gold for dark water, red for muddy water, and green pumpkin for clear water. A coloured chatterbait blade offers a different presentation. The ink can be removed with jewellery cleaner.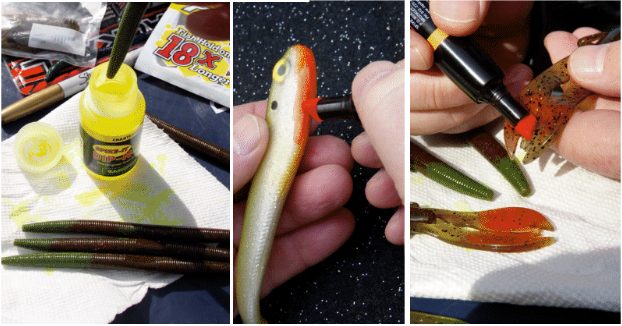 A neat marker trick is to create a two-toned frog. A white topwater frog is highly visible to anglers as it dances over matted grass, but it makes for a difficult silhouette for bass to see hunting from below. Grab a black marker and colour the underside. This black and white update is now far easier for both you and bass to spot.
Colour matching worm weights or jig heads to the bait makes sense. Use markers to help coordinate. A few splotches can really make it more attractive. Once you've narrowed down your choices to a few common colours, use nail polish for a more lasting solution. Polish is cheap, strong, and quick to apply and dry, but best done at home.
Prism Tape
If you want something gaudier, cruise the salmon section of your tackle store for prism tape. This is an old charter-boat captain's trick to add punch to spoons and bodybaits. Depending on how wild you want to go, this product produces a tremendous amount of flash, with little time invested.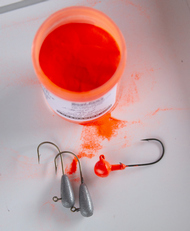 ---
Heat & Dip powders
For jig heads, spoons or other metal parts, there are easy-to-use powder coats on the market. This heat-activated method makes your jigs pop with a pro look and hardened finish. You can even add UV finishes.
---
Pro angler lure mods
Texas bass pro Zell Rowland is an expert at optimizing lures. Rowland always adds some bling as he feels it make baits better. "I put a feathered tail hook on every topwater I fish," he said. "Those feathers provide a lot of movement and appeal even when sitting still. After you chug the bait a few times, let it rest and those feathers will slowly open and close."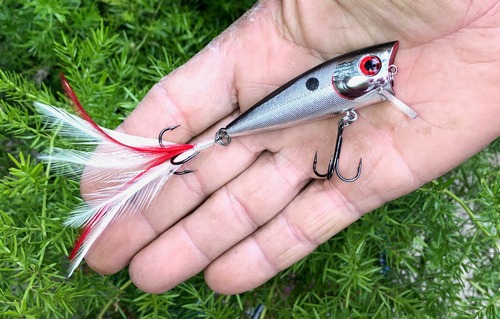 Rowland adds six feathers to his trebles, two to each crease of the hook. Four of the feathers are all white and two are dark to create contrast. He'll also add tinsel for some additional sparkle.
Another modification that pays off for Rowland is adding glitter. In his workshop, he'll apply a light coat of clear adhesive spray to the bait before a dusting of glitter. Once it dries, he adds a clear coat to preserve the finish. Even the lightest dusting of glitter adds a tremendous amount of flash.
Throughout his 45-plus years as a tournament angler and lure designer, Rowland has caught bass from the clearest waters of the Great Lakes to the most tannic reservoirs of the Deep South. He's realized that adding your own appeal to store-bought lures really makes a difference. Nothing's wrong with factory finishes, but if you're creative, you can turn a good bait into a better one.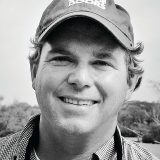 Luigi's love affair with angling started when he was a lad and has never faltered. When not gawking at lures, he can be found setting goose or turkey decoys, or in a tree stand. Reach Luigi at mail@oodmag.com
Originally published in the July 2020 issue of Ontario OUT of DOORS.
For more on fishing, click here
Click here for more outdoors news