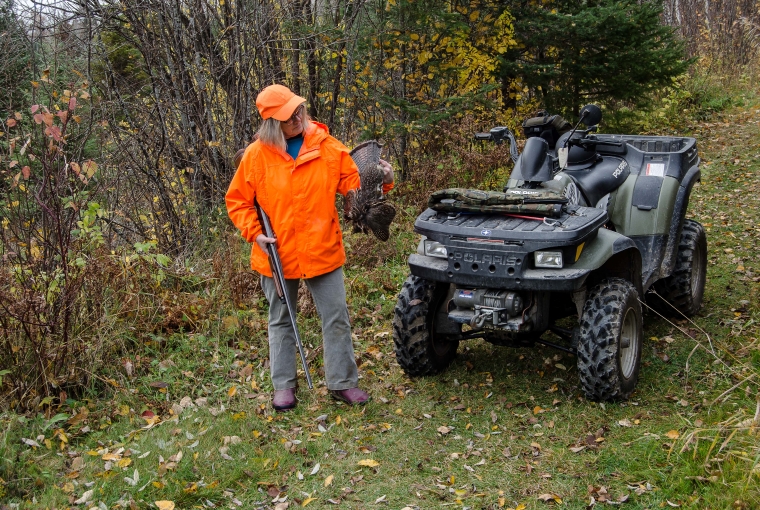 Few people would dispute that northern Ontario grouse hunters tend to take more birds than their southern counterparts. I would suggest this is partly due to more birds and greater access, and partly due to the way they hunt.
An experienced northern hunter drives a truck or ATV over many kilometres of trails and logging roads. He or she is skilled at seeing grouse along the trails ahead and in the trees, too. Once a bird is spotted, the hunter will stop the vehicle, get out and move to a legal position, take the shot or, should the bird or birds scurry for cover, hunt them up.
It's not the classic grouse hunt writers wax elo­quently about, but it's an effective way to take a limit, and these guys and gals are good at it. And while some upland purists express disdain for this type of hunting, others would argue it's the only practical approach to grouse hunting in areas where birds are scattered along kilometres of edge cover created by these roads and trails.
No matter what you think of the northern approach, there's a basic lesson in this that every grouse hunter should take to heart. If you want to harvest birds, you need to cover ground until you find them.
The more the merrier
In most of south and central Ontario, we don't often have access to miles of logging roads or trails where hunting is permitted. Our good grouse cover is frequently fragmented by private property lines, roads, farm fields, and the like — and where we do have large tracts of Crown land to hunt, only relatively small parts of it hold productive cover.
Because of this, we tend to rely more on our boots than our vehicles. But, if we take a hint from our northern friends, we can use our vehicles to help string together a day's worth of prime hunt­ing opportunities.
The goal, for my hunting buddies and me, is typically to hit as much prime cover as we can in the time allotted. That's because we figure the more exceptional grouse habitat we can hunt, the better the odds of going home with birds in the game bag.
Starting out
We typically start our hunt by driving to a cover we have a lot of confidence in due to scouting or past experience. We then hunt it thoroughly. The difference is, while other hunters might commit to being there for the entire hunt and range ever fur­ther, as soon as we have hunted the prime cover to our satisfaction, we return to our vehicle and drive to another piece of prime cover. And that's a pro­cess we repeat until it's time to call it a day, unless one of those places provides an exceptional hunt.
It's a run-and-gun approach to upland hunting, to be sure. Our thinking is we're better off driving to another spot we have faith in than exploring around the prime cover we've already hunted through. This works well for us since most of our covers are within an easy drive of each other — in most cases less than 15 minutes. During rides to the next cover, we drink coffee, eat sandwiches, compare notes, and discuss how we'll tackle the next hunt. That way, when we get there, no time is wasted.
Using this strategy, we might drive to and hunt as many as four of five good pieces of cover over the course of a day, which obviously increases the odds of finding birds.
Choosing wisely
We choose the first cover of the day based on past experience and where we are in the season. Early on, when foliage is heavy, we hunt more open cover where we might actually see a bird that flushes, such as where meadow edges meet the woods or along open trails, or in open groves of wild apples. Likewise, on cold snowy days late in the season we might decide to start our hunt at an evergreen stand on a south facing slope where thermal cover is best. We do whatever makes sense in that part of the season.
The things we learn from the first hunt of the day often help us choose the next cover. For instance, if we notice birds are flushing near or from wild apple trees, our next stop is likely to be a place where wild apple trees are also abundant. Basically, if we become aware of any pattern, we try to go to a place that allows us to take advantage of it.
Time of day also factors into our decision on which cover to hunt next. During midday, it's a good bet to visit a place where grouse food is plen­tiful. While in the afternoon, trails where birds can gravel often produce.
The point is, our next spot is not just based on proximity, but also logic, current conditions, and past experience. So we spend our time afield covering ground in several covers we have confi­dence in and know how to hunt. This strategy, I've found, yields more opportunities over the course of a season. I can't remember the last hunt where we haven't at least flushed birds while using this approach.
No wasted time
Every grouse hunter knows there is no wasted time on an upland hunt. Just being out there is good for the soul. But, I also believe that the season is short and you ought to make the most of it. The best way I know is to cover a lot of ground.
Originally published in the Nov.-Dec. 2019 edition of Ontario OUT of DOORS magazine
For more upland hunting click here