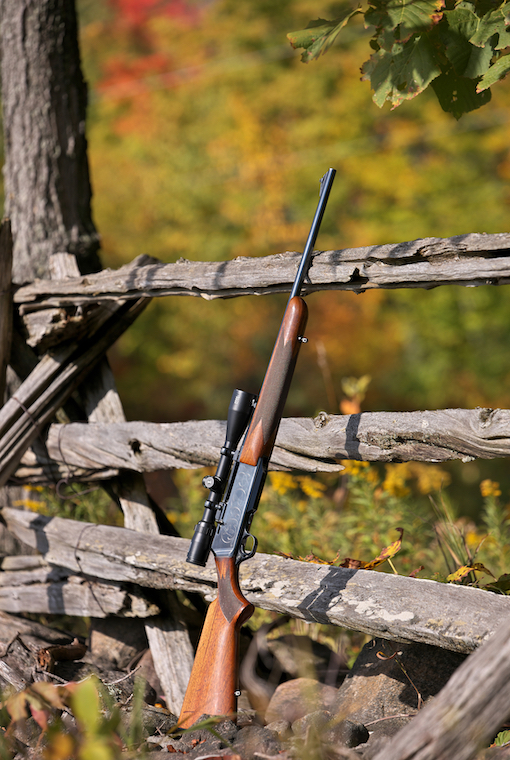 Made: 1967-present
Variants: Type 1 Standard in .270, .30-06, .308, .243; Magnums: 7 mm, .300, and .338; Grades I-V. Type 2: plus .22 in Grades I-II. Mark II: plus Safari Grade, also in .22-250, .25-06, .270 WSM, 7 mm WSM, and .300 WSM; ShortTrac; LongTrac; Mark III; and commemorative models.
Original price: $229 (US) for Standard, Grade I; $249 for Standard, Grade II in 1968
Current value: Used: Type 1, Grade II, $800+ (Grade V, $7,000+ US); new Mark IIIs start at $1,760
This 1970 Browning Automatic Rifle (BAR), Grade II .30-06, is one of my favourite guns. I appreciate its classic Browning "hump back" engraved receiver, French walnut stock, and quality craftsmanship. With its famed almost bolt action-like accuracy, I can "gong" at 100 yards as fast as I can acquire and fire. No wonder it's one of the most popular semi-auto hunting rifles ever made!
A military history
This sporting BAR should not be confused with John Browning's original military version. The US Army used his .30-06 M1918 light machine gun from the First World War through the Vietnam War.
Browning's grandson, Bruce, and firearms experts at Belgium's Fabrique Nationale (FN) designed the sporting BAR in the mid-1960s, and hoped to capitalize on the success of their Auto-5 shotguns. They unveiled it in 1967 and formally launched their "light-weight, semi-automatic sporter, built the Browning way" in 1968.
The standard model, Grade I, came with a two-piece walnut stock, deeply blued receiver and 22-inch barrel chambered in .243, .270, .308, and .30-06 calibres. Magnums with 24-inch barrels in .7 mm, .300, and .338, followed in 1969.
Gun grades
These Type 1 guns came in other grades, adding to their allure. Grade II had engraved receivers with cameos of antelope and elk on standards and grizzly bear and ram on magnums. Grade III featured nicer wood, finer chequering, and more detailed deer and antelope or moose and elk profiles. While Grade IV had no sights, better wood, finer chequering, and elaborate engravings of full-body deer and antelope or moose and elk, grade V added 24-carat gold inlays.
In 1976, Browning introduced the Type 2, which was little different from the original except that it was assembled in Portugal. It lasted until 1993 when Browning introduced the Mark II with several upgrades/fixes. They also launched the popular Safari model with its optional Ballistic Optimizing Shooting System (BOSS) muzzle attachment. ShortTrac and LongTrac versions followed in 2004. The most noticeable change, however, came in 2016 with the Mark III version. It features a slightly different receiver profile and new stock/ fore-end designs.
All this makes me want another BAR! Maybe a Type 1, Grade III in .243; or a Safari Magnum with BOSS in .300 Win Mag, or…
Ken Doherty is a retired teacher, curator, writer, and a long-time resident of Peterborough. He enjoys collecting, target shooting, and hunting with vintage firearms. Contact Ken at mail@oodmag.com.
Originally published in the Fall 2021 edition of Ontario OUT of DOORS magazine.
To read an appraisal of the BAR, click here
For more guns and gear, click here