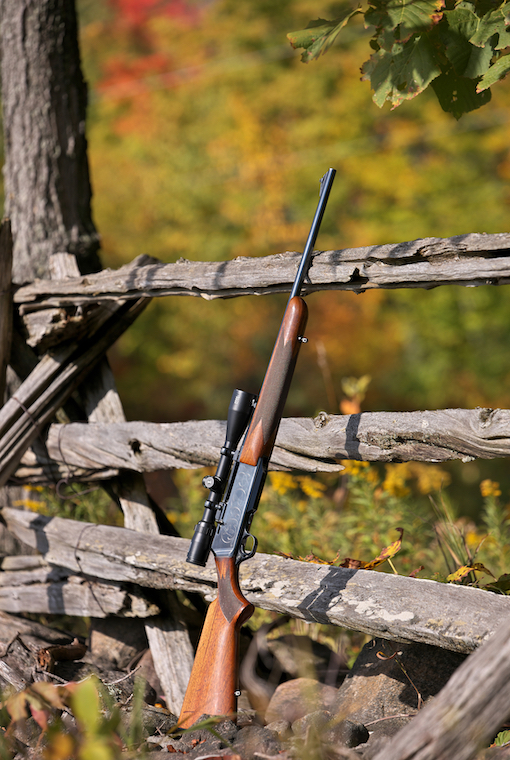 Editor's Note: The following is an appraisal from Classic Gear columnist, appraiser, and consultant Ken Doherty. To read more about the history of the Browning Auto Rifle (BAR), see page 23 of the Fall issue of OOD, or click here to read more.
Hello Ken.
A friend of mine who does not have the internet owns a hunting rifle and would like to sell it. If you are willing to give an estimate as to what it is now worth, he would really appreciate it.
The semi-automatic .338 BAR was made in Belgium and purchased approximately 20 years ago. It only has some wear on the metal where he has carried it over many years. He is now 75 years old and no longer uses this powerful rifle.
I would appreciate if you contacted me on his behalf. His name is Terry Timpano.
Howard Osborne, Trout River
Thanks for reaching out, Howard.
I'm pleased to provide this desktop appraisal for the fair market value (FMV) of Terry's .338 BAR, Type 2, Grade 1.
I am not charging you a fee for this service. I'm a recent graduate and member in good standing with the Canadian Personal Property Appraisers Group. I am completing your letter to the editor request as practice. Please also be advised that I do not have a present or future interest in acquiring this firearm.
I reference this as a desktop appraisal because I have not been able to physically examine Terry's BAR. Based on your comments, I have assumed that it is in very good to good condition as per the NRA Modern Gun Condition Standards Table, which references Very Good Condition as: in perfect working condition, with no appreciable wear on working surfaces, no corrosion or pitting, only minor surface dents or scratches and Good Condition as: good working order; minor wear; light pitting, not affecting use.
I would encourage you to also read my story "Condition critical," on page 40 of the June issue, for a better understanding of the impact of condition on determining a gun's value.
Based on the research I have conducted, I have identified that Terry's .338 BAR was manufactured in 1991 and is a Type 2, Grade I rifle. I have found several comparator firearms in recent sales at gun shops and auctions.
Valuation
Based on the above considerations, I appraise the FMV of this BAR .338 Type 2, Grade I, without scope and with synthetic stock, in very good to good condition to be $800 at this time.
The FMV I provide is relative to this date and to the circumstances surrounding COVID-19. With the borders closed to the US, gun dealers across the province are unable to sell firearms to American collectors at this time. Gun values at auctions and at retail gun shops appear to have dropped accordingly. So, Terry could wait until at least the end of the year until sales to American collectors are allowed again. This would allow access to a larger market and possibly garner a higher price. Plus, I anticipate some pent-up demand.
If Terry plans to sell this firearm soon, he will only realize this value if he sells the firearm himself privately. He should ensure that the person buying has their PAL.
If he decides to sell through auction, he could sell by consignment and subsequent public auction through Switzer's Auction in Bancroft (1-613-332-5581, admin@switzersauction.com) The advantage of selling through public auction means that the sale of your firearm reflects its fair market value at a specific point in time.
Switzer's runs firearm specific auctions every two months. Items are accepted on consignment and then paid for after the sale. They deduct a 25% consignment fee from the auction price and issue the cheque to the seller accordingly.
Or, he could sell by either direct sale or consignment to Ellwood Epps Sporting Goods in Orillia (1-705-689-5333). Epps will either buy his firearm outright or take it on consignment with their rates varying accordingly. They will purchase firearms outright at 60% of the used retail value (URV), which they figure they could sell the gun for (like fair market value) or 70% as an in-store credit.
They will also accept consignments and offer 80% of URV if the value is less than $999.99; or 85% if the gun sells for $1,000 or more. But, they do not issue cheques until a minimum of 30 days after the sale has been completed.
If he decides to sell to another gun dealer, he can expect that they will offer him approximately 30% of what they anticipate the URV or FMV to be.
I hope this is helpful. Let me know what Terry decides to do and how he makes out.
All my best,
Ken Doherty, Peterborough
Ken Doherty is a retired teacher, curator, writer, and a long-time resident of Peterborough. He enjoys collecting, target shooting, and hunting with vintage firearms. Contact Ken at mail@oodmag.com.
Click here for more guns and gear