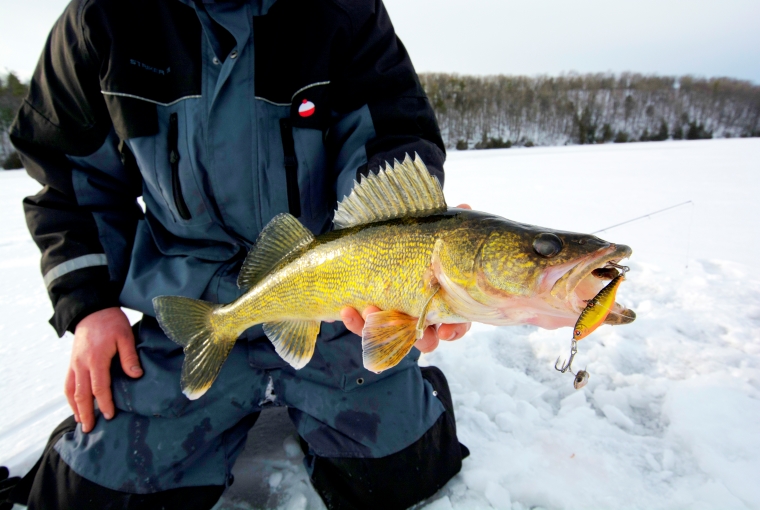 I'm a firm believer that being detail-oriented catches more walleye, especially during tough bites on ice. While bottom transitions and preferred depth are big-picture details deserv­ing of one's attention, it's the finer points, like a lure's hook (pun intended), that should not be overlooked.
Here are some easy adjustments and modifi­cations to make to your bait's business end catch more walleye.
Tipping with bait rarely a bad idea
Adding a whole or partial minnow to a jig, spoon, or jigging minnow is pretty standard when it comes to ice fishing for walleye. But, many anglers fail to do this with horizontal profiled baits, like darters, bladebaits, and horizontal jigging spoons.
Years ago, when Salmo's Chubby Darter hit the scene, Don Theoret, Ian Krzyzanowski, and I experi­mented with it on the Bay of Quinte and found that tipping it with bait was effective. One approach that paid off for Theoret was adding several tiny pin­head minnows to the hooks, creating a chandelier of scrumptiousness. The added weight did dampen the darter's action slightly, but the authentic protein bolstered the bait's flash, profile, and scent, and drew some really big walleye that were cruising along the deep bar we were fishing. A similar approach can be taken with blade baits.
Another example happened a couple of years ago when I watched Ottawa's Eric Riley put on a clinic using a Sebile Vibrato on the Bay. Instead of using whole minnows, Riley tipped each of the lure's two trebles with a small minnow head. This simple modi­fication proved to be the pièce de résistance, making an already deadly lure even more potent for teasing neutral winter walleye to chew. The tiny heads added scent and realism, but didn't interfere with the lure's unique action and vibration.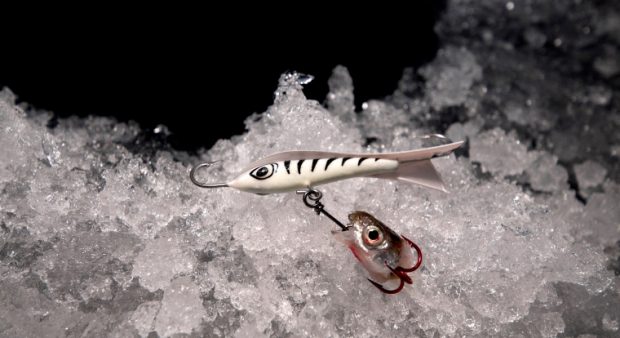 A word of caution: too much meat can kill this potent shimmy that makes cold-water walleye go berserk. Tipping horizontal lures, like vertical baits, requires careful study to ensure the added bait doesn't compromise the bait's fish-triggering flash, wobble, and vibration.
Set up some sway
Another reliable modification is using extra termi­nal tackle to create a little distance between the jig­ging spoon or jigging minnow, and the hook. It's not a dropper, which is also effective, because the distance is quite short; it's just a small amount of separation that makes the morsel a more vulner­able target. The swaying hook makes subtle trig­gering moves with the slightest quiver of the rod tip. And, when a walleye sucks in the bait, the free-swinging hook is easily vacuumed into its mouth for quality hook-ups.
There are a couple of ways to do this modifi­cation. One way is to make a small chain between the spoon and hook by adding one or two extra split rings. The other is to use a one-piece, fast-attach system, like Stringease's Fastach Clips, which have really caught on with anglers. Northland Fishing Tackle has even taken the clip a step further with a quick-snap, modified treble Minnow Head hook.
Thanks to the unique wire clip of these prod­ucts, it only takes a simple twist to change hooks. This allows anglers to thread on a real or artificial minnow head (or other plastic bait) over the shank and then attach the hook for an extremely durable tipping option.
Flicker and clacker, what's with the clatter?
Small attractor blades threaded on a spoon's lower split ring are another add-on that triggers bites from hesitant walleye. The red plastic blade on a Bay de Noc Swedish Pimple and the metal tail fin on the Northland Macho Minnow are good examples. PK Lures sells their Wyoming Blades for DIYers looking to modify their collection.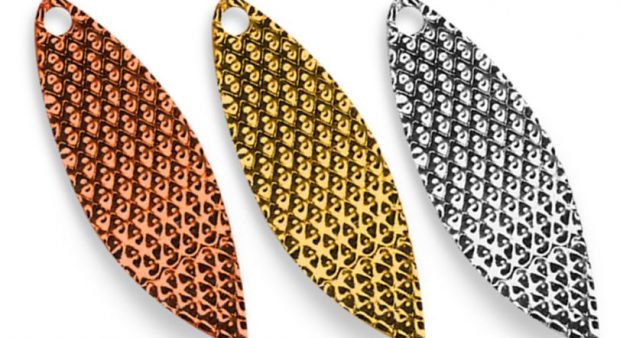 The smallest nods of the rod make the tiny blade flicker, clink, and clatter for a subtle action and sonic vibration combination that's deadly at teasing strikes from onlookers.
Released this past summer, the VMC Bladed Hybrid Treble features a small silver willow blade attached by a resin-sealed split ring to the back of a wide-gap treble hook. I sus­pect we'll see it added to jigging minnows, spoons, and other popular walleye baits this ice season.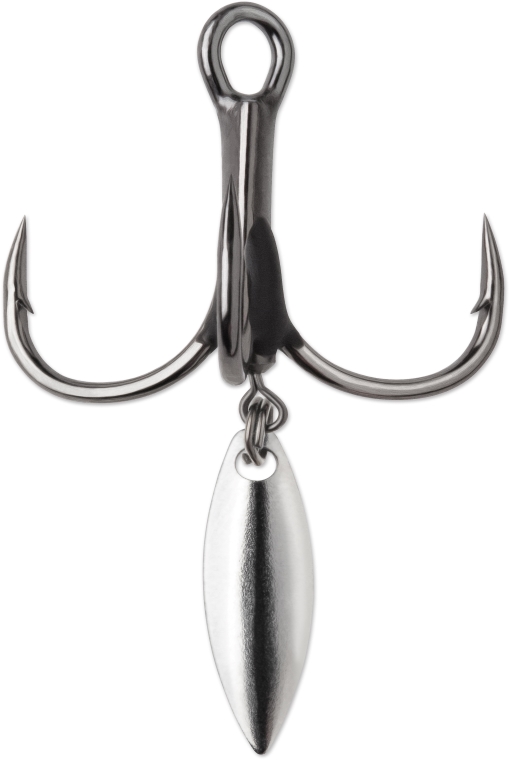 Try these lure hacks this winter and your catch rates will rise as the tempera­ture drops and walleye get fussy.
SWAP OUT FACTORY HOOKS A few jigging spoons I like have average hooks, so I swap them with strong, sharp, high-end replacments. Some might argue it's an unnecessary modifi­cation for eater-sized walleye, but when tussling giant 'eyes, jigging with inferior hooks is asking for trouble. Using the best hooks possible improves hook-sets and holding power during the fight. I often upsize hooks too, when targeting big fish.
Originally published in the Nov.-Dec 2019 issue of Ontario OUT of DOORS magazine
Click here for more outdoors news
For more ice fishing click here