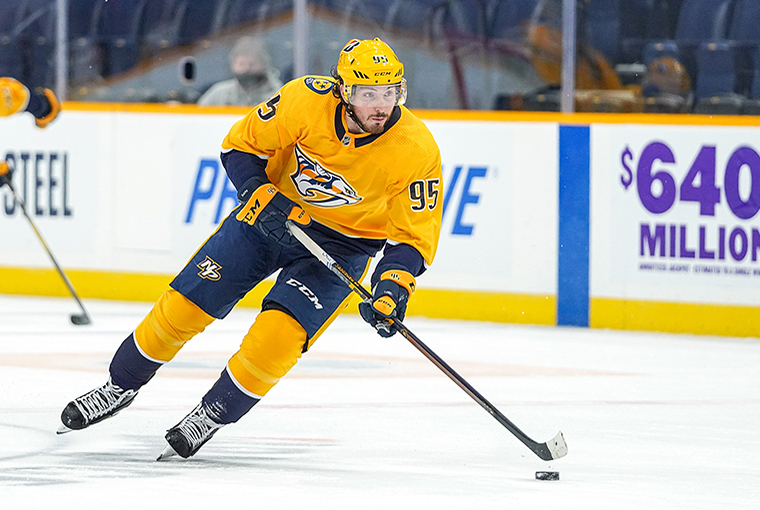 Nashville Predators forward Matt Duchene has already amassed more than 600 points in the NHL since being selected third overall in 2009. In his responses to questions from Ontario OUT of DOORS, we learn Duchene is passing the angling legacy he inherited from his father down to his son.
Family tradition passed on
OOD: You are a proud Haliburtonian. What do you like most about home?
MD: I love how real it is … with amazingly, kind, genuine people who are just themselves and love being from here. And of course, the amazing scenery and lakes – it's absolutely beautiful. I couldn't be more proud to be from Haliburton.
OOD: We heard your dad is a long-time OOD reader – was it your dad that gave you the fishing bug?
MD: Yes, it was him for sure. Every walleye I have caught my entire life stemmed from an article he read in OOD. I remember vividly him reading the article and us going out on Head Lake right in town when I was probably five years old. We had three walleye on the stringer in the first 30 minutes of fishing and I've caught thousands since. So, thanks to you guys for all those fish and amazing memories with my dad!
OOD: Will you pass this on to your children?
MD: Of course. My son is two and a half and already loves it. He got his first rod this summer and we fish off the dock together. It's amazing to see how much he loves it. Every time we pass a lake up here, he asks me what kind of fish are in it. I did the exact same thing with my dad as a kid, so it's pretty special. The Duchene fishing tradition is alive and well.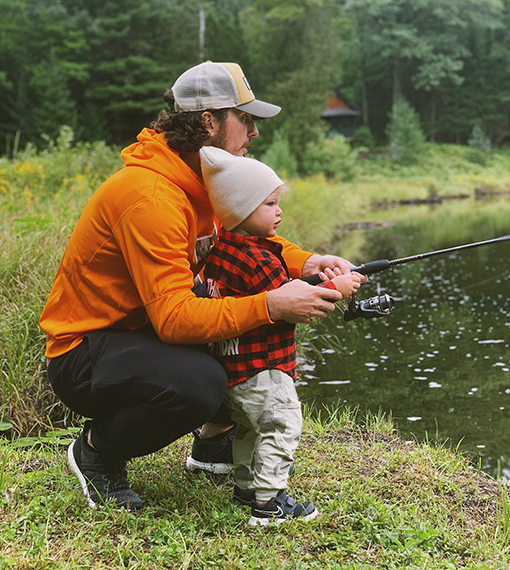 OOD: Where is your favourite place to fish in Ontario?
MD: Up here in Haliburton, for sure. There are some lakes we love to hit when we are here.
OOD: What do you enjoy most about fishing?
MD: The relaxation, quality time with family and friends, and of course, the fish fights and filling the livewell.
OOD: What's your most memorable fishing experience?
MD: I have so many, but some that stand out are when my grandpa used to live in Belleville. We used to fish the Bay of Quinte all the time. We caught a ton of different species and absolutely pounded the walleye. I was quite young, so it helped really cement my love of fishing.
OOD: It must be difficult to find time to fish during a rigorous NHL schedule, but what's your favourite catch from outside of Ontario?
MD: My wife and I always charter a boat to take us fishing when we go somewhere on vacation. One year in Maui we caught several 20-pound mahi-mahi and a couple wahoo, one of which I caught was 35 pounds. I ended up getting it mounted.
Mile High memories
OOD: You were drafted by Colorado and spent nearly a decade playing there. What's your favourite memory of playing in the Mile High City?
MD: Playing for my childhood favourite team was amazing. Getting to play with Peter Forsberg, being coached by Patrick Roy, and having Joe Sakic as a GM were huge highlights. They were and still are my heroes and they inspired me to chase the hockey dream.
OOD: Now of course you're playing in Music City. How has that influenced your love of country music?
MD: It hasn't at all as I was already a country music fanatic. I grew up with three things – hockey, fishing, and country music, so it's pretty cool to combine all of them in one place!
OOD: Winning a gold medal at the 2014 Olympic Winter Games in Sochi and the 2016 World Cup for Canada must be career highlights. Is hoisting the Stanley Cup your biggest goal?
MD: Yes, absolutely. That's the ultimate goal and I've been lucky to achieve the other goals of mine in terms of team championships, so the Cup is the last and biggest one left. Hopefully I'm fortunate enough to hoist it before I hang 'em up!
11 Rapid-fire questions
Q: Favourite cheat food?
A: Desserts
Q: Favourite hockey player (past or present)?
A: Joe Sakic
Q: Favourite species to catch?
A: Rainbow trout
Q: Favourite species to eat?
A: Rainbow trout
Q: Spinning or baitcasting?
A: Spinning
Q: Favourite lure?
A: Can't tell you
Q: Lake or river fishing?
A: Lake
Q: Favourite fishing method?
A: Trolling
Q: Rocky Mountain oysters, Hot chicken, or Beaver Tails?
A: Beaver Tails
Q: Old country, new country, or death metal?
A: New country and old country are tied
Q: Least favourite insect?
A: Black flies, and it isn't close!