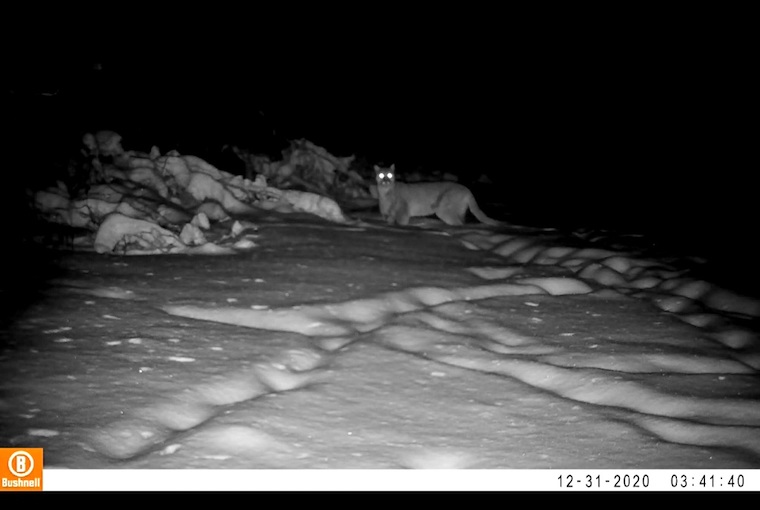 The Holy Grail of trail cam video clips has been captured not once, but twice in recent weeks near Thunder Bay.
Wild cougars were photographed on trail cameras owned by Adam Massaro in Kaministiquia on Jan. 25, 2021, and Chris Maley in the Slate River Valley on Dec. 31, 2020, in an exciting first for both men.
Massaro, who is used to seeing lynx on his property, recorded a cougar that was less than 300 metres from his house. The big cat, which he figures was looking for deer, was first recorded at 8:31 p.m. and still hanging around at 8:36 p.m.
Tracks were first indication
"I was walking down to check my trail cam and I noticed the cat tracks in the snow and they looked quite a bit bigger than a lynx," Massaro told CBC News. "So, I sent a picture of them to my fiancé as a joke and said 'maybe there is a cougar around' and I checked the camera and yup, that's what it was."
New Year's Eve was one to remember for Maley, who has lived in the valley for more than 60 years. That big cat, which walked just 100 metres from his home, was captured on a remote cam set on a tree near a wooded area.
Maley was walking his dogs and was about to pull the SD cards from his trail cameras, when he saw large tracks in the snow. He assumed they were from a lynx that he had previously caught on camera.
Cat was man's unicorn
Once home, he scrolled through the trail camera videos and paused at the last one, which showed a large cougar. He could hardly believe it.
"That was the unicorn," Maley said. "Unbelievable. I just kept saying that over and over."
In the 15 second video, the cougar can be seen walking through the snow in the dark at 3:41 a.m. The cat's long tail is visible. "I knew right away what it was … There was no mistaking it."
Maley said despite the cat's proximity to his home, he is not concerned about safety.
"I'm quite sure it was just passing through," he said.
Cougars keep making news
In recent years, cougar sightings have been making news in Ontario's northwest.
On March 25, 2017, a cougar carcass was found on Boreal Road, northwest of Thunder Bay. The animal was frozen, emaciated and had a large number of porcupine quills in its snout, mouth, and throat. The DNA results showed the animal was closely related to cougar from the Black Hills of Wyoming, South Dakota, and Nebraska. It was the first confirmed wild cougar carcass found in Ontario.
The Ontario Ministry of Natural Resource and Forestry said the animal was not part of a resident cougar population in northern Ontario.
Cougars are considered an endangered species in Ontario.
Click here for more outdoors news