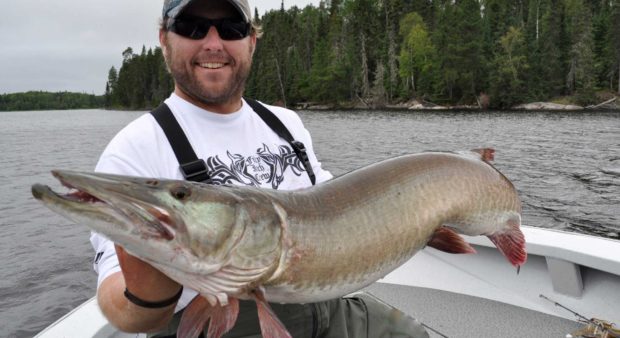 Muskie anglers are notorious for stockpiling tackle. Between new baits and old classics, all with different colour and size variations, it quickly adds up to a sizeable collection — and typically takes up a lot of space in boats.
Not to mention that muskie baits run, on average, around $30 a pop, which makes expanding your collection of tackle an expensive endeavor.
Truth be told, however, you can catch muskie on any Ontario muskie water from opener till ice up successfully with just these three different baits: a spinnerbait, a top water bait, and a crankbait.
That goes for seasoned veterans and newbies alike.
1. Spin-to-win
There's something about the flash and thump of spinning blades combined with a bulky body material that drives muskie crazy. There isn't a seasoned muskie angler out there without some type of spinnerbait in their box, and for good reason.Whether it's a safety pin or inline style, coupled with bucktail, marabou or tinsel skirting, spinnerbaits produce.
Advantages of spinnerbaits are many:
they are easy to fish with using a simple cast and retrieve method;
there are trolling spinnerbait options;
they have a high hooking percentage;
they are easy and effective in a figure 8; and
the blades produce vibration and flash that allow muskie to key in on them under low light conditions.
Another benefit is that spinnerbaits produce on all different types of structure and are effective in heavy weed cover. A single-hook safety pin style spinnerbait is as close to weedless as muskie baits come, while inline spinners can be quickly retrieved over the top of thick cabbage beds.
2. Topping out
It's no secret that muskie love to feed off the surface and there isn't a more thrilling way to catch them. A topwater bait is an absolute must have. These baits really shine during the peak of the summer when water temperatures are high and muskie are active.
Best topwater conditions are generally early and late in the day when the lake is calm. Having said that, I've also seen topwater baits get inhaled in the middle of the afternoon with a chop on the water.
There are three main types of muskie surface lures: walk-the-dog baits, prop baits, and creeper baits.
Walk-the-dog baits
These are long and cylindrical. They cast long distances and move a lot of water when retrieved. These baits require a constant jerking action with the tip of the rod to make them run properly. When done correctly, these baits move side-to-side in the water to produce a swimming action that muskie love.
Prop baits
These are simpler to fish with a basic cast and retrieve action, making them perfect for beginners. The tail section rotates during the retrieve, creating a disturbance in the water that mimics a small bird or mammal swimming on the surface.
Creeper baits
This style fishes very slowly with a methodical side-to-side action resembling a wounded bird or animal. They typically feature a long metal arm on each side that produces the rhythmic action. They're a top choice for sluggish fish or fish that have been conditioned to other styles of surface baits.
Topwater baits are excellent for drawing muskie from heavy cover or shallow water.
Follows with topwater baits are easily detected by a wake behind the bait. Figure-eights can be done on the surface or with the bait plunged under the water at the side of the boat.
Hits are often violent attacks with plenty of noise, commotion and spraying water — a thrilling experience to say the least.
3. Cranky muskie
Like nearly every species of fish, muskie love crankbaits. They mimic baitfish and present a large profile that signals a worthwhile meal to large predators.
These baits perform best in mid-summer when muskie move to rock structures adjacent to deeper water. Casting crankbaits with an erratic jerk-pause retrieve movement over shallow rocks and along the deep edge of weedbeds is a deadly summertime strategy.
Come fall, crankbaits are the preferred trolling bait for covering water and intercepting late season giants. Slow speed trolling along rocky shorelines, prominent points and reefs is a sure way to boat muskie with crankbaits.
Bottom contact with crankbaits is a strike-triggering technique that should be used while casting and trolling. When the large lip on muskie-size crankbaits contacts the bottom, resulting in surprisingly few snags.
Armed with just one of each of these styles of baits, any Ontario muskie fisher would be in great shape during any time of the season.
Author's picks
Spinnerbait: In-line style with tinsel skirt and double number 9 Colorado blades.
Topwater bait: Large walk-the-dog bait
Crankbait: 9-inch Grandma