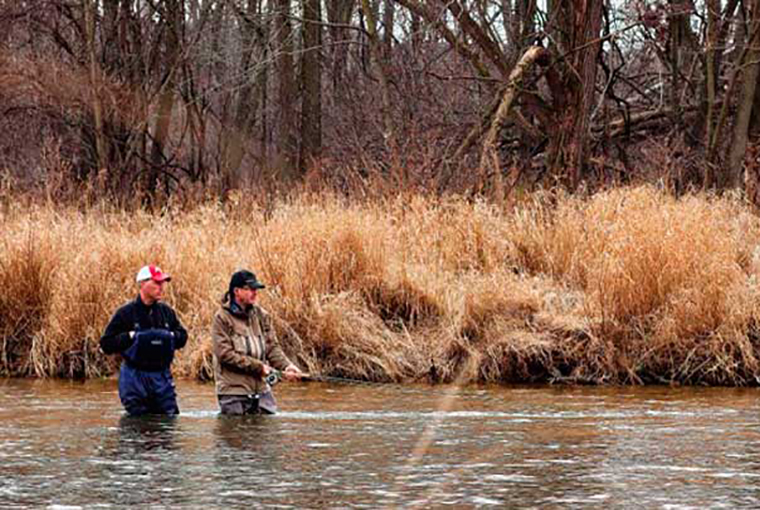 Ontario's West Coast is a tourism-marketing phrase originally coined to describe the shore of Lake Huron in Huron County. The phrase's popularity spread quickly and the area it refers to has, in a sense, grown too.
These days, Ontario's West Coast tends to include everything along Lake Huron from the base of the Bruce Peninsula to Sarnia. The connection to Canada's west coast is implied. For a fly fisher, this is particularly intriguing as it conjures up images of the British Columbia's fabled steelheading.
Related read
Guide Mike Verhoef, owner and operator of Fly Fitters Guided Fishing Adventures says that big five rivers of Ontario's West Coast — the Sauble, Saugeen, Nine Mile, Maitland and Bayfield — are among the finest steelhead rivers in the province.
He's convinced that the quality steelheading available along Ontario's West Coast is related to the fact that the rivers have numerous tributaries, which have excellent cold-water brood habitat for young rainbows.
"These tributaries flow through a rich agricultural area where you might expect siltation to be a problem, but a specific few of them don't change colour, even though flows go up and down with rainfall," he explained. "This is a real testament to the positive influence of the swamps, marshes and other streamside vegetation found along these coldwater tributaries."
Verhoef believes that covering more water and looking for aggressive fish is key to catching more steelhead.
"The more water you cover, whether you're wading or doing a drift boat trip, the more often you're going to be presenting your fly to aggressive fish," he said. "A drift boat trip simply means that you will be able to cover more water than if you were just wading."
He offers drift boat trips on the Maitland and the Saugeen. He uses a 16-foot ClackaCraft or, in low water, a 13-foot Outcast PAC 1300 raft.
Another key, he says, is to fish pinch points, such as the narrowing channel at the heads of pools, that the running steelhead pass through. If you time the run right – for instance, just after a good rain as the water begins to clear up – these locations can be real fish producers. "These are the type of spots one could park themselves and enjoy action the entire day as fish move through," he said.
Verhoef has developed an arsenal of flies that work particularly well in these rivers. This includes a Muddler Minnow/Zonker cross, tied in golden olive colours, which has been named a Zuddler.
Another favourite is a purple egg sucking leech pattern with a hot orange bead tied with purple marabou.
He also thinks that the freestone nature of Ontario's West Coast Rivers is especially suited to nymph and various sculpin patterns like the Zuddler, Bow River Bugger, Muddler Minnow and a few of his own versions.
Preferred nymph patterns include the Evil Weevil, which is basically a Flashback Pheasant Tail Nymph tied on a scud hook with goose biots for wings and his version of this called The Only Nymph. Verhoef also relies on variations of the Hare's Ear, Pheasant Tail, and Prince nymphs, as well as stone fly and scud patterns.
All of these big 5 rivers have year-round open seasons, although open sections during the winter months are limited to small stretches near their mouths (check fishing regulations for each river). This means there is a winter and early spring steelhead season that shouldn't be overlooked.
Verhoef says that good steelhead fishing continues after the spring inland trout season opens and continues into the middle of May and, in some years, right through till early June.
He fishes the spring steelhead season, but prefers the fall season because he finds the fish fresher and stronger.
"Ontario's West Coast is an area of great beauty. From the scenic farmland countryside to the famed sunsets along its sandy beaches," Verhoef said. "Of course, an early fall steelhead that explodes out of water, eight jumps higher than your head is as perfect a bit of scenery as you could ever want."