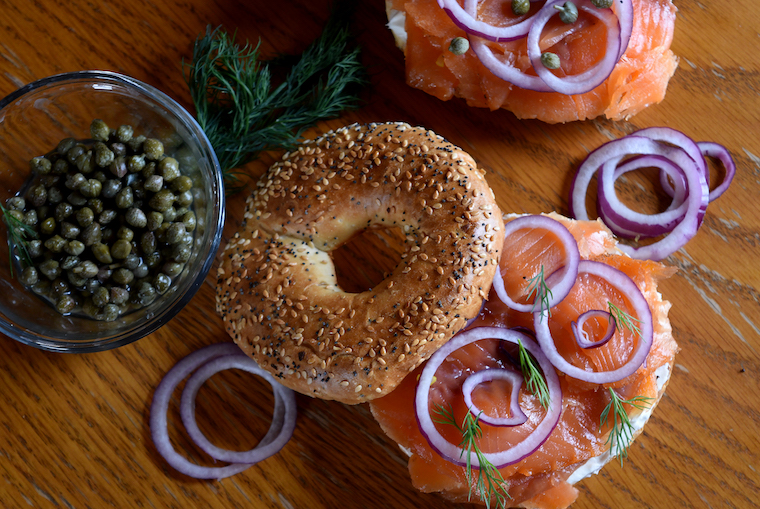 Gravlax is fish (usually orange fleshed) that is cured with salt and or other flavours. It is the same process to make smoked salmon/trout but without cold smoking it at the end. Gravlax is one of the main components of the classic dish "Bagel & Lox."
Ingredients:
Serves 4
2 bagels (sliced in half)
1⁄2 cup cream cheese
1⁄4 red onion thinly sliced
1 tbsp capers
A few sprigs fresh dill
Gravlax:
1 side steelhead trout (boneless, skin on)
1⁄4 cup white sugar
2 cups coarse salt
2 tsp coriander seeds
2 tsp ground black peppercorn
2 tsp dried dill
Directions
Mix sugar, salt, coriander seeds, ground pepper and dried dill in a bowl.
Lay out a large double layer of plastic wrap. Put half the curing mixture on the plastic wrap and place the fillet skin side down on top of it.
Cover the exposed flesh side with the remaining curing mixture. Wrap tightly with plastic wrap adding an extra layer if needed.
Refrigerate for 24- 36 hours, until slightly firm to the touch.
Remove from plastic wrap and rinse under running cold water for 20 minutes. Pat dry.
Slice very thinly with a sharp knife on an angle.
Toast bagels and garnish with cream cheese, gravlax, red onion, capers, and dill, or as preferred.
---
Andrew Rochon is OOD's food editor. You can follow more of his culinary adventures on Instagram: @wilderness_chef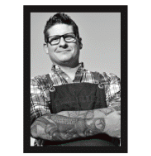 Originally published in the May 2022 issue of Ontario OUT of DOORS.