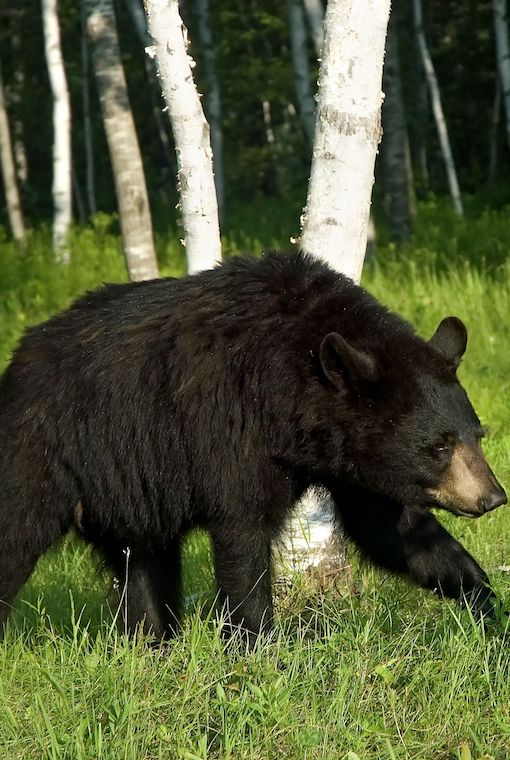 Judging the size of bears is notoriously tricky. Many hunters have been disappointed at the size of their harvest, believing they had a much-larger specimen.
This happens for good reasons. For one, bears seem to have the ability to cast a spell on the human cerebral and cardiovascular systems. Your heart jumps out of your chest and your brain tells you to flee. Buck fever has nothing on bear fever. Another factor is many bear hunters don't live in bear country. For them, bear sightings are rare, and their bruin hunting experience is limited. Add in that small danger element that comes with hunting a large apex predator, and you can understand why many get the jitters.
To be sure this doesn't happen to you, you need to prepare and learn what a mature bear looks like. There are several indicators that greatly aid in categorizing bears into the classes of small, shooter, trophy, and giant.
Sizing them up
The metric we generally associate with bear size is weight. It is much more challenging to guess than a deer's antler size. In Ontario, a good trophy black bear is going to be in the 300-pound neighbourhood, but it is possible to shoot a 600-pounder. Hunters should be aware that there won't be a tremendous difference in skull size among bears in those upper-end weights.
Most people harvest a 150-ish pound bear as their first. The difference to the eye, as strange as it seems, between a 150 and a 300-pound bear isn't all that obvious. So when a 150-pound bear arrives, many, many, hunters reach for their gun, though they intended to shoot something much larger. They've been fooled, they pull the trigger, and unfortunately, go home with some buyer's remorse.
To avoid heartbreak, familiarize yourself with these three tenets when looking for a quality bear.
The barrel ring rule
This was passed on to me by Byron Saul of Saul Outfitters right before shooting a trophy bear. Most outfitters use a 45- to 55-gallon drum to house the bait. On those barrels are two rings. "If the bears' back comes to the second ring, you need to be thinking about shooting. If it breaks that line, it is a shooter. If its back is as high as the whole barrel, it's the bear of a lifetime." Sage advice, and I followed up with others who agreed.
This should be easy to tell from a ground blind. Even from a tree, however, you only need to account for a small degree of difference, based on the angle. If the bear breaks the top ring from an elevated stand, it's a shooter.
Girth
The rounder the body the better. Body size is tough to judge, especially when you're basically judging varying black blobs. In the usual low light conditions of a bear hunt, it's no wonder many people get it wrong. Two bears separated by 100 pounds standing side by side would be noticeable. But when a lone 200-pound bear waltzes in out of nowhere, it's going to look big to many people. The hunter should look for straight lines ― much like a deer hunter. A bear with a horizontal back and flat belly is sure to be a small one. A real trophy is going to look like he's fat and out of shape. Round, sagging belly and wide haunches are keys to look for in a trophy. Again, the blobbier, or ballier, if those are words, the better!
Head details
Ears set to the outside of the head, muted snout, and overall pumpkin-like head are the hallmarks of a trophy bear. To go a little deeper, the smaller the features look — that's the ears and snout — the bigger the bear. That's not to say a big bear doesn't have big ears, they just won't look that way.
A bear with very pointy ears, or a very noticeable snout, is likely young and not to be taken by someone wanting to harvest a quality, mature bear.
Originally published in the May 2022 issue of Ontario OUT of DOORS