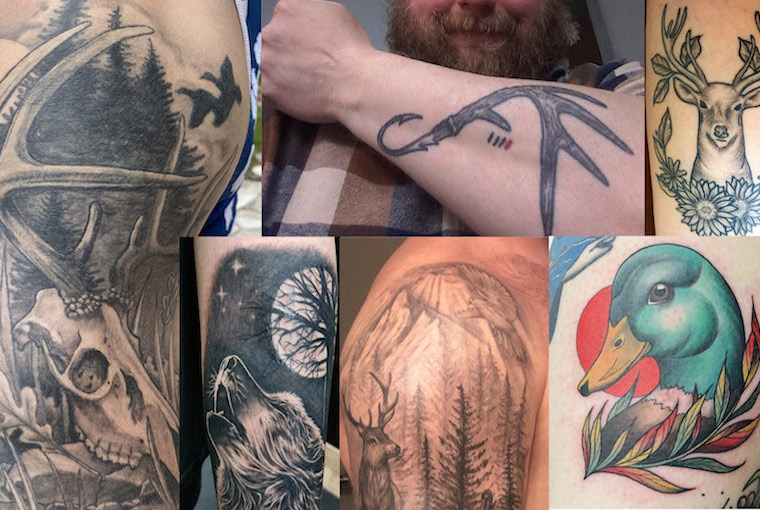 We asked our Facebook, Instagram, and Twitter followers to send us pics of their outdoor tats.
This was their response!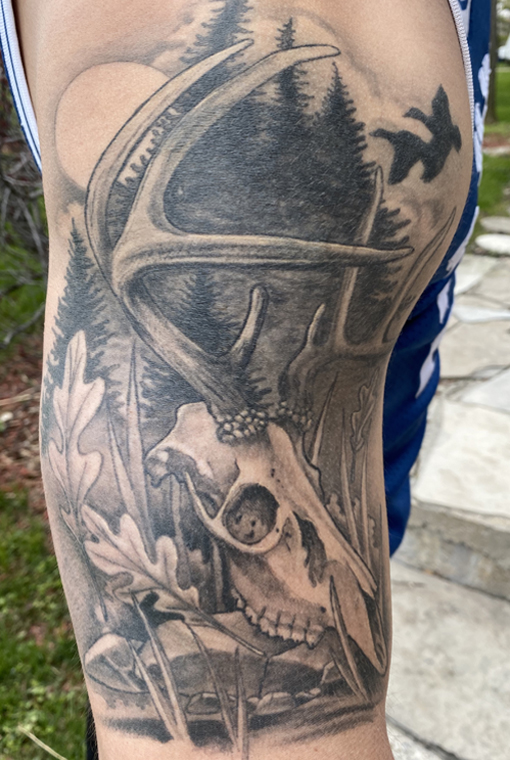 Alan Cattrysse/Melbourne
Artist: Brock Ryan of Nitty Gritty Tattoo Co. in London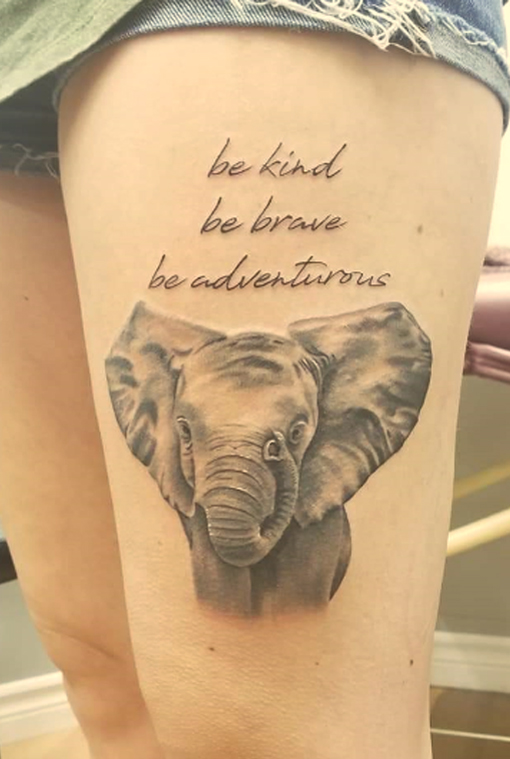 Amelie Cyr/Elliot Lake
Artist: Janaye Tucker of Pricked Tattoos in Lively
"Elephants have always been inspirational to me because they represent strength, good luck, wisdom, family, kindness, adventure, and so much more that I live by," she wrote.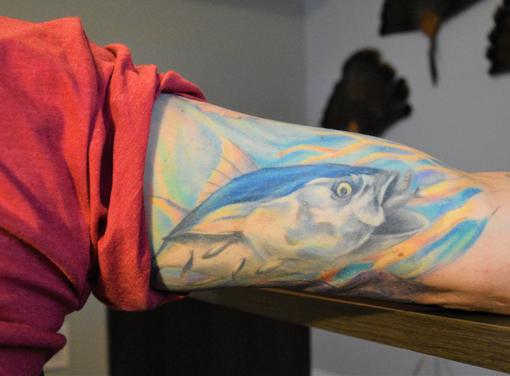 Andrew Rochon/Merrickville
Here's OOD's food editor's tuna forearm. He has a veggie sleeve on his other arm. Check out his recipes here.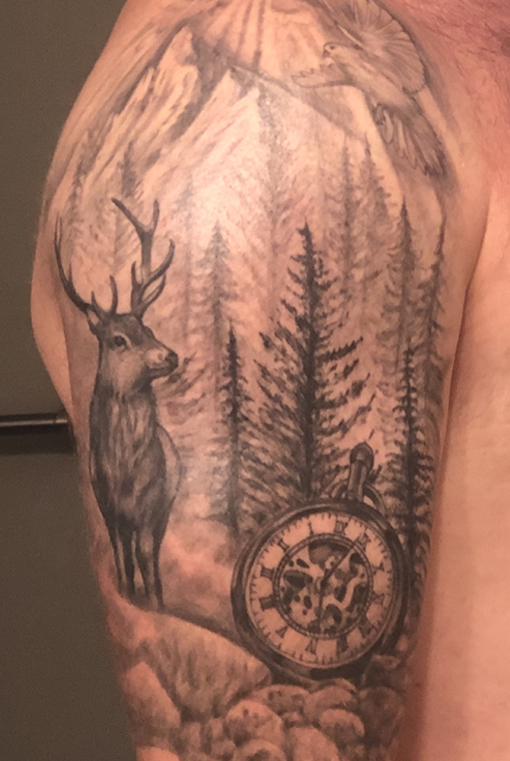 Brent McKenzie/London
Artist: Ralcon Tattoo of The Collector Tattoo in London
"More then the love of the outdoors goes into this tattoo," he wrote. "The clock resembles time and how precious it is; a constant reminder to appreciate life each day, especially in times like we are currently facing. The hands on the clock show the time at which my son was born. The 10-point red stag is a symbol of the McKenzie family shield, deeply rooted in English/Scottish heritage. The dove resembles the Latin meaning of my son's name, 'Callum.' The mountains are a bucket list dream of mine. I have yet to visit Western Canada and I know in time that dream will come to fruition. The rocks are the stable foundation on which it is all built. I was engaged to my wife in Algonquin park on the centennial ridges trail on a backcountry fishing trip."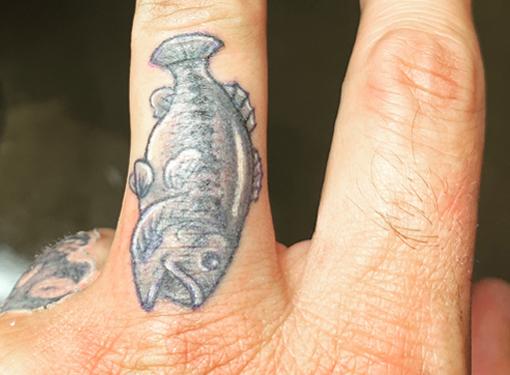 Brian Goodall/Uxbridge
Artist: Adam Luke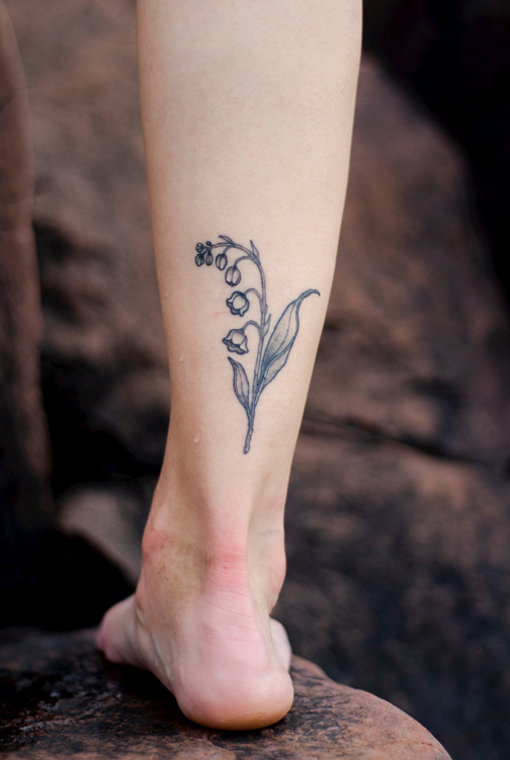 Brigitte V/Chelmsford
Artist: @alexandrathegreat of Lost Lantern Tattoo Co.
"I grew up in Valley East in Greater Sudbury. My sisters, my parents and I have all since moved away. But I'll always have one foot in the Valley with this Lily of the Valley tattoo," she wrote.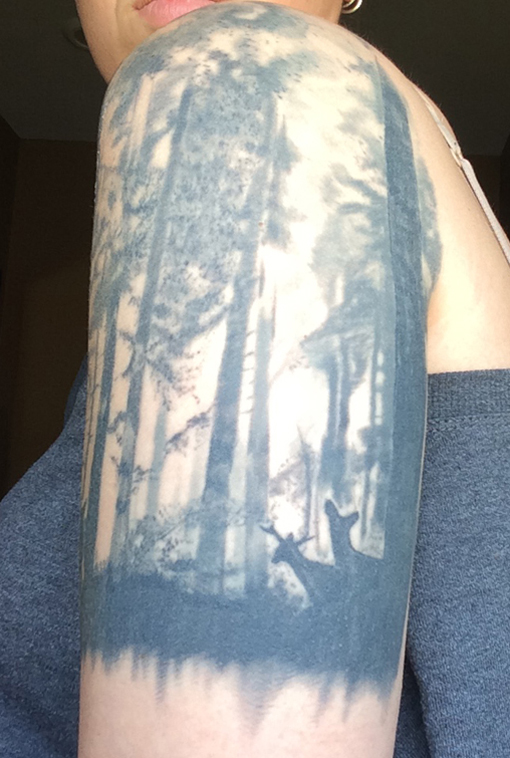 Caitlin Frappier/Sudbury
Artist: Patrick (AKA Sushi) of Pricked Tattoos in Lively
"It's not just a nature scene to me it represents way more. For me as a whole, it shows my love of hunting, fishing, camping, everything outdoors, but it also represents my immediate family and my extended
fire department family of volunteers," she wrote.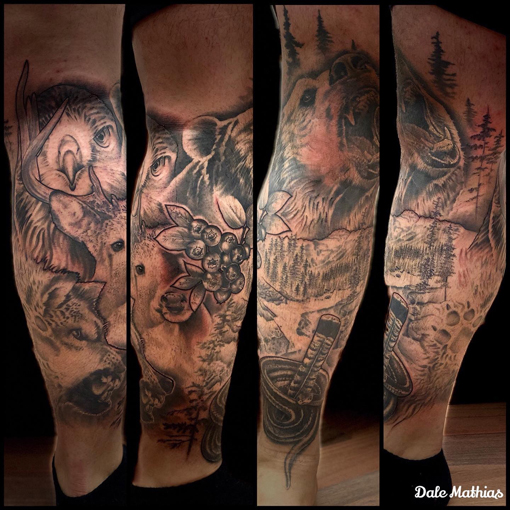 Calvin Georgeoff/Sturgeon Falls
Artist: Dale Mathius of Pricked Tattoos in Sudbury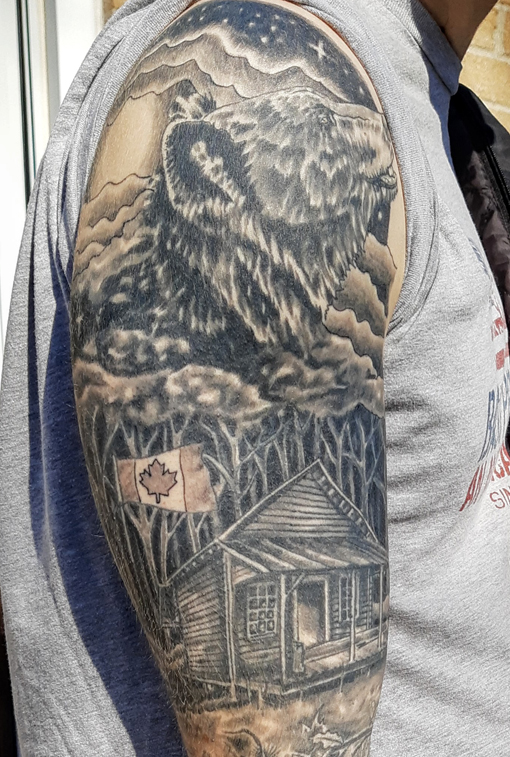 Carter Marquis/Parry Sound District
Artist: Colin Ward of Black Engine Tattoo in Toronto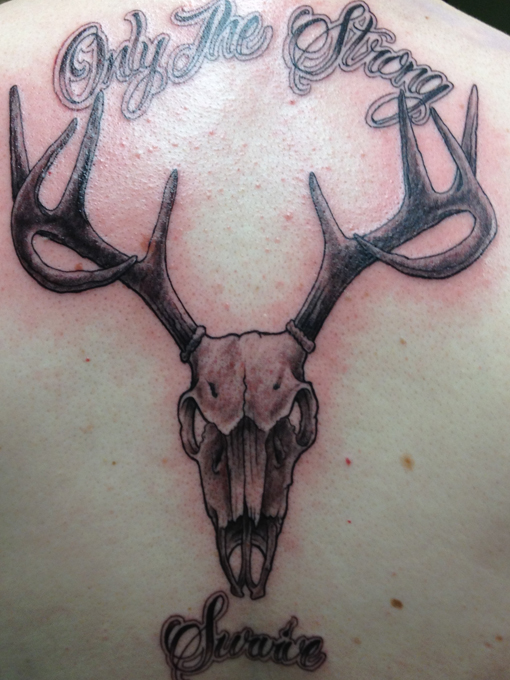 Christopher Riehl/Stratford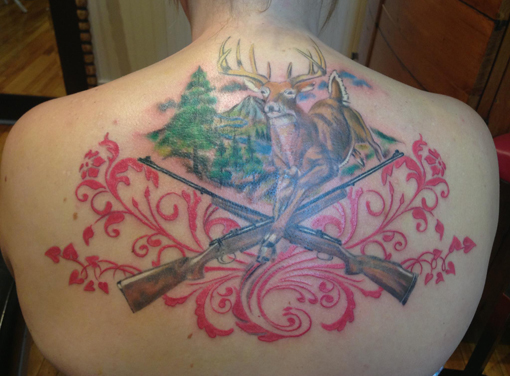 Cindy Romain/Pembroke
Artist: Lisa Casey of Ms. Lisa's Tattoos in Eganville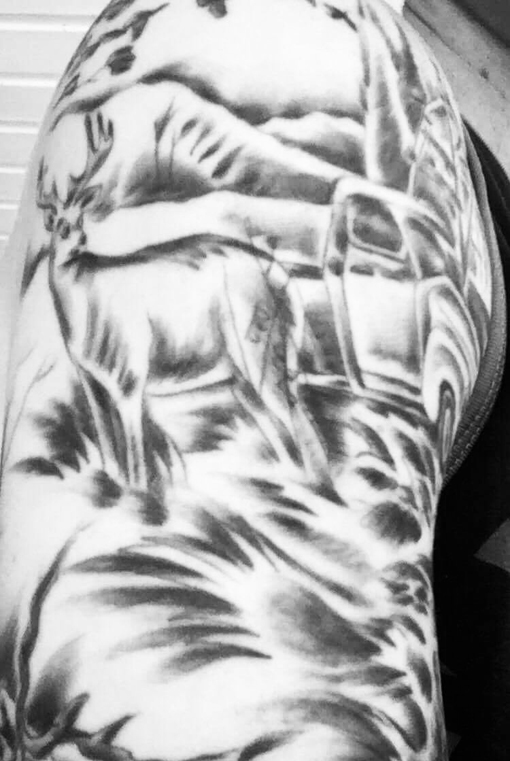 Corey Pellow/Beachville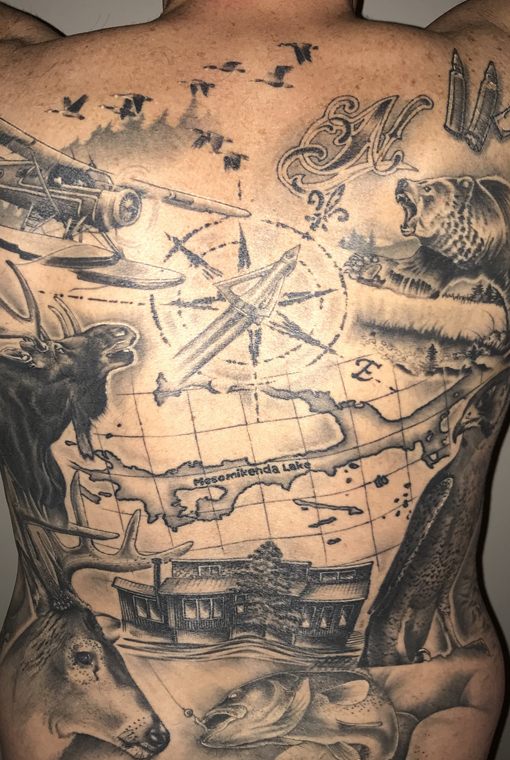 Daniel Duguay/Hanmer
Artist: Dale from Pricked Tattoos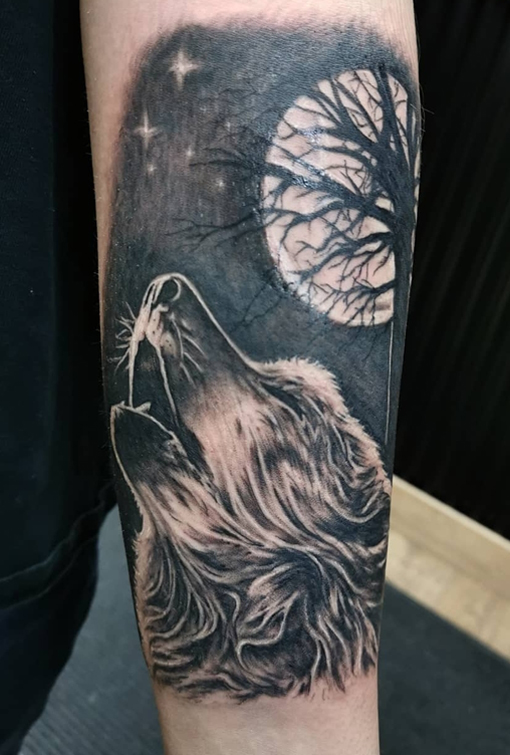 Daniel Nelson/Guelph
Artist: Mackenzie Mander of Th1rte3n Tattoo in Lindsay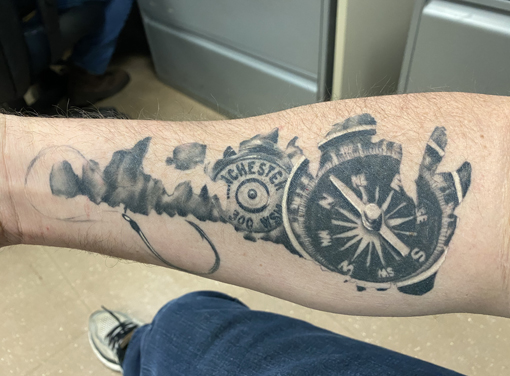 David Reed/Lively
Artist: Pat "Sushi" Thompson of Pricked Tattoos in Lively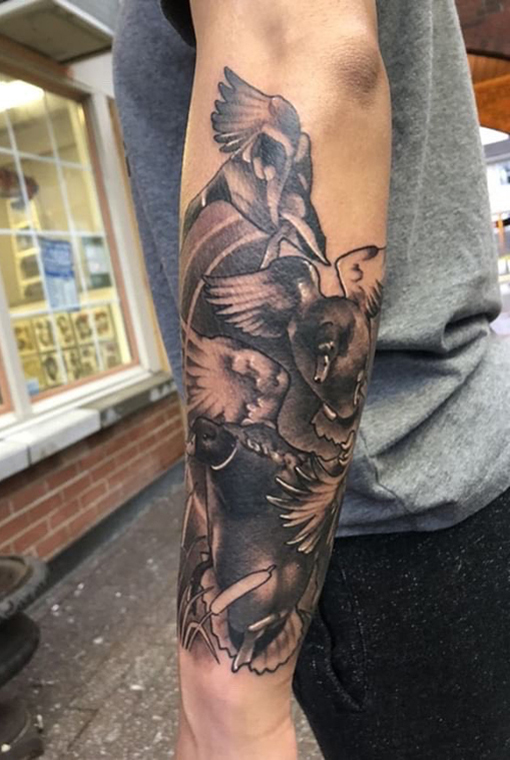 Dee Chan/Pefferlaw
Artists: @krishearntattoo, @jayleblanctattoo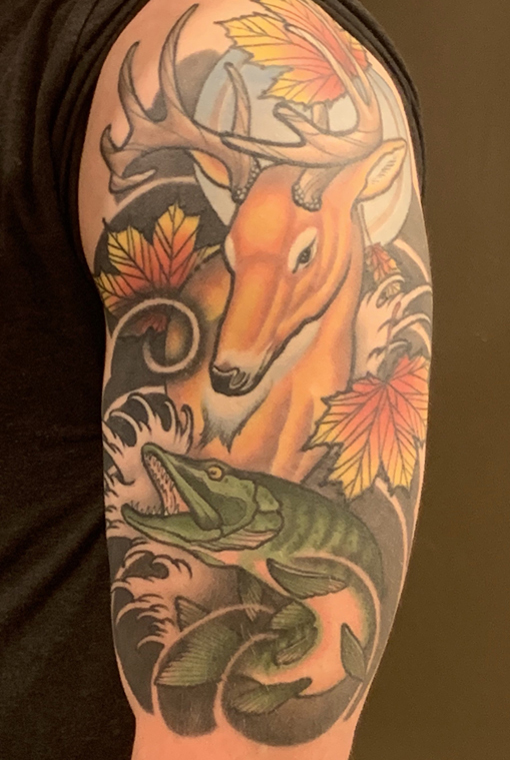 Derrick Seed/Caledon East
Artist: James Bond at Closed Casket Tattoo in Ajax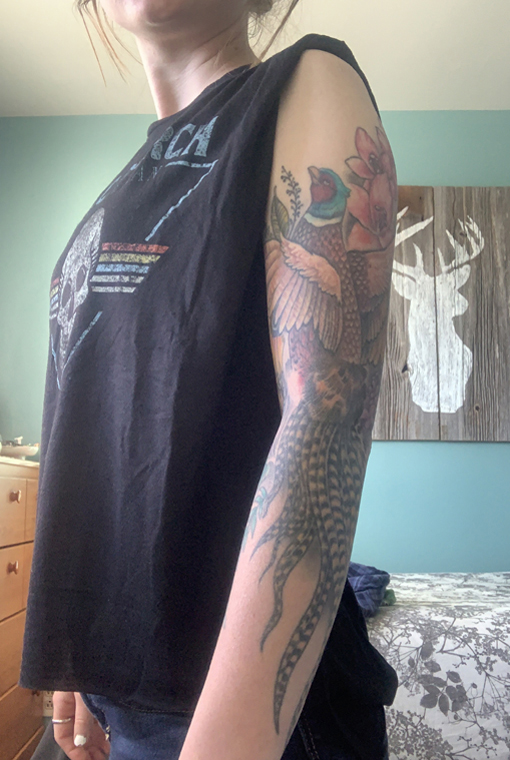 Emma Northey/Manilla
Artist: Brett MacQuirre of Mike's Tattoo & Piercing in Peterborough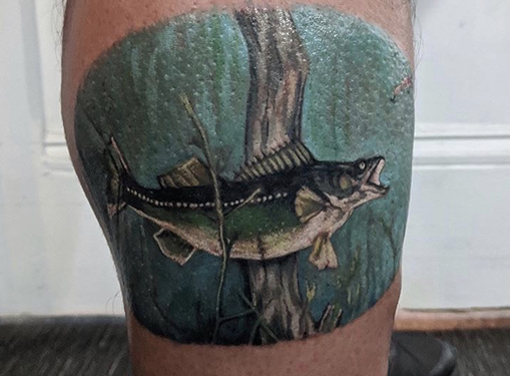 Fred Riley/Hamilton
Artist: Matt Duke of Hamilton Tattoo (based on original acrylic art by Riley)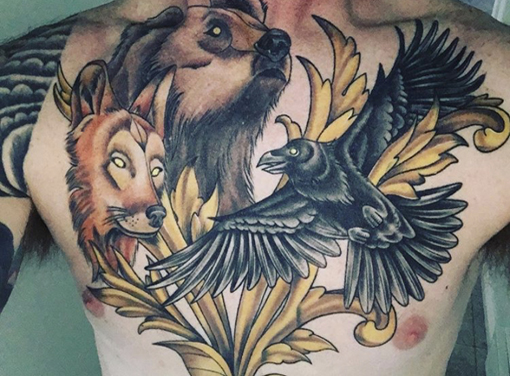 Geoff Waterman/Sudbury
Artist: Janaye Tucker of Pricked Tattoos in Lively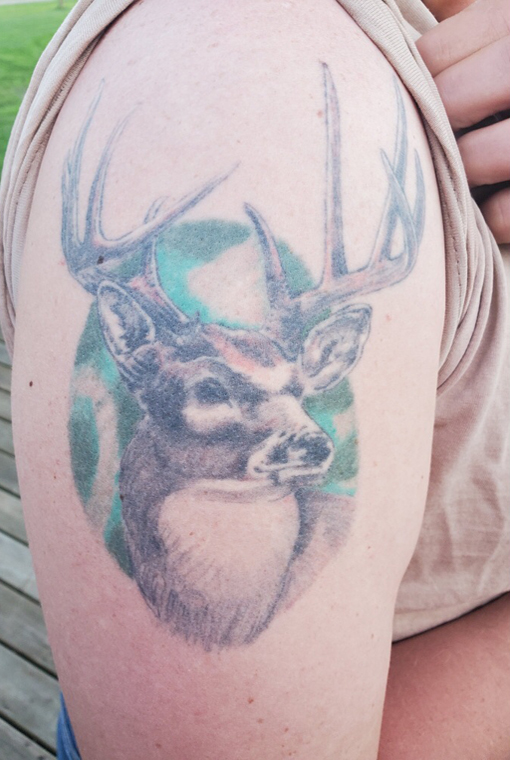 Ian Killins/Smithville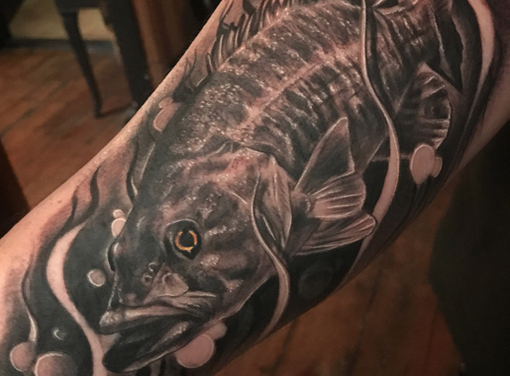 James Goodrick/Whitby
Artist: Jason Stieva of Sinful Inflictions in Whitby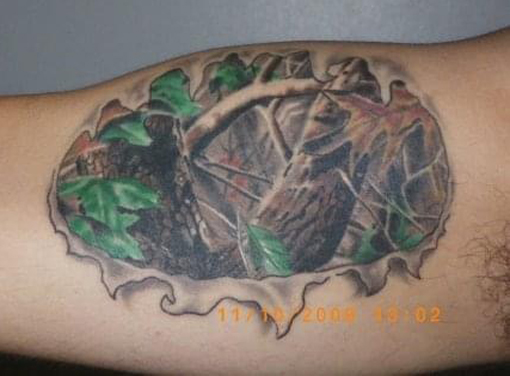 Jeremie Plante
"Little camo tattoo I had done back in 2008 before the big camo craze hit… I was kind of like a camo pioneer!"
Jeremie Zettler
Tattoo by Jeremy Zettler/Ajax, of No Love Lost Tattoos in Bowmanville
"I am an avid fisherman and hunter and I love doing outdoor themed tattoos."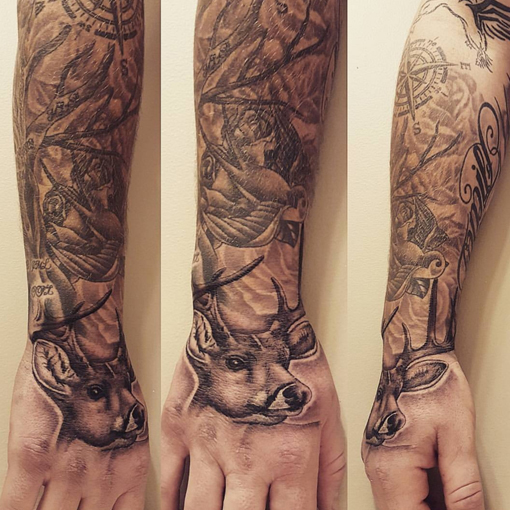 John Boyer/Perth
Artist: Natalie Bouchard of Comfortably Numb in Merrickville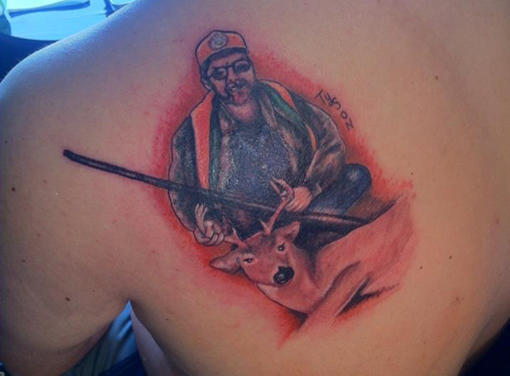 Kyle Ingram/Port Hope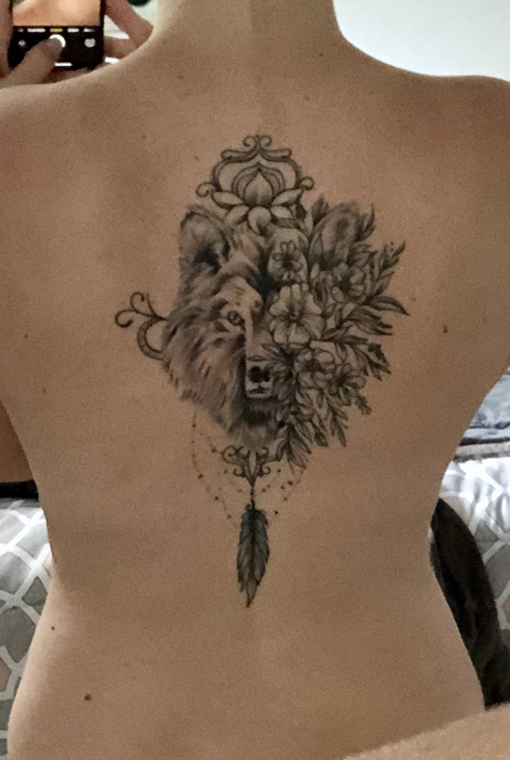 Lianne Lowry/Belleville
Artist: Dan Haley of Lonewolf Tattoo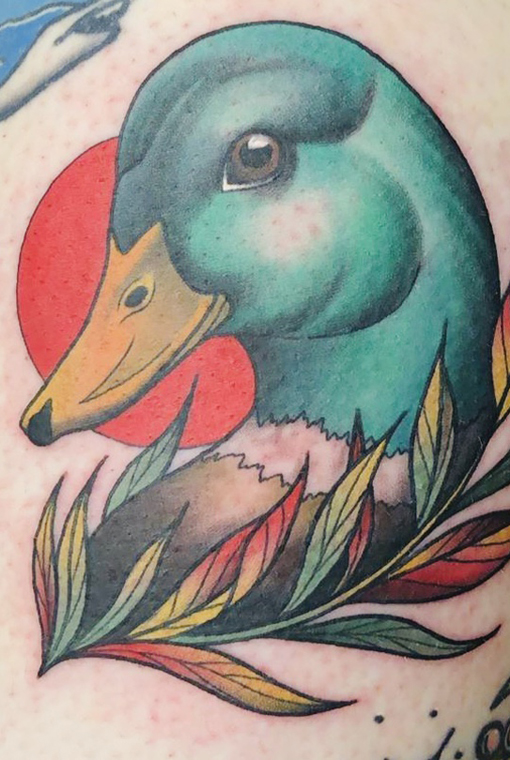 Lisa Kusiak/Chelmsford
Artist: Janaye Tucker of Pricked Tattoos in Lively
"This is not only a duck that reminds me of all my memories from my familiy's cottage that we had since I was 3, but it's much more than
that to me. I call it 'Getting my F ducks in a row.' The past couple
of years I've really been focusing on improving my overall life. My
'F ducks' are food, finances, friends, family, fitness, and fun.
I've been working on getting each one to where I want it to be and I
am the happiest I have ever been," she wrote.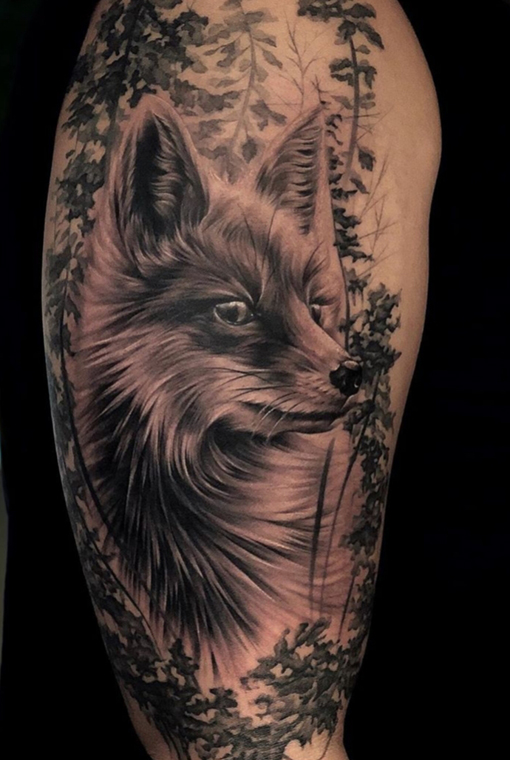 Mandy Downard/Toronto
Artist: Sara of Twin Oaks Tattoo (@bythestrange)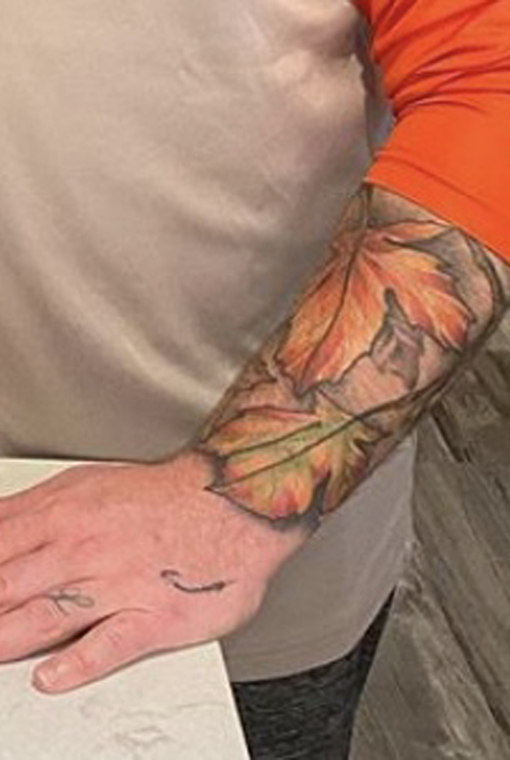 Marc Blake/Mississauga
"Now I can hold my rifle with short sleeves and the deer still won't
see me," he wrote.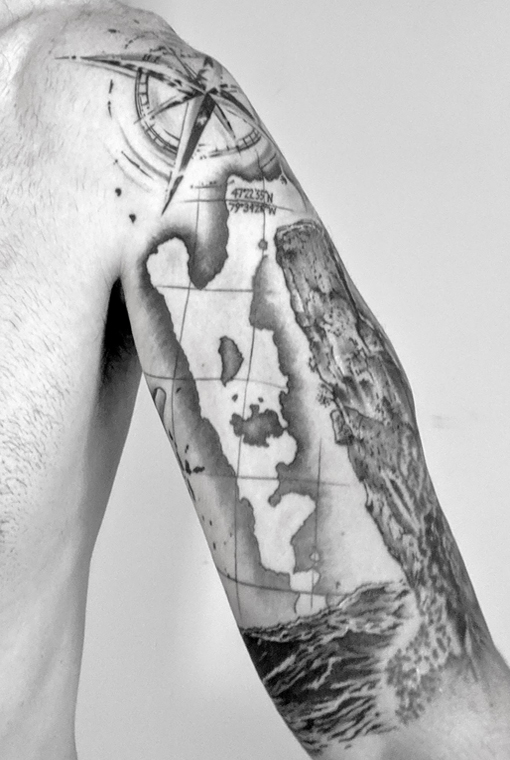 Mark Conlin
"Map of Lake Temiskaming (New Liskeard), it's historic Devil's Rock and the old sailor watching over it all," he wrote. "I grew up and still live just south of Devil's Rock and fish the bay regularly with my son. Couldn't think of a better tattoo."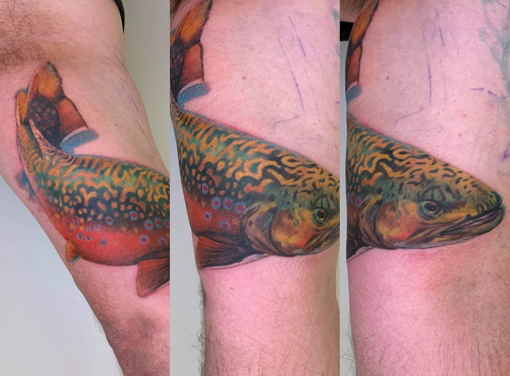 Matt Burley/Omemee
Artist: Mikey Charette of Carte Blanche Toronto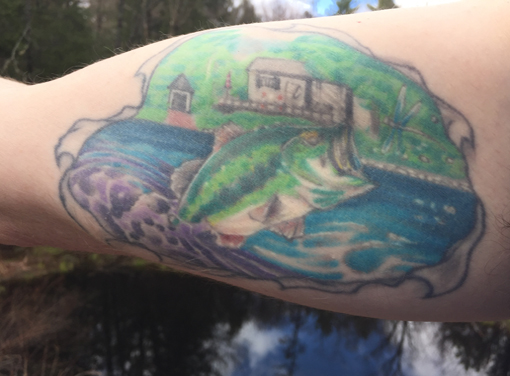 Matt Brown/Huntsville
Artist: Mike Benton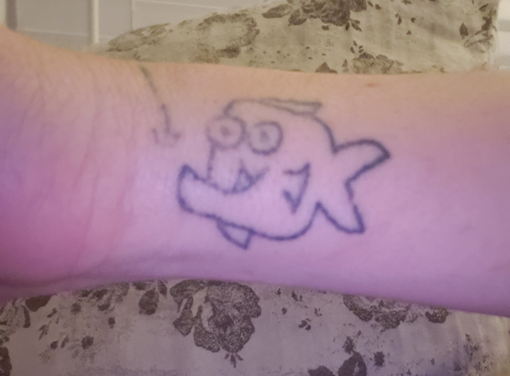 Michael Eastman/Brampton
Artist: Himself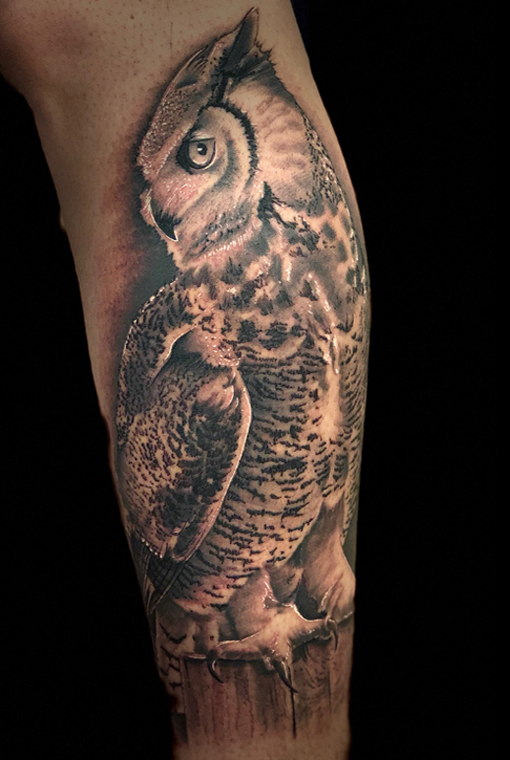 Nathan Holmberg/Lively
Artist: Dale Mathis of Pricked Tattoos in Lively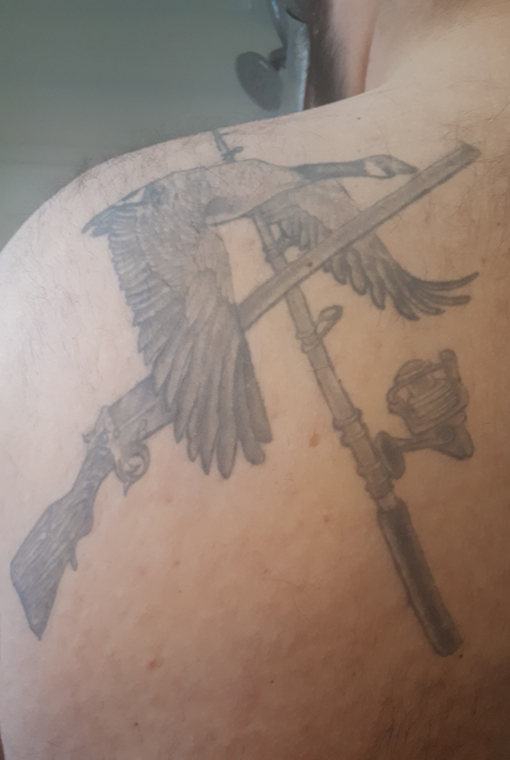 Quenton Dawson/Woodstock
"My grandfather was an avid outdoorsman and when he passed, my grandmother said he came to her in the form of a Canadian goose and said he was ok," he wrote. "So the Canadian goose is in memory of him."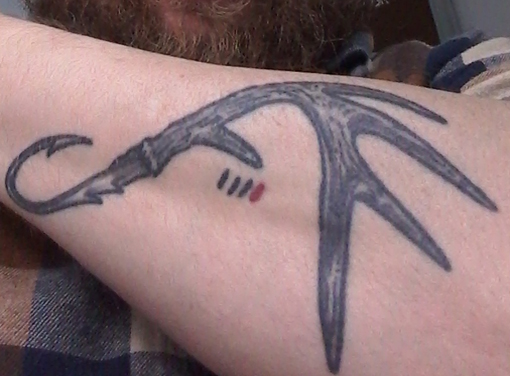 Richard Fillmore/Hamilton
Artist: Curtis at Sinkin' Ink in Hamilton
"Got this tattoo a few years ago and the tally is the number of deer I harvested," he wrote. "Black represents does, and red a buck."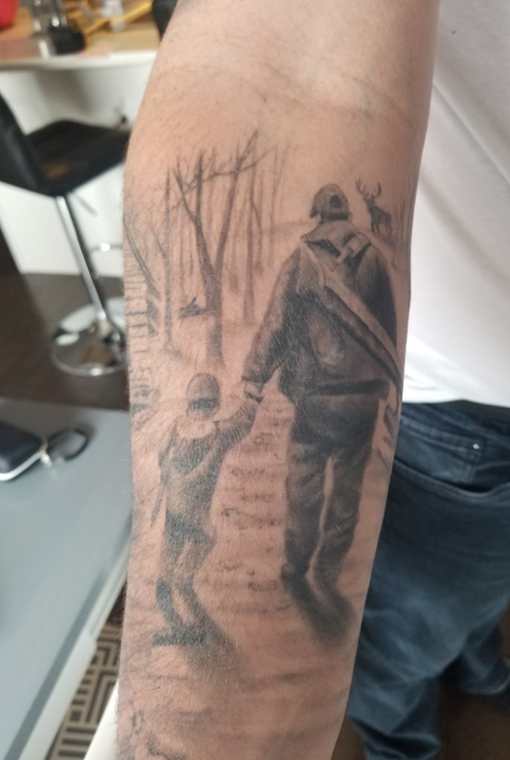 Rob Ostapek/Peterborough
"I have a sleeve on my right arm. A deer head and flying ducks, on the upper half. I also have a picture on the lower half of a father and son holding hands, walking to their favourite hunting spot. Then on the back side, I have a cabin, with a campfire and a tree stand with mine and my wife's initials etched into the tree," he wrote.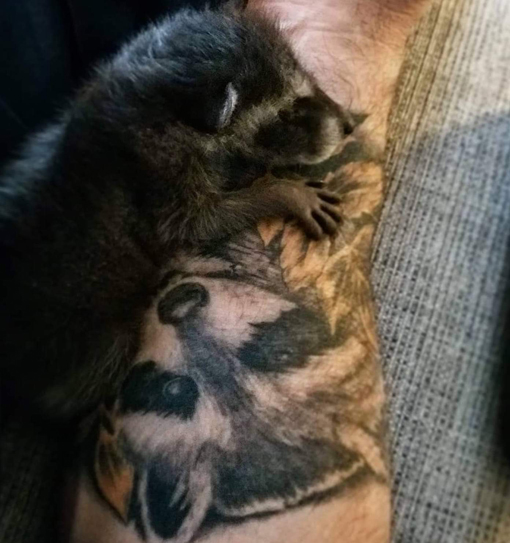 Ron Graham/Apple Hill
"I am known as the Raccoon Whisperer around here. I own Raccoon Whisperer Animal Management Rescue," he wrote. "This tattoo is in honour of all the babies we've rescued and released back into the wild. As much as my wife and I are licensed trappers and hunters, we find time to help wildlife when we can."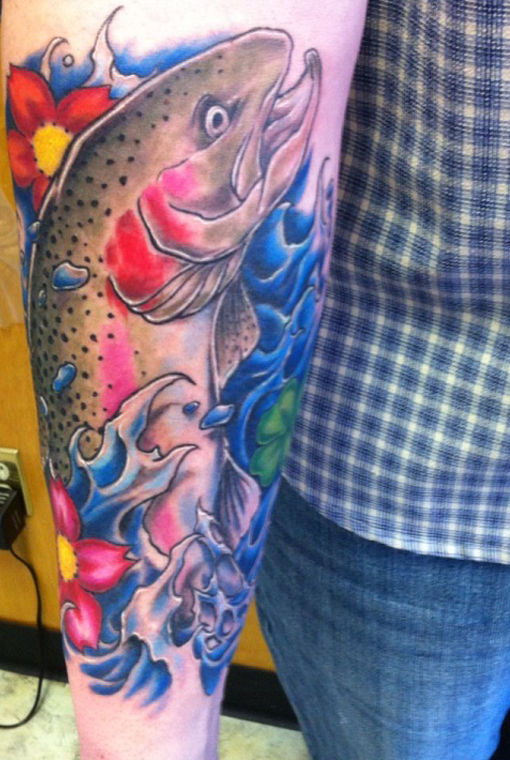 Russ Desjardine/Thunder Bay
Artist: Dave Mancuso of Underground Ink in Thunder Bay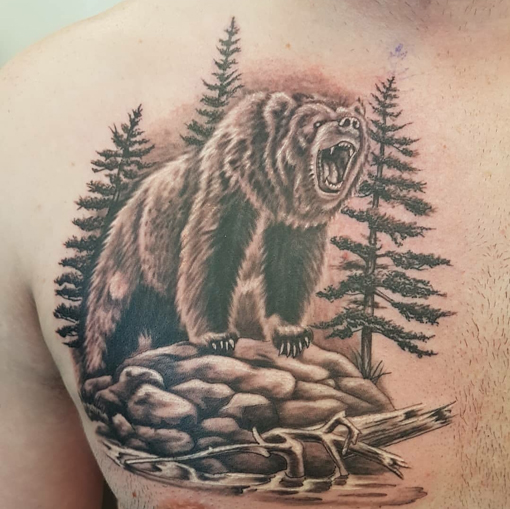 Sean Donaldson/Kitchener
"The outdoors are my passion, always have been, since I was a young man. I got this tattoo to commemorate my love of the outdoors. Not only that, as my mother's nickname (for me) is 'Bear,'" he wrote.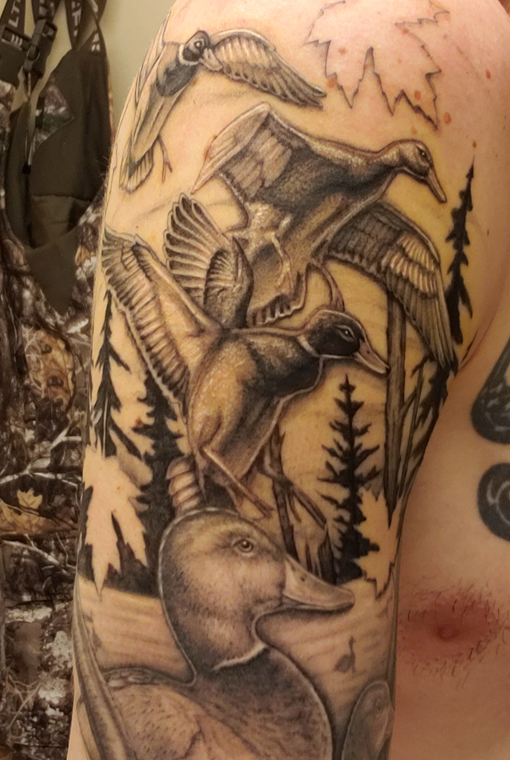 Stefan Sacco/Sudbury
Artist: Dan V at Lost Lantern Tattoos in Sudbury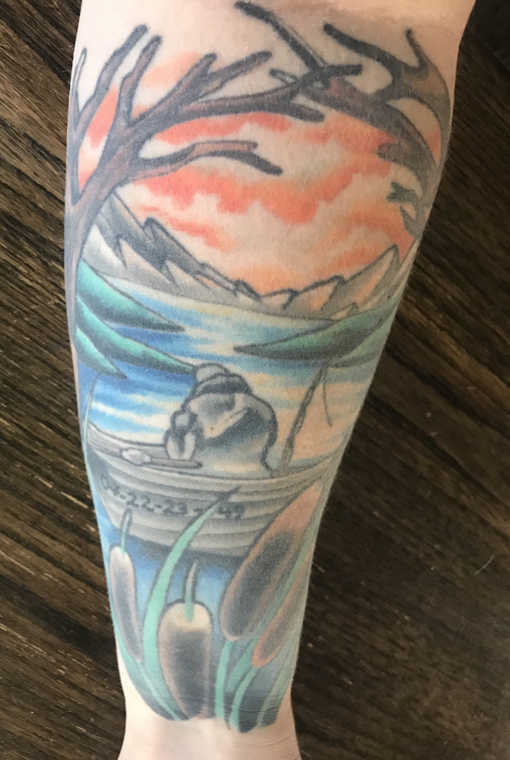 Stephanie Loiselle/Sudbury
"My father taught me everything I knew about fishing. Every weekend, all summer, all winter we would fish together. When my father passed away in 2014, I could not imagine honouring him in any other way," she wrote.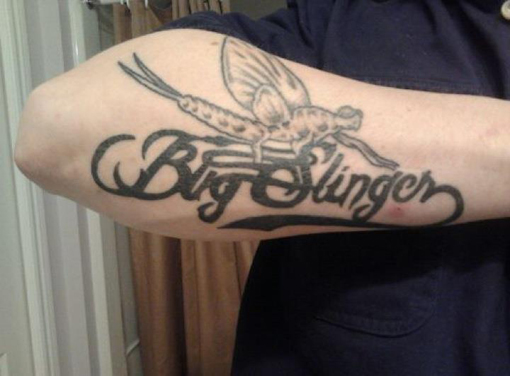 Terrence Fader/North Lancaster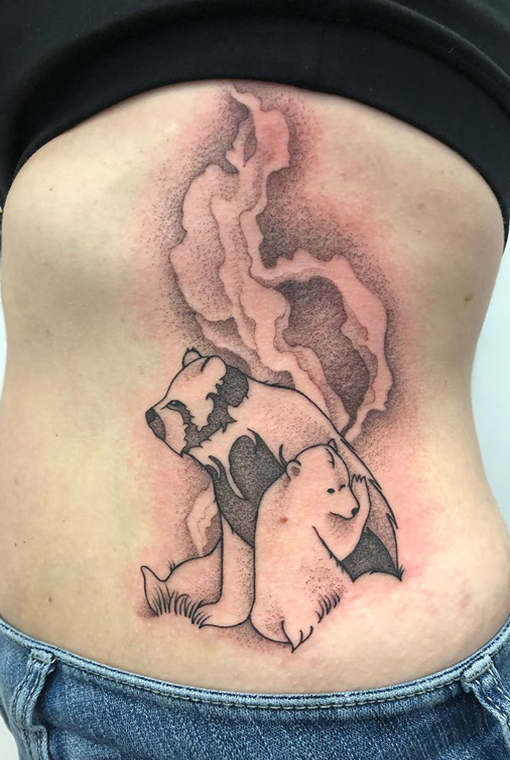 Tiffany Laporte/Amherstburg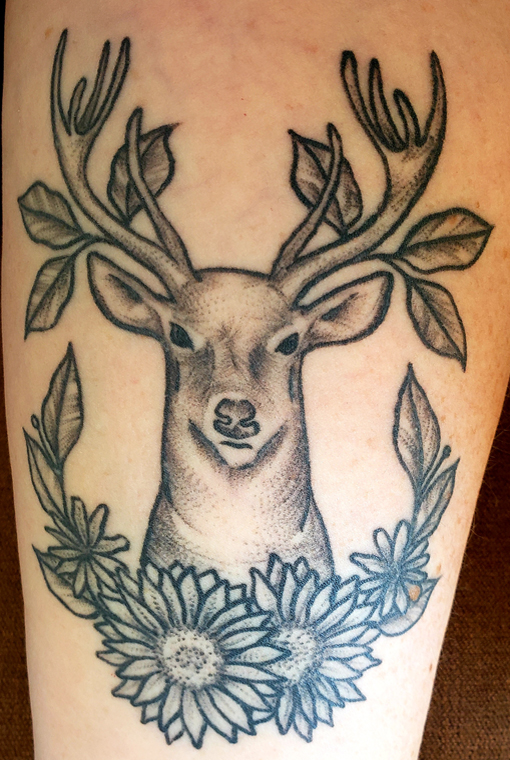 Tracey Wilson/Thunder Bay
Artist: Lauren Harper of Red River Trade Co. in Thunder Bay
"Celebrating deer hunting (and gardening) on my forearm," she wrote.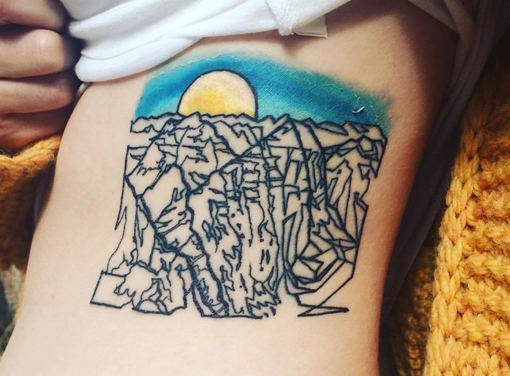 Victoria Smyth/Oshawa
Originally appeared as "Outdoor ink" in the July 2020 issue of Ontario OUT of DOORS magazine
Have an outdoors memory you'd like to share? Click here to submit your photos to our Memory Bank feature