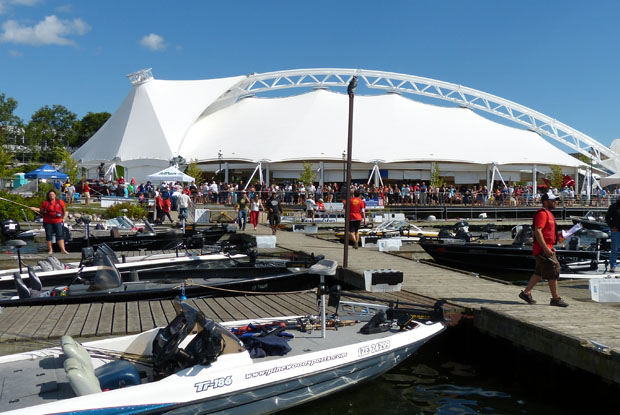 The early morning sun helped wake me as we bobbed in Kenora's harbour, waiting for our flight to start the third day of the tournament.
Jockeying for position amidst an armada of bass boats, Ontario OUT of DOORS Muskie/Pike Editor Drew Myers gave me a reassuring thumbs up. Myers and I'd been dreaming of fishing the Kenora Bass International (KBI) for some time.
Lake of the Woods, site of the KBI is an intriguing blend of rocky pine vistas and lavish mansions camouflaged as summer cottages.
Kenora has all the conveniences of a major hub for summer activities, but retains its small town allure.
The town's harbour and giant "Husky the Musky" landmark are clear indications that Kenora is all about fishing. KBI is the largest show in northwestern Ontario. With over $25,000 in cash and prizes, this bass tournament draws anglers from across Canada and deep into the U.S.
Kenora and Lake of the Woods
Located at the north end of Lake of the Woods, Kenora (pop. 15,348) has a great summer vibe, focused on the lake. Where else can you find a major grocery store that offers 10 boat parking slips? And getting on the water is easy, with plenty of boat launches, marinas and tackle stores.
To call Lake of the Woods massive is an understatement. Bordering Manitoba and Minnesota, this lake has 14,552 islands and 105,000 kilometres of shoreline. It's fed by the Rainy River, Shoal Lake, and Kakagi Lake, along with several smaller rivers. It eventually drains into the Winnipeg River near Kenora.
Well known as a trophy fishery, this lake routinely produces gigantic fish. From 14-inch crappie to 55-inch muskie, almost every species flourishes here. Anglers can expect numerous walleye and pike within a day of bass fishing and even lake trout if fishing deep enough.
Venturing out on Lake of the Woods without a GPS, paper nautical chart, and hydrographic chip for your electronics isn't recommended. Navigation buoys mark distinct channels but care must be taken once you leave the main channels because a minefield of the Canadian Shield lurks under the surface. Hugging the shoreline or cutting too close to islands is asking for trouble.
Mike Miller, Angler and Hunter Television host and KBI regular, has several top-10 finishes to his credit and was one of the first to focus on largemouth bass. He gave me the inside scoop on bass before I left. "All of it looks good but the bass will be in specific areas. It fishes like lakes within lakes."
Practice almost makes perfect
Myers and I cast jerkbaits, jigs, and topwater lures, with the goal of covering water and targeting smallmouths. Even though I brought the best Japanese baits, these smallmouth were suckers for X-Raps in clown, white, and orange, as well as Husky Jerks.
Our best practice day was warm and rainy, with low clouds and light wind. Myers was determined to catch something on a spinnerbait. I was warned that these were a poor choice and a pike magnet, but luckily, Myers ignored the local myth and promptly established a pattern. As the wind intensified in the afternoon, we found bruiser smallmouth positioned on windy points that plunged into deep water. After fishing only seven points, we netted two smallmouth pushing five pounds and another close to four pounds.
Tournament dawns cold
Day One of the tournament started with single digit temperatures. Our only highlight came mid-morning when I set into a nearly four-pound bass. We prayed for clones of this beauty but they never materialized. At the end of the day we sat at the bottom of the standings, and received some cheeky emails from fellow OOD writers.
Day Two warmed slightly and we had a tournament five-bass limit without much drama. Surprisingly, we almost duplicated our first day's weight for a not-so-grand two-day total of just over 18 pounds.
Since we had no chance of finishing strongly, the pressure was off on our final day. We returned to Poplar Bay where I'd caught a four-pounder. Although we sacked a limit, and even made a few upgrades, our 11.10-pound bag was not enough to vault us to the leaderboard.
The true calibre of bass fishing on Lake of the Woods is reflected in the 3-day total of 52.50 pounds caught by winners Bill Godin of Devlin and Leroy Wilson of International Falls.
Even though our performance wasn't what we'd hoped, the KBI experience exceeded our expectations.
Whether you're a competitive angler, or just love to fish, Kenora is an ideal destination, with the giant Lake of the Woods at its doorstep and a culture and facilities that revolve around fishing.
This article originally appeared in the July 2014 edition of Ontario OUT of DOORS. Subscribe to the magazine today.