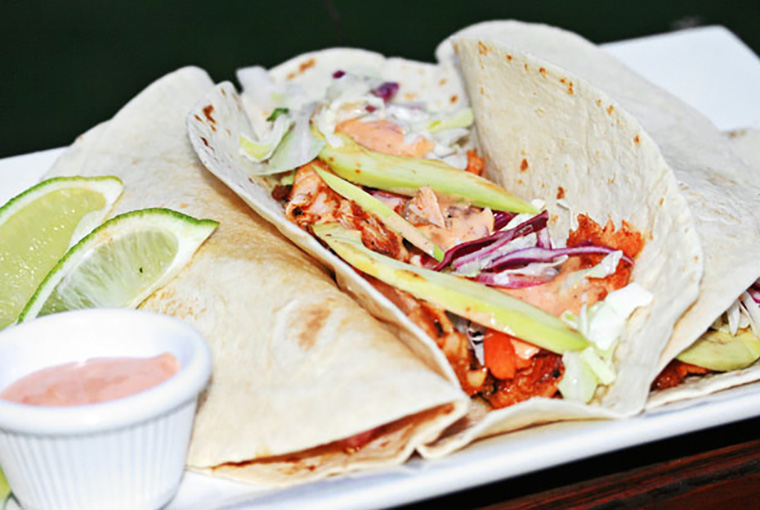 DIRECTIONS
Preheat oven to 450˚F. Mix all the ingredients for the slaw together. Set aside to let it mature. Mix the sauce ingredients together. Add more or less Sriracha sauce for desired heat level. Wrap the corn tortillas in a slightly wet paper towel and microwave for 25 seconds to steam.
Heat a cast iron fry pan and drizzle with olive oil. Season trout on both sides with spice blend. Cook trout on both sides until almost done. If your trout still has the skin on it, cook it on that side first without seasoning it, turn, remove skin and then season. Once trout is almost done, turn again to let this side brown and sear.
Place cast iron fry pan in oven. Bake for approximately five minutes, until fish is completely cooked. The fish should be crisp on the outside, and tender and flaky inside. Place fish on taco shells, top with slaw and avocadoes. Drizzle with sauce and serve with lime wedges. Enjoy.
INGREDIENTS
1-2 large ripe avocados, sliced thinly
6 tortillas
Olive oil — one flavoured with chipotle is nice
Lime wedges
Spice blend
(Mix together in a small baggie.)
½ tsp. paprika
¼ tsp. ground cayenne pepper
¼ tsp. garlic powder
¼ tsp. onion salt
½ tsp. dried rosemary
¼ tsp. salt
¼ tsp. pepper
Slaw
1 heaping cup cabbage or slaw mix, finely chopped or shredded
¼ cup red onion, thinly sliced
1 tbsp. apple cider vinegar
1 tbsp. honey
½ tsp. cilantro, chopped
½ tsp. lime juice
¼ tsp. garlic powder
½ tsp. salt
Sauce
3 tbsp. ranch dressing
1 tbsp. Sriracha chili sauce