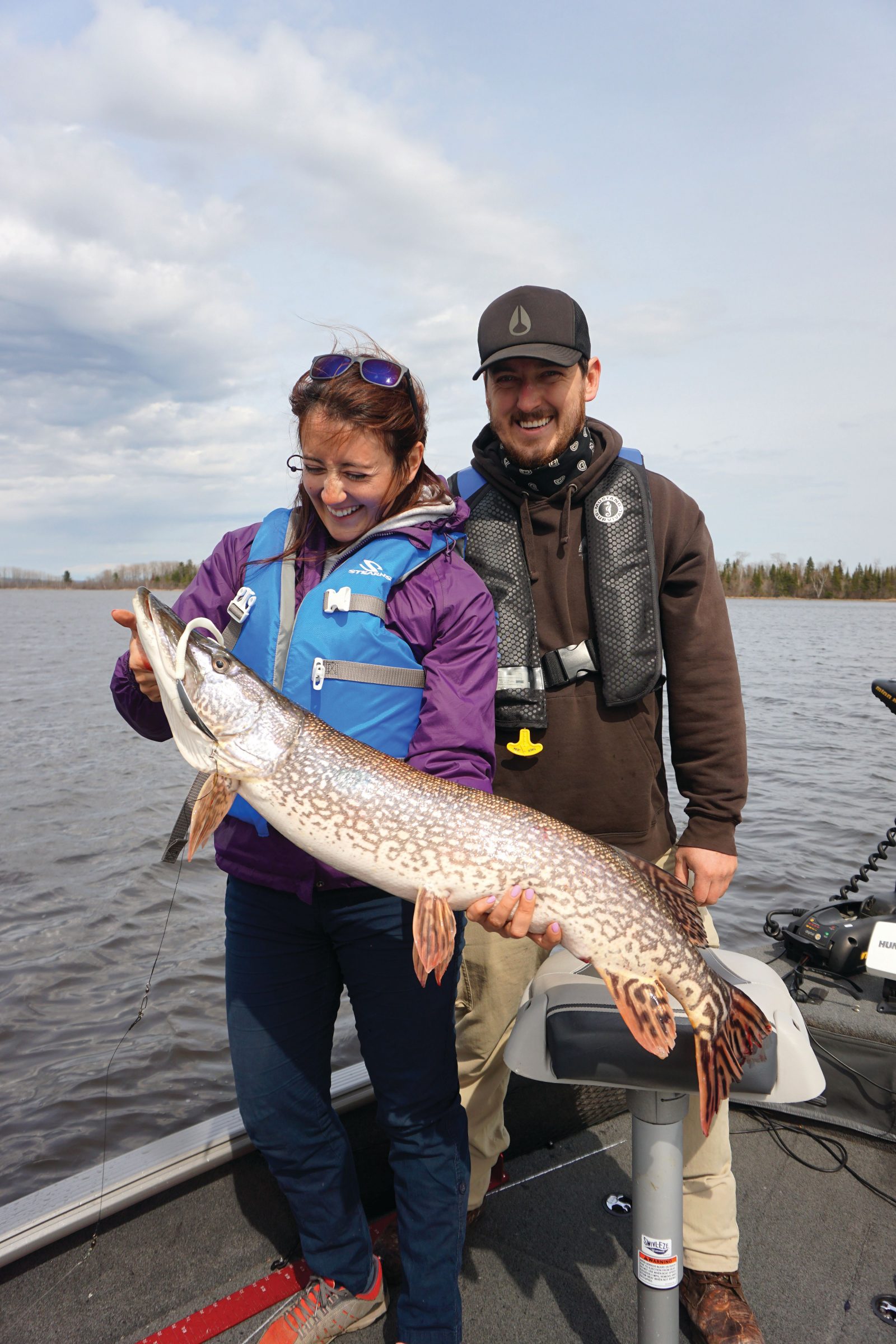 I'd taken the boat deep in the back of the bay and we could see the red cabbage curling from the bottom. Since it was still spring, the weeds were not right at the surface, but there was very little room for presentations with loose, hanging trebles.
I had my wife, oldest son, Devin, and his partner, Chanelle Boucher, in the boat, and they were ready to fish.
"I think this is weedless-spoon country," I said, flipping open my pike box." Digging through the trays, I found a selection of weedless spoons, including my long-time favourite the Johnson Silver Minnow. Then I doled out a couple of brass and gold finished spoons to my wife and son, and found a silver one that was brand new. "Try this one, Chanelle," I said. "It's never been in the water." My crew started working the shallows, and there were a few near misses as pike boiled at the spoons. Then, a fish made contact.
"Got one," said Boucher, who was leaning onto her rod as a big pike sliced through the weeds. "Take your time," I said. "We don't want to lose it to the weeds."
Boucher played the pike expertly and soon it appeared next to the boat. With one scoop of the net, my son lifted it up and into the boat. Boucher was soon posing for some grip and grins.
"That is fun," she said with a smile, as the pike swam off. "Those weedless spoons work!"
Weedless work
Weedless spoons DO work. Very few presentations are more perfectly suited for pike than the weedless spoon.
The water wolf often likes to sit in thick weeds, reeds, or timber and these are places where trying to get a normal spoon, spinner, or crankbait through without getting fouled is nearly impossible. The weedless spoon is also among the simplest of angling presentations. It's a spoon with a large single hook that features a weed guard. Metal spoons generally have a metal guard, while plastic weedless spoons have plastic guards.
The single hook and weed guards are both key to the nature of the presentation. Yet the best weedless spoons wiggle in such a way that the hook stays on the inside, and the spoon wiggles around it like a protective shield. Pike in thick cover have very little time to look things over. So, they will spring on a fast-moving object.
However, it's a very rare fish that will hit a lure that's trailing weeds. Even when the pike themselves are buried in cabbage, they just seem to know it's not right when something has greenery on it. Weedless spoons solve that problem, most of the time. No lure is 100% weedless, but I've found weedless spoons live up to the name about 80% of the time. A quick snap of the rod tip when fishing in heavy cover can help clear the hook.
Most weedless spoons are the most effective at a medium retrieve. The spoon should wobble enticingly, without spinning. It might take a little experimenting to find the sweet spot in the retrieve. In colder water, a slower retrieve can pay off, as pike have a lower metabolism.
What spoons to use
Plastic weedless spoons work well at slower speeds, although they generally lack the bright flash of metal spoons. Plastic spoons also generally run shallower than metal spoons.
Spoon size is another consideration. In cold water, I turn to smaller spoons of three to four inches in length. As the water warms, you can bump up the size. Make sure you have a good selection of weedless spoon colours and sizes. As much as I like a silver spoon, I've seen brass, gold, red and white, and frog patterns really perform. And there are times pike will show a definite preference for a large spoon over a small one, even in cold water. Never be afraid to mix it up.
Weedless spoons are strong medicine for pike in the thick stuff. Make sure you are ready to invade the big fish sanctuary this season.
---
Add a trailer
My number one trick is to add a plastic trailer to the hook. A white grub of three or four inches is the go-to. I slip it on the point and poke the hook out quickly so the grub trails straight behind the spoon. Although white is great, I've used pink, yellow, and firetiger grubs as trailers, as well as rubber
lizards and worms. If a trailer is too long, there is a good chance a pike will tear it off.
Rod & reel
My basic pike set-up consists of:
• A flippin' stick with good backbone for dragging fish out of weeds
• Baitcasting reel
• 30-pound braided line
• Steel leader with a high-quality snap
• Hook hone. Check that hook regularly
Senior Editor Gord Ellis is a journalist, radio broadcaster, photographer, and professional angler based in Thunder Bay. Reach Gord at: mail@oodmag.com, Twitter: @GordEllis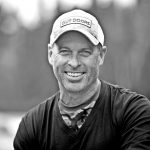 Originally published in the May 2021 issue of Ontario OUT of DOORS magazine.