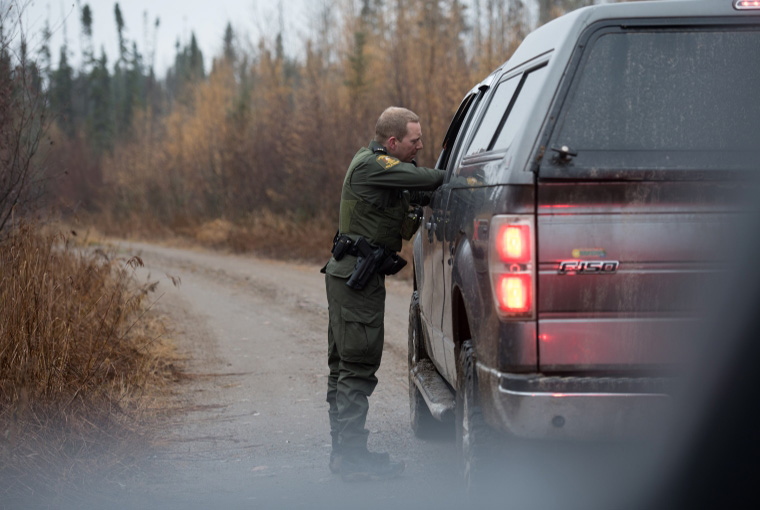 We were about four hours into the patrol day when Davis Viehbeck pulled his work truck off the high­way and into a gas station in Upsala, about 142 kilome­tres northwest of Thunder Bay. Three trucks with trailers were parked in the lot, clearly moose hunters having supper at the attached restaurant. The conservation officer slowly drove his truck around the parked convoy and spotted the familiar sign of hunter success, a hoof sticking out of the box.
Last-day success
"There's the moose," he said, and parked. In a matter of moments, Viehbeck, a fit 38-year-old, was in the box of the truck, standing over the moose. "This looks like it was killed today," he said, noting the heat of the body cavity. He was soon looking at the tag, checking the date, the notch, and the hunter information, all of which he took down in his notepad.
"I will let them eat their supper," said Viehbeck, who waited about 15 minutes in his truck before strolling into the restaurant. He began chatting with the tag holder, and got the story of how the moose was taken. After suggesting ways to better protect the tag, Viehbeck was out the door and back in the truck.
"Last-day success," he said, of the group's harvest, and we were off.
My day with Conservation Officer Davis Viehbeck, who has been in the role for six years, was arranged with the co-operation of his employer, the Ontario Ministry of Natural Resources and Forestry. I would observe as Viehbeck worked a Saturday shift during the hunting season. We settled on October 26, 2018, when the moose hunt in northwestern Ontario would already be well under way.
What they enforce
"Conservation officers in Ontario enforce over 25 pieces of provincial and federal legislation. Our primary piece of legislation is the Fish and Wildlife Conservation Act, and its associated regulations. We also enforce public safety legislation above and beyond our mainstay conservation duties including the Canada Shipping Act, small vehicle regulations, the Liquor Licence Act, Motorized Snow Vehicles Act, and then our core legislation, like the Forest Fire Prevention Act, Public Lands Act, as well as federal legislation like the Migratory Bird Act. Ontario fishery regulations too, captured under the federal Fisheries Act."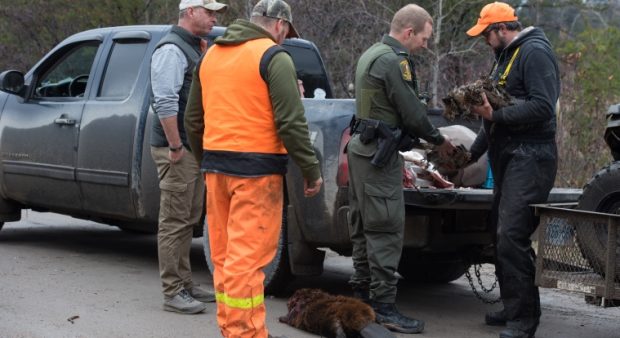 Many COs keen anglers, hunters
Viehbeck said the opening of the moose hunt is one of the busiest times of the year for a CO in Ontario, with long days and many contacts made. He also noted that while most COs like to hunt and fish, weekends, and openers are not an option for them.
"Certainly, if you are a conservation officer, the idea of hunting or fishing yourself on an opening weekend is not going to happen," said Viehbeck. "Those are the weekends when we have to be out there. And there is an expectation we will be mak­ing lots of contacts, so we want to be out there."
Viehbeck, who has been a keen angler and hunter since he was a kid, said the idea of being a con­servation officer was with him from a very young age. "I grew up in a family that spent a lot of time outdoors. I can remember not even being high school age and knowing exactly what I wanted to do. From about the time I was 11 or 12, and I had some good contacts with officers at a young age. And got the chance to ask them some questions."
Making the rounds
As we made the rounds, Viehbeck would recog­nize trucks and SUVs driving by, and he'd know who the driver was and where they were likely coming from or going. His ability to remember details of contacts and names was quite amazing.
We stopped several hunters, got a mini clinic on fooling wolves courtesy of two trappers, and checked some late-season anglers. W also dropped in on a large camp of moose hunters, were invited in, and treated to a few hunting stories. Viehbeck was unfailingly polite, while making sure all licences and paper work were in order. By the time we left that camp Viehbeck had filed away the names and residences of everyone there.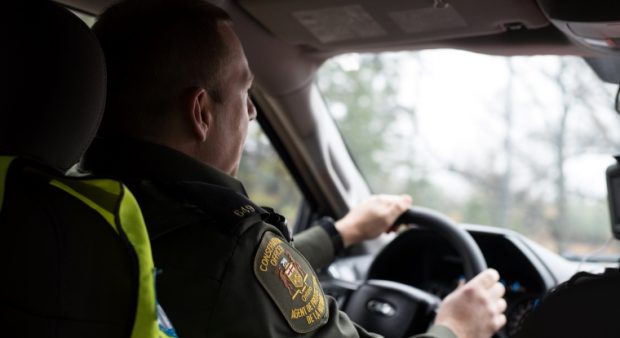 While we continued down the highway, Viehbeck shared tales of late-night and early-morning oper­ations, the kind where the element of surprise is key to catching a poacher. He said many hours are spent observing people, often with high-powered binoculars. He also recounted stories of getting stuck, both in a truck and on snowmobile, their primary winter patrol machine.
On Viehbeck's 10-hour shift, we patrolled from early afternoon until well after dark, driving back roads and muddy bush roads. The life of a CO is clearly not for the person who desires a nine-to-five existence.
"Work hours are definitely all over the map," said Viehbeck. "A lot of early mornings, a lot of late nights and obviously lots of weekends. Most people work Monday to Friday, so their rec­reation time is on the weekends, so our job requires a lot of weekend shifts, a lot of eve­ning shifts, which you just kind of get used to doing this job."
Planned risk
As we drove down a back road, I asked Viehbeck about the use of decoys in enforce­ment. In recent years, moose and deer decoys have been a high-profile way of catching people who've been reported shooting from highways or on private property. I had always wondered about the safety and logistics of these operations and asked him how much time goes into planning a decoy or road check.
"Our simulated wildlife decoys are based around intelligence and ongoing complaints about safety issues in a specific area," he said. "Some require minimum amounts of planning overall. Others require high levels of planning."
Viehbeck said when they are targeting people hunting from a road or shooting from boats on the water, it's a precise operation. The whole undertaking has to be done very carefully as there are inherent risks when people are shooting from roads or boats.
"There would obviously be way more hours going into those projects," he said.
During deer season, Viehbeck said the majority of decoy work happens on private land, where they have received trespassing complaints. He noted this a key enforcement element in southern Ontario, where a lot of the land is held privately.
"You have to make sure the property owner is on-board and the neighbouring prop­erty owners are what we call friendlies," he said. "So then we have to have what we call hides — locations to conceal — for officers and enforcement vehicles, and know that the property is safe. And that there aren't going to be other hunters. Because if you are placing a decoy on that property, some­one [a CO] is going to be sitting on that property. So safety takes up the majority of the planning time."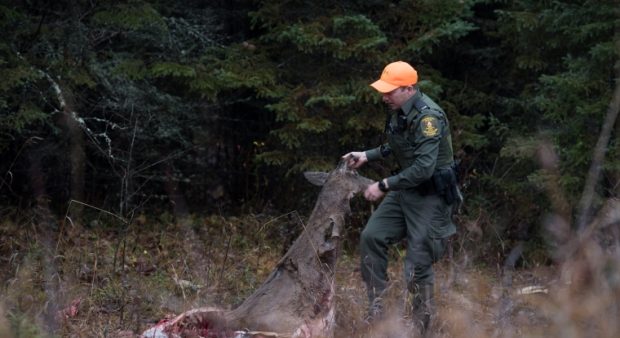 Things don't always go to plan
"Last fall, we were work­ing a private land decoy. I was on a takedown team, we had guys in the bush on the obser­vation team, and there was another takedown team further down the road," said Viehbeck. "All of a sudden we get the call 'shots fired.' So the takedown team goes down to do the arrest or the stop…and we drive right into each other. And there is no one there. On the way to the stop, this monstrous buck had run right in front of us. We stopped and backed up. How could this be? Where did this person go?
"The long and short of it was this guy snuck into the field, just above where our decoy was, and shot at a live deer. So, we are standing there trying to figure this out and it dawned on me the guy was in the field above us! And we ended up finding a recently spent shell casing…. that guy must have been losing his mind seeing the CO trucks coming by with lights flashing, and this deer that he'd shot at and had run, and he must have hightailed it across the field."
Viehbeck said operational plans are always reviewed by the staff sergeant and a briefing is held in advance of each operation.
No shortage of work
One of the things many anglers and hunters don't realize is just how much ground C.O.s have to cover in Ontario. At the time of our ride, Viehbeck said there were roughly 180 front-line uniformed con­servation officers in all of the province, and some work as part of specialized units. He said the most well-known unit is the K9 program, where an offi­cer in each region works exclusively with a dog to assist field officers in investigations. There are also intelligence and investigation sections, where officers coordinate intelligence-led enforcement projects. Viehbeck said these operations often use undercover officers to go in and catch more sig­nificant poaching activity, like commercialization.
He said the branch also has provincial enforce­ment specialists who help field officers with legis­lative advice, legal interpretation, and things like that. The bottom line is a few well-trained peo­ple do a lot of complex work over a massive area.
During my shift with Viehbeck, his radio was busy with the crackle of fellow COs doing a vari­ety of tasks and stops across the region. He also checked in regularly with dispatch. The number of different types of contacts being reported was incredible. And the camaraderie between the officers was obvious. It is clearly a small family.
Sacrifice or commitment?
For Viehbeck, being a CO is much more than a job; it's a calling. He loves the work and the vari­ety. Every day is different.
"One of the best aspects of this job, here in northwestern Ontario, is seasons are long," he said. "So September through mid-December is for big game season, and then when you are getting burned-out of checking hunters and spending long days in a truck, it's time to hop on a snowmobile and check ice fish­ermen. And then when you are tired of rid­ing a snowmobile, spring comes and you are checking steelhead fishermen and spring bear hunters. Summertime in the northwest we get to do enforcement flights where we are flying into remote lakes. And just when you are get­ting tired of hot days in a boat, or being in an airplane, it's back to hunting season. It keeps you sharp and wondering what's around the corner. It's never boring."
As we finished out our day, I asked Viehbeck about the sacrifices he's made when it comes to his own angling and hunting opportunities. He hasn't fished a walleye opener in years.
"People say being a CO, you must miss hunting in the fall," he said. "Most of us are really avid hunters. But when you are at work, essentially you are hunting. You are out hunt­ing, looking for poachers, looking for people that are doing things they shouldn't be doing. You are going to areas you have scouted that you know there are issues and problems with.
Court time
"In comparison to standard policing, we don't spend a lot of time in court. I like to think that's because most officers lay really good charges and capture really solid evidence. The majority of the people that are before the courts plead guilty at an early point. We don't get a lot of requests for trial. We only allocate about one day a month for court," said Viehbeck.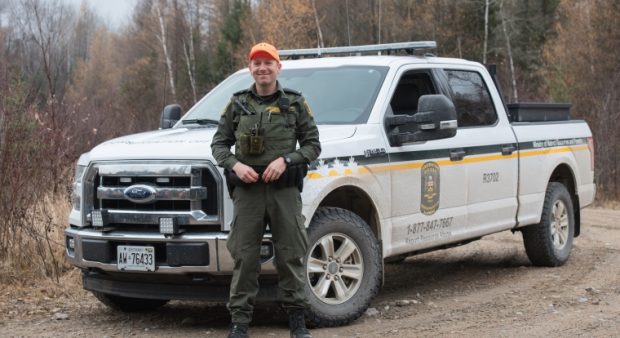 C.O.s and private property
"…COs can enter pri­vate property. Obviously hunting, fishing, and trapping are activities that are occurring on both Crown and private lands. So we do need to have the ability to enter private land and conduct investigations and make sure that resource users are adhering to the var­ious rules," explained Viehbeck.
"Cutting a lock is extreme, but obviously we go behind gates and into agricultural areas. We try and walk in where we can have the least amount of impact. But, because so much hunt­ing activity takes place on private land, in particular in southern Ontario but even in sections of the northwest, especially for deer, we have to have that ability to get in there and make sure people are fol­lowing the rules."
Originally published in the August 2019 edition of Ontario OUT of DOORS magazine
Click here for more outdoors news
To learn more from Conservation Officers, click here