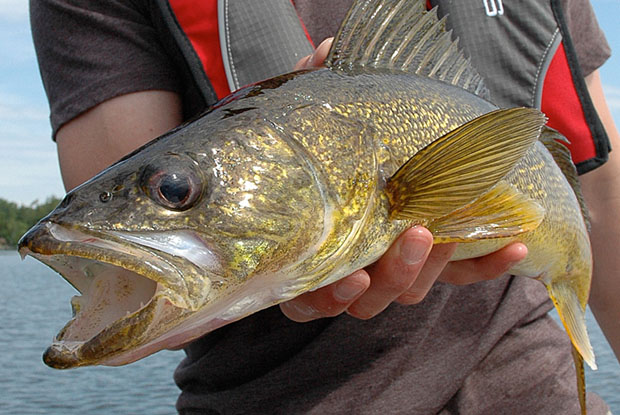 There are people around Thunder Bay who are wondering whether a record walleye was hauled in there earlier this month.
Ontario OUT of DOORS Senior Editor Gord Ellis interviewed a Thunder Bay resident recently who can't necessarily make claim to a new Ontario record walleye, but has a good story to share nonetheless.
Ellis met with Dan Krause after the man's wife contacted him about the catch. He told Ellis he and a buddy just popped out to fish on the spur of the moment, and didn't bring a lot of gear along. Fishing from shore, Krause said the fish hit like a walleye but then it started running. When he saw the tail flap, he knew it was big.
With his buddy, they struggled to get the fish in without a net.
"Once he took that thing out of the water, I couldn't believe my eyes," Krause told Ellis. They had no tape to measure the fish and they were worried about getting it back in as soon as possible, so they found a nearby stick, put it against the fish, then snapped it off at the tail of the fish. When they took the stick home to be measured, it came in at just over 37 inches.
Ellis says the Ontario record for a walleye dates back to 1943, coming in at about 22 pounds and 36.5 inches.
Krause was reluctant to share the exact spot with Ellis (he did say it was on Superior somewhere in the Thunder Bay harbour), but Krause told Ellis he was using a Rapala XR10 lure. He also has a grainy cellphone photo to show it was a sizeable fish.
Ellis says there is no way to verify the length, but the fish was likely in the "ballpark" of a record.