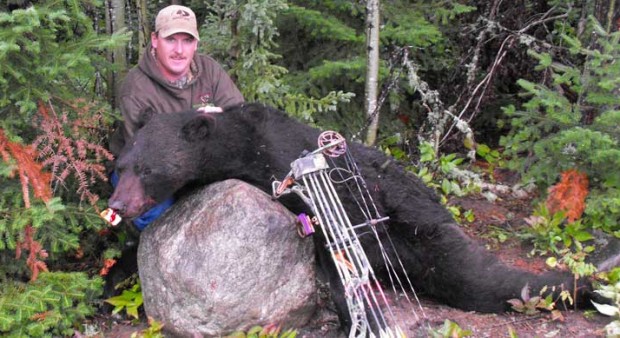 The Foundation for the Recognition of Ontario Wildlife will be adding a new record to the next edition of its book.
A black bear taken by Jeff Roberson in August of 2012 holds the new Ontario archery record, which was recently made official.
The 35 year-old Blanchard, Oklahoma man and his 2 friends went to Ignace for the opening of the 2012 black bear hunting season on Aug.15, 2012.
Related reads
The hunters arrived at Raleigh Lake Resort and Outpost the day before the season opened and spent the morning of opening day making plans for their afternoon/evening hunt.
Less than an hour after climbing into his tree stand, a huge bear came in to Roberson's bait, crossing in front of him at about 30 yards. Roberson's initial excitement turned to disappointment when the bear disappeared into dense brush.
But that disappointment was short lived. Only moments later, the bear returned.
With the bear at 14 ranged yards, Roberson took his compound bow off the hanger and came to full draw. But as he did, the bear turned away. Roberson's arms burned as he held his draw for about a minute, waiting for the bear to give him a clean shot.
…The bear stood on his hind legs, took 3 steps and collapsed.
That minute felt like an eternity for Roberson, but the bear finally offered a quartering away shot at 17.5 yards. He touched of the trigger on his mechanical release and the bear stood on his hind legs, took 3 steps and collapsed.
Roberson had no idea that his harvest would not only tie the Ontario all-time record, but would set a new record for black bear taken with a bow.
The bear was aged at 22 years old, and he tipped the scales at 355 pounds. The official score after the required aging period was 22-3/16.
"He was a bruiser," Roberson said. "His ears were torn and he was scarred up."
The previous archery record black bear in Ontario was 21-12/16, shot by Larry Murray, of Illinois, in June 1990 in the Thunder Bay District.
Corey Closs of Ten Point Taxidermy near Yarker heard about this bear and contacted officials in several other provinces and believes this bear was one of the biggest bears taken in Canada in 2012.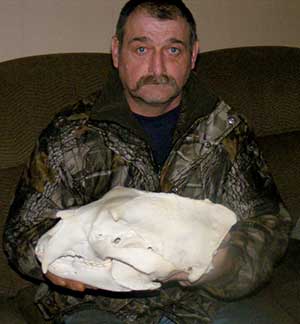 The province yielded another huge bear in 2013, although not a record breaker, it is expected to score among the top taken with archery equipment in Ontario.
Eldon Gray of Magnetawan took a large black bear on Oct. 3, 2013 on his parents' property near his hometown. Gray's choice of equipment was also a compound bow.
"I've been doing this for 30 years and it's the largest bear I've ever worked on," said Jeff Brain, the Orillia taxidermist who Gray took his harvest to. (Brain works on between 60 and 100 bears per year.)
Brain estimated the age of the bear at 20 years or more. The weight of the hide, with skull and paws attached, was 145 pounds. The weight of the carcass at the butcher shop was 377 pounds.
"He was 8 feet from nose to tail," Gray said.
The skull of Gray's bear hasn't been officially scored yet, but he plans to have it done. "I rough scored it and I think I'm about a quarter-inch short of the record," he said.