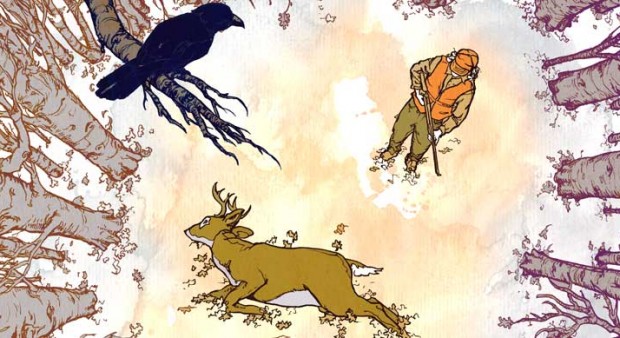 The waves washed up against the icy shoreline as I cut the engine and grounded the boat. Shawn scrambled over the bow with the rope in hand, just as a shot rang out in the distance.
"Was that Mom?" Shawn asked excitedly.
"I don't think so," I replied to my youngest son. "Sounded too far away and a little west."
We had dropped Louise off 15 minutes earlier on the other side of a long peninsula, and from there she had hiked the short distance to her favourite stand. Several ridges now separated us, so I couldn't be completely sure of the direction of the gunshot, and we were out of range for the two-way radios.
"If it was Mom, she'll give another signal shot in the next 15 minutes or so," I assured Shawn.
We secured the boat, gathered our gear and began the trek inland to Shawn's stand. I would begin a long still-hunt with the added effect of pushing deer towards my wife and son. We were about 10 minutes into our journey and ready to part ways when another shot broke the morning air.
"That was Mom," I said emphatically. "Quick, turn your radio on."
Although the distance distorted communication, we were able to decipher enough to conclude success.
"Where…you guys…6-pointer…down…Get here quick.''
To say I was excited would be a major understatement. Jumping up and down, whooping and high-fiving, I covered the distance to the boat in about four leaps. In fact, I was a little embarrassed to have lost my composure so completely in front of my son, but it was warranted.
The ride around the peninsula was jubilant, and we were soon pulling into the quiet little bay where we had dropped Louise an hour earlier.
With the boat beached, we stripped off our outer layers of clothes and prepared for field-dressing and a downhill drag back to the lake. Even though our confidence was high, a shred of doubt followed me throughout the short hike in. Louise had a history.
For me, and I believe most hunters, the killing of a deer is bittersweet. Taking the life of such a beautiful creature can evoke a mixture of elation and remorse that is overwhelming. And so, with Louise's first deer, I expected tears.
But either they didn't come, or we missed them.
What I saw was Louise's beaming smile, her face swelling with pride and justifiable relief. After all, it had been 12 years coming.
Twelve years of early risings in a cold, dark camp, freezing boat rides, and long days of rain, sleet, and even blizzards. She had willingly endured conditions few modern day hunters would accept. With just 3 or 4 days of vacation, Louise made full use of every one, regardless of what nature threw at us, and, more often than not, it was ugly.
Louise was no stranger to adversity in the deer woods. She braved foul weather and getting mildly "turned around," but buck fever proved to be her greatest nemesis. I was at her side when her first encounter with opportunity came.
Walking along an old logging road on the way into our stands, I spotted a doe about 50 yards off to the side. Standing broadside and browsing, it had not detected us. After what seemed like an eternity, the bark of Louise's .270 Remington brought the woods to life. Deer were running everywhere. And, as is often the case, the intended target bee-lined right for us, coming to a halt at 20 feet.
"Shoot," I whispered insistently.
It was then I noticed Louise had come completely unglued. Panting heavily and fumbling to work the bolt with far too many thumbs, she eventually raised the shaking rifle and fired again at the co-operative, point-blank deer. At the blast, the doe rocketed out of sight. Believing a miss at that proximity was highly unlikely, I tracked the deer in the snow for a considerable distance and eventually caught up to it. The doe had circled around up onto a ridge and stood watching her back trail, unscathed and probably wondering what all the fuss was about.
Despite indications to the contrary, Louise is not lacking in marksmanship. She's put my sons and I to shame on the shooting range more times than I care to remember — but tin cans and paper targets are a whole other animal.
Misfortune, foul-ups, and hard lessons learned are all necessary elements of the complete hunting experience. But with Louise, it went a little deeper. In the 11 years she'd been hunting, no one had shot a deer while she was in camp. Not until her hunt was over and she'd gone home, did deer begin to grace our meat pole.
With each passing season, her frustration became more evident. Although she took great comfort in the soothing-of-the-soul that the deer woods afforded, she desperately yearned to experience hunting's ultimate reward. Returning to work after season's end became a lesson in humility. After being regaled with others' tales of success, Louise could only offer her own familiar story – one she began to measure in failure.
Our family cottage is first and foremost a deer camp. From the hand-carved deer on the screen door, to the scattered array of hunting paraphernalia, there's no mistaking the primary focus of that cabin by the lake.
Most noticeable are the numerous antlers that adorn the walls. They range from thick and wide brutes to short and spindly yearlings — trophies of size and of the heart. Each distinct and with its own merit.
Perhaps surprisingly, Louise's small six-pointer is not yet among them. Maybe stemming from the need to keep items of value and poignancy close at hand, the little rack claims an honorary place on a wall at our home. There, it serves as a constant reminder that the most precious of life's rewards are hard earned. Eventually, it will take its rightful place on the camp wall, where it will combine with others to tell the history of a deer-hunting family.
Of the myriad fond deer-hunting memories I've accumulated through the years, dragging Louise's buck back to the boat that cold November morning was the most satisfying. The journey to her first deer was long and difficult, and I wanted success for her more desperately than I ever wanted anything for myself. Through the disappointments she persevered, and I couldn't help but admire the tenacity of the woman who'd stolen my heart so many years before.
That year, I sat alone on my final night at deer camp, put pen to paper by the warm glow of the woodstove, and captured the events of her hunt, now ended. I clicked through the digital pictures of my proud huntress with her buck, and it was there, amidst the humming of the propane lights and the popping of birch logs, that the tears I had expected, came.
First published in the November-December issues of Ontario OUT OF DOORS magazine. Subscribe.