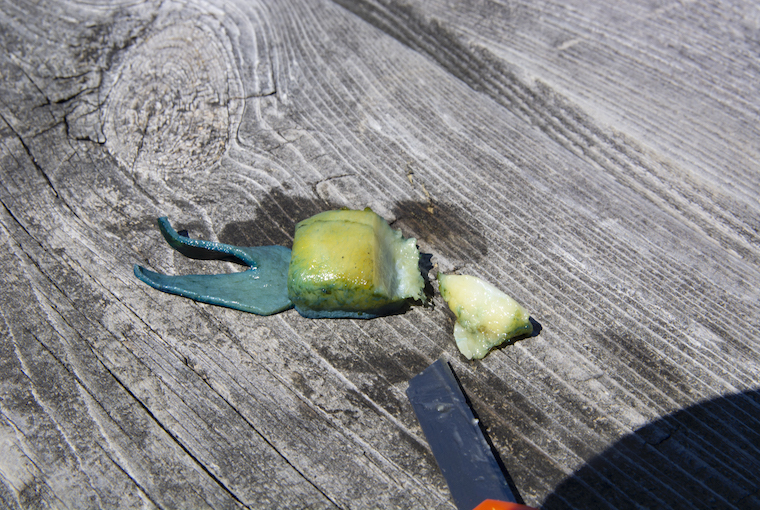 Long before the development of plastic baits, anglers turned to pork to replace live bait. Pork was as common as coffee but then mostly vanished, after the popular Uncle Josh products halted production in 2015. Now that it's back, anglers should consider this old-school trailer.
Pork reigned supreme in the 1970s and well into the '90s, with the evolution of the skirted jig and the popularity of flipping, and later pitching. Once in the water, this meat comes to life with irresistible texture, action, and scent.
"Pork was the first jig trailer," legendary tournament angler Larry Nixon of Quitman, Arkansas, explained. "So many big fish came on the jig and pig back then and still to this day. Guys like Tommy Martin [1974 Bassmaster Classic Champion] and I loved the spring lizard and pork chunk. It has a great fall and undulates really well. Big bass sometimes need a big bait and a jig with meat in it."
Nixon is one of the architects of modern bass fishing. He quickly became a tournament icon after guiding on famed east Texas reservoirs, starting in the early 1970s. He went on to win two BASS Angler of the Year titles, the 1983 Classic, four Mega Bass titles, and scores of national wins from Lake St. Clair to Florida.
"Lack of material, not demand, is why Uncle Josh stopped producing pork," said Matt Brown of Dymore Marketing, the Canadian sales agency for Hard and Soft Fishing — parent company of Uncle Josh. "The domestic pork industry changed so much that it was difficult to find proper hides to make pork. Now, Uncle Josh is made overseas, securing supply."
Pork plays
Why is pork making a comeback? It's far better than plastic when the water turns cold or when you are pounding heavy cover. Switching to pork is wise after a cold front during seasonal transitions. The slow, subtle, swimming action of pork is far superior. Casting it along deep weedy points, rock fingers or deep holes in the grass will pay off.
Pork is the answer when heavy cover demands tough, rip-proof trailers. Constantly replacing soft plastic trailers just wastes time. Pork solves that. Pitching deep grass, reeds, undercuts, and thick cane shreds plastics but not pork. Anglers can thrash cover and crack bass with zero worries. Smacking a weed-clogged jig on the surface a few times will clear it from the grass with no fear of damaging the jig or trailer. It's that tough.
A cut above
Many of the old secrets have been lost but here's a crash course for getting the most out of pork. With a sharp knife, trim the edges of the flesh, not the hide (see photo on page 34 of our July 2022 issue). Trimming meat here allows greater movement and easier hook removal. Another trick is to run the knife along the underside of the skin, like a fillet. Slicing a one-centimetre cut into the meat starting from the back produces a smoother swimming motion.
"We used to fillet away some of the belly to give it more lift, but the pork became white as the inner section had not been exposed to the dye," Nixon said. "I've always liked how the jig swam with pork after cutting away some of the belly."
Longer, flapping legs are just a slice away. Start at the notch of "v" between the frog legs and cut into the meat. Be careful not to plunge too far as the chunk will rip apart.
Liquid magic
Get the most out of your pork by replacing some of the brine with scent. I've always put a heap of fine table salt along with the scent to make it even tastier. Avoid adding dyes, glitter or anything that will stain as drips are common and cleaning boat carpet isn't fun.
Lure wraps are great for taming treble hooks, but their original purpose was to preserve pork. When the jig rod is not in use, place a damp lure wrap around the bait. Wraps with foam lining work best and keep the pork soft and the scent strong.
Pork pitfalls
Pork does have downsides. Dried out and shrivelled, it becomes garbage. Removing a hook from the flesh and hide can be a real struggle ― a turn- off for many. But its greatest downfall was a lack of variety in colours and designs. Even in its heyday, shapes and designs were limited. During the late 1980s and into the 1990s, soft plastics development exploded, offering anglers countless choices. Berkley PowerBaits, which incorporated scent into its plastics, revolutionized the industry, which further shunned pork. With the rainbow of plastic baits drawing angler's attention, pork lost the dominant market share it had for decades.
A welcome return
If you're willing to try this classic, Uncle Josh is offering the Pork Frog and Pork Night Crawler. The #11, its most popular pork frog, is 21 ⁄2 x 1 inch and comes with three frogs per jar. The Big Daddy, #10, is larger at 4 x 11 ⁄4 inches and comes with two pork frogs per jar. Both come in six colours.
Originally published in the July 2022 issue of Ontario OUT of DOORS