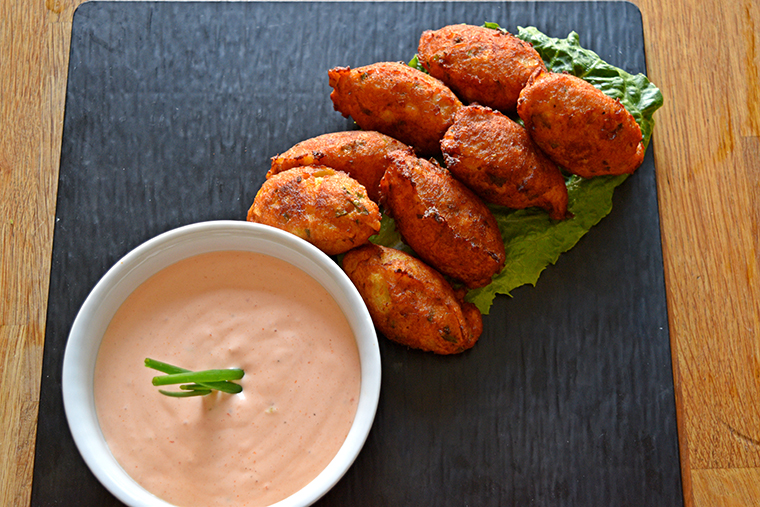 These crunchy pike bites are the ultimate finger food, whether you're hosting a backyard barbecue or alternatively, dining al fresco with the family.
If you're not a fan of pike, feel free try them with walleye or perch, instead — your fish means your choice!
Ingredients:
• 1 lb of pike fillets, boneless, skinless
• 2 Yukon gold potatoes, peeled, quartered
• 1 white onion, diced
• 3 cloves garlic, minced
• 1 jalapeño pepper, seeds removed, minced
• 2 tbsp olive oil
• 1 cup flour
• 1 tbsp smoked paprika
• 1 tsp ground cumin
• 1 tbsp salt
• ½ tbsp black pepper
• ½ lemon, juiced
• 2 tbsp. chives, chopped
• 2 eggs, beaten
The Dip:
• 1 cup mayo
• 2 tbsp ketchup
• 2 tbsp Frank's RedHot sauce
• 1/2 lime
• Black pepper (to taste)
Directions:
Bring 6 cups of water to a boil and cook potatoes until soft, then remove. Now bring potato water back up to a boil, and add the pike fillets. Simmer fillets for 5 minutes, then remove them from water and shred with a fork. After setting shredded pike aside, warm olive oil in a frying pan using high heat. Sauté onion, garlic, and jalapeño for 5-6 minutes until the veggies are softened.
Meanwhile, in a bowl, mix together potatoes, pike fillets, sautéed onions, garlic, and jalapeños. Afterwards, add flour, smoked paprika, ground cumin, salt, pepper, lemon juice, chives, as well as the beaten eggs, and mix together until well-stirred. Now heat your frying oil to 360˚F and, with two spoons, carefully scoop some croquette mixture into the hot oil. Fry your fillets until crispy and golden. Afterwards place them on a plate with paper towel to drain excess oil.
For your spicy dipping sauce, mix mayo, ketchup, Frank's RedHot sauce, and lime juice in a bowl, spooning into a ramekin to serve alongside your hot croquettes. You'll be the toast of the neighbourhood with these tasty morsels, but be sure to make enough for everyone, as they'll disappear quickly!
Originally published in the August 2017 edition of Ontario OUT of DOORS magazine.
For more cooking recipes, click here.