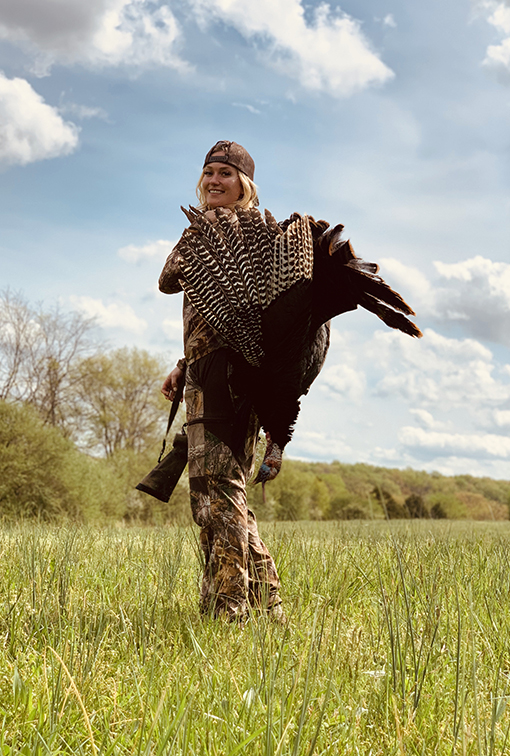 Canadian country singer and songwriter Meghan Patrick doesn't hide her love for hunting, even though she's faced backlash on social media for it. In an exclusive interview with Ontario OUT of DOORS, the Bowmanville native opened up about her love of the outdoors, how she became a hunter, and its impact on her career.
Hooked on turkey
OOD: How were you introduced to hunting?
MP: It was something I wanted to get into on my own. I didn't grow up hunting. My family spent time outdoors, and I would fish a lot growing up. In my 20s, I would want to go bass fishing and all my buddies would be hunting. One time they were smoking a bunch of meat. That was the first time I ever I had venison. I was, "Oh my gosh what is this?" "It's venison." I was, "I have to get this, I have to do this." I asked if I got my hunting licence if they would take me out and show me the ropes. They said yes. I signed up the next day and went and got my licence.
My first hunt was a turkey hunt. We didn't see anything. I remember we were leaving and he was asking me if I was over it. I was like, no. I like the whole getting up early, the sunrise, and all that. I was hooked after that.
A chance to unwind
OOD: What game do you like to hunt the most?
MP: I like hunting different things for different reasons. I finally did get my first turkey this year in Nashville. It was definitely one of the most exciting hunts I ever had. It was exciting in the calling back and forth, it's really cool. Duck hunting is also fun for the same reasons, there's a little more action and you go with your friends. Deer hunting for me is awesome for another reason. It's my way of hitting the reset button and unwinding and recharging, and having the opportunity to go out in the woods and not have to do my hair and make-up. I don't have to talk to anybody and be on. I can just sit there in the silence.
OOD: And have you gotten a deer?
MP: I have gotten several.
Bow vs gun hunting
OOD: Are you a gun hunter or an archery hunter or all the above?
MP: All the above. I just started bow hunting in the last two years, but my first deer was with a gun.
OOD: Who do you generally like to hunt with?
MP: Myself. I have friends that will hunt. It just depends, sometimes I like to hunt and it's a social thing and you can go out with a few friends, but a big part of why I started hunting was just being able to be myself. A big part of my life is being around people all the time and talking and entertaining and being on top of my game. One of the things I love about hunting is not having to do that and being by myself and not having to talk, just being quiet and just enjoying that.
First buck most memorable
OOD: What is your most memorable experience hunting?
MP: I guess I would say my first buck, because that was my first big game and I was by myself. It was on a property I sourced out. I had been hunting this same property for a while and hadn't seen anything. When he finally did come out and I was able to get him, walking up on him and seeing it, it was kind of a mixed feeling. It's hard to explain what it feels like to hunt and harvest an animal. There's a wake to it, and an understanding that you just took a life; that's not to be taken lightly.
I have so much respect for the animals I hunt, and deer, especially, are pretty intelligent animals. It was a pretty decent-sized buck and it didn't live that long being stupid. There was a wake to it and also this overwhelming sense of pride and excitement that I did it entirely on my own, nobody helped me. Every move I made went up to a successful hunt. That happened very early on when I started hunting; that was my second year hunting, I was still very new to it. I was proud of myself for being able to it by myself. I did drag it out on my own, probably about half way. When they (my friends) got there, they were "Did you move him?" I said, "Yeah."
OOD: That was in Ontario?
MP: Yes, just outside of Mosport [now Canadian Tire Motorsport Park] where I grew up.
Dealing with backlash
OOD: Have you had any backlash to being a hunter and being so open about it?
MP: Immensely. It's interesting to me how certain animals get more response over others. It's so hypocritical; you don't have a problem hunting this animal, but [there is a problem with] hunting this animal. Is it cuter than the other?
It's something I really struggled with, especially in the beginning, because that was my first exposure to that kind of bullying and hate on the Internet.
OOD: Any plans for any big places you would like to go hunting?
MP: Deer hunting in Saskatchewan, I definitely would like to do that. They have massive, massive deer out there. There's a lot of places I would love to hunt. It would be, for the most part, in North America. I'm not really interested in any kind of trophy hunting. My next bucket list big thing is a moose hunt. I know there are a lot of moose on the east coast — that would be an experience. I just love the east coast in general, too.
Hunting with stars
OOD: Have you hunted with any other famous country artists?
MP: There is a hunting camp in southern Illinois that I go to. A lot of other artists, songwriters go there. Lee Bryce goes to that hunting camp. Tyler Farr, a friend of mine and Mitchell's, we've gone out to his property. We were supposed to go turkey hunting at some point, but it's hard with all our schedules. A few of my friends, Jon Langston and Trea Landon, we hunt together as well up in Illinois. There's a lot of artists in town who hunt, so I just gravitate towards them.
OOD: Do you have any plans to write songs about hunting?
MP: I have written songs about it. It's a tough thing because it's a niche thing. I've definitely mentioned it in lyrics, I wouldn't say I have a song just about hunting, but I have given little tidbits and lines in lyrics in some of my songs about hunting and fishing. A lot of people, through my social media presence, and my fans, they definitely know it's a part of my life.
Originally published in the Nov-Dec 2019 issue of Ontario OUT of DOORS magazine.
To read more outdoors news, click here