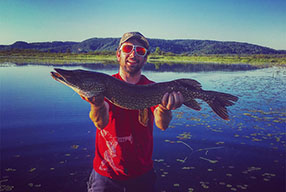 Congratulations to our Photo Friday winner Adam Bierworth of Boulter! Adam was fishing in Conroy Marsh with his friend Scott when he reeled in this pike.
Adam wins an OOD prize pack just for submitting this photo. Don't miss your chance to win! Enter your outdoors photos in our Memory Bank Contest.
Get an easy recipe for crispy grilled pike sandwiches here.