These tasty burgers are a great way to cook some of your fresh specks. If OOD Senior Editor and brook trout aficionado, Gord Ellis, asks, tell him it's salmon.
Makes 2 burgers
Ingredients
Burger
2 fresh kaiser buns
1 avocado, sliced
1 ripe tomato, sliced
Celery root slaw
1 celery root, peeled, julienne cut
2 tbsp. fresh tarragon, chopped
1/4 cup mayonnaise
2 tbsp. rice wine vinegar
Salt and pepper, to taste
Trout patty
2 small brook trout — 4 fillets, boneless and skinless, chopped
1 tbsp. chives (chopped)
1 cup bread crumbs
1 egg
Salt and pepper, to taste
2 tbsp. canola oil
Directions:
For celery root slaw, mix celery root, tarragon, mayo, rice wine vinegar, and salt and pepper in a bowl. Refrigerate.
For the burger patties, mix chopped brook trout, chives, bread crumbs, and egg, and season with salt and pepper. Mix well and form into two patties. Heat canola oil on medium high in a non-stick pan. Sear brook trout patties for five minutes on each side, until just cooked through. To assemble burgers, place cooked patty on lower half of bun, top with sliced tomato, avocado, and some celery root slaw.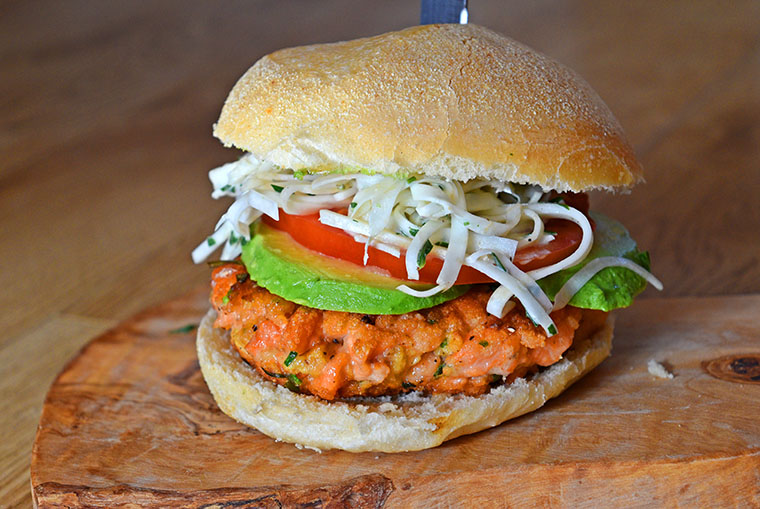 Learn how to make creamy walleye and shrimp fondue, click here