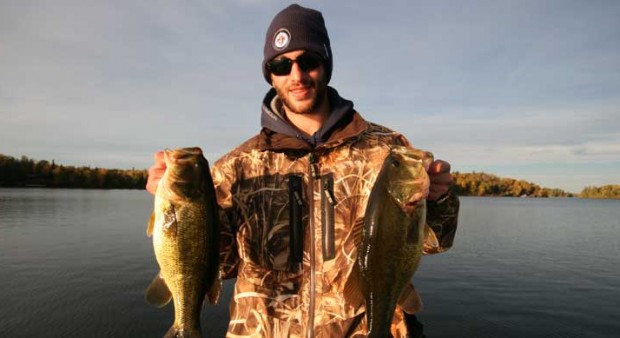 When Winnipeg Jets forward Anthony Peluso isn't keeping opposing players honest on the ice, the 25-year-old tough guy from King City is on the water somewhere with a fishing rod in his hand.
Peluso's family cottage, on a small lake in southern Ontario, is the place where his fishing bug was born. Today he spends much of his time on Lake Couchiching and Lake Simcoe where his favourite tactic is catching bass on limestone patches.
When he's in Winnipeg, he makes the occasional trip to Ontario to fish on Lake of the Woods.
"I probably spend more time fishing for bass than anything else. I enjoy being able to use all the different techniques to catch fish, from throwing crankbaits and spinnerbaits to drop-shotting and wacky rigging," he said. "My favourite way to catch bass though is flipping into heavy cover because you never know what you're going to pull out of that stuff."
Like any angler, Peluso has a catch the he will never forget. Despite the amount of fishing he does, his most memorable catch dates back to his childhood.
"[It] happened on my seventh or eighth birthday. I got a brand new Ugly Stick fishing rod from my parents and was very excited to hit the water with it. My mom decided to go with us that day and when she jumped in the boat she stepped right on my brand new rod and broke it where the blank meets the handle," he remembered.
"Being stubborn, I still wanted to fish with the new rod so my dad started trolling around the lake. I held the reel while my dad held the rod. Sure enough, it turned out to be the day we caught our first muskie! After a 20-minute tag-team fight we got it in the boat. My mom has never been fishing with us again!"
This is part 3 of a 3 part special on angling NHL-ers.
To read more outdoors news, click here