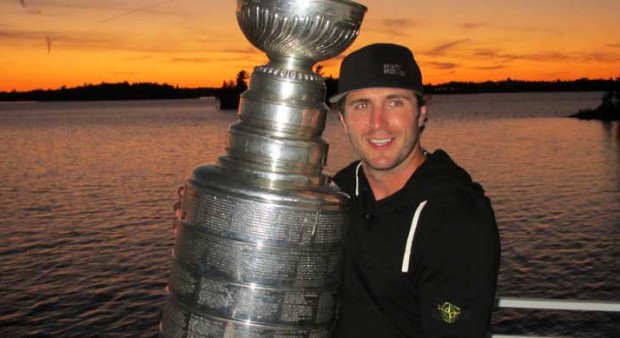 Few hockey players have been a part of as many championship teams as L.A. Kings forward Mike Richards.
Richards, originally from Kenora, has just about won it all over his career — including a Memorial Cup, a World Junior gold medal, a Calder Cup, an Olympic gold medal, and two Stanley Cups with the Kings.
When he isn't on the ice, Richards likes to spend time on the open water. Since he spends winters in Los Angeles, ice fishing isn't an option, though he has been known to zip home during the all-star break (when he isn't participating) to catch a few lake trout through the ice.
During the off-season, Richards returns to Kenora and Lake of the Woods. "I enjoy Lake of the Woods because there are so many places to fish and so many different species to catch," he said. Although bass is his primary target, "I've caught a few big muskies and lake trout, and of course we have some awesome walleye fishing."
For the last seven or eight years, Richards and good buddy Trevor Socholotuk have participated in the annual Kenora Bass International tournament, a three-day, highly competitive event on Lake of the Woods. They always show up at the weigh-in with some fish and have been lucky enough to cash a few cheques.
But fishing isn't about tournaments for Richards — it's about family. "Fishing is something that I can do with my two brothers, Matt and Mark, when I'm not playing hockey," he said. "During the lockout a couple of years ago, Mark and I took a trip down to Lake Okeechobee in Florida and had a great time catching bass down there, and we saw a bunch of alligators, which was pretty cool."
Fishing is also about solace for Richards. During his day to have the Stanley Cup this summer (each player on the winning team gets a turn) he spent a couple of hours fishing with Stanley onboard his boat before he shared the cup with friends and family.
This is part 2 of a 3 part special on angling NHL-ers.
To read more outdoors news, click here