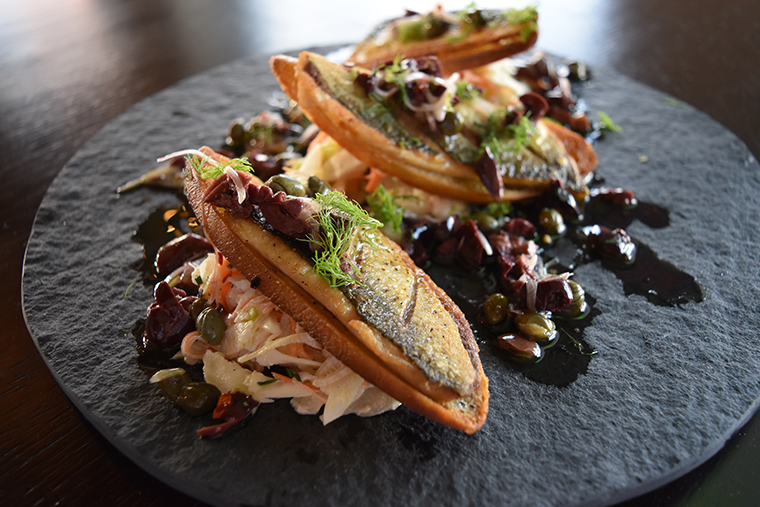 Lake herring (also called cisco) filets are pressed onto a thin slice of baguette and seared on both sides. The result is a delicious and crunchy exterior with a soft, delicate flavour on the inside. These tasty appetizers go wonderfully with chopped marinated olives and sweet coleslaw.
Ingredients
• 6 small lake herring fillets, boneless/skin on, scaled
• 2 tbsp. olive oil
• Salt & pepper
• ¼ fresh baguette
Coleslaw
• ½ bulb fennel, shaved(or green cabbage)
• ½ medium carrot, cut into thin strips
• ¼ cup mayonnaise
• ½ lemon, juiced
• 1 tbsp. honey
• Salt & pepper
Olives
• ¼ cup pitted kalamata olives,roughly chopped
• ¼ cup olive oil
• 1 shallot, sliced thinly
• 1 tbsp. capers, optional
• ½ tsp. dried chili flakes
• Salt & pepper
Instructions
Coleslaw
Mix shaved fennel,carrots, mayo, lemon juice, and honey together in a bowl. Season with salt and pepper, refrigerate.
Olives
Mix olives, olive oil, shallots, capers, dried chili flakes, and ground black pepper in a bowl. Leave at room temperature.
Crostini
Preheat oven to 375˚F. Cut three small incisions in the middle of the herring skin to prevent it from curling when pan frying.To make crostinis, thinly slice baguette on an angle, roughly the same length as the lake herring fillets (or you can trim fillets to make them fit perfectly).
Season fillets on both sides with olive oil, salt, and pepper. Gently press the fillet skin-side up onto the crostini. Heat olive oil in a nonstick frying pan. Sear herring crostini until golden brown and crispy, approximately two minutes each side. Place in oven for five minutes.
To serve, mound three small piles of coleslaw on a plate, place a crostini on each mound and spoon olive mixture over the fish. Optional: garnish with green fennel fronds.
For more great fish recipes click here.