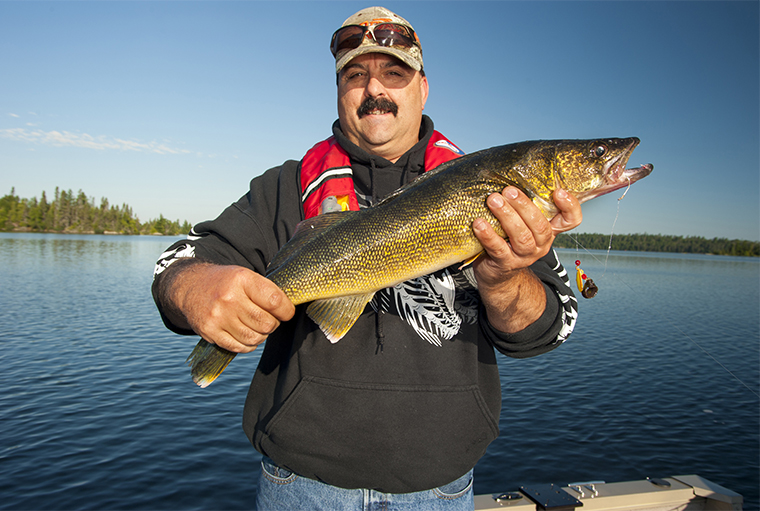 You should talk to my Uncle Serge," said Yannick Loranger when I tell him I'm heading to Lake Temagami. "He's got the walleye figured out."
Yannick is a fishing guide and OOD contributor. After hearing where I am headed, he graciously puts me in contact with his walleye connection in Temagami — his uncle, Serge Léveillé.
I have a photo shoot nearby for Ontario Parks. It makes sense for me to take a few extra days to angle while I'm in the neighbourhood. So on a warm evening late in July, I pull into Finlayson Point Provincial Park and join Serge and his wife, Wendy, at their campsite. Although we have never met, we are quickly acquainted. We swap hunting and fishing stories around a crackling fire before Serge and I plan a rendezvous for 6 a.m.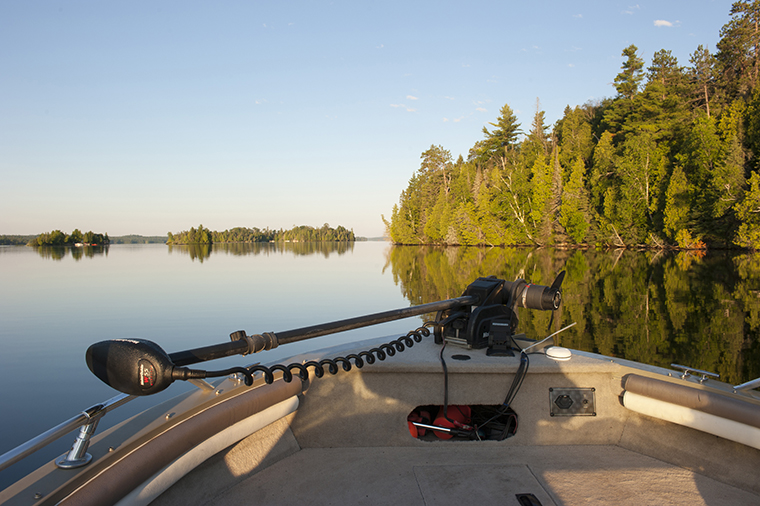 Down to business
The rising sun is just starting to cast light upon the park's pine-enveloped boat basin. Serge and I load walleye gear into his boat and idle out through the narrows at the northeast end of the lake. Large cottages are built along the angular granite cliffs of the mainland and sloping contours of the small islands that dot the lake. A glance at the sonar shows a wildly fluctuating bottom and a survey of the clear water betrays rock shoals. These loom just outside a series of channel markers that guide us into a widening of Temagami's northeast arm.
After a short run, Serge throttles back the 115hp in the middle of a wide bay and springs into action. He grabs two rods with line-counter reels before pulling out two nylon drift socks. "I like to troll with the main motor," he says as he sets a drift sock on each side of the 17-foot boat. "This keeps it down to about 10 miles per hour."
The Earlton resident uses a classic three-way swivel rig, with a heavy bell sinker about 8 inches below one swivel, and a 3-foot leader followed by a spinner rig off the other. Serge impales a leech with the single hook and lowers the rig to bottom. I follow suit and, after letting out about 90 feet of line, I feel my bell sinker tapping bottom at 30 feet.
Serge started fishing Temagami about a decade ago, when his son was working at Finlayson Point Provincial Park. First he targeted lake trout then gravitated toward walleye, noting that most area anglers still-fished shoals in the evening. "I hate still-fishing," he said, "so I started trolling deeper water by day."
I ask why he started fishing this particular stretch of water. "You'll see," he said, pointing to a series of GPS waypoints on his fish finder. "I drove over it one day and it looked really interesting."
Spread throughout a broad area of 30 to 40 foot depths is a complex array of structure: gradual rises, sharp breaks, and house-sized boulders. We approach one shoal that tops out at 17 feet and Serge sets the hook. Although we'd already caught a few tiny smallmouth bass, Serge assures me this is a walleye and I eventually swing the net under a deep green 23-inch Temagami 'eye. We bolster this catch with a few more fish, but the hot sun and flat-calm water inspires a mid-morning boat ride.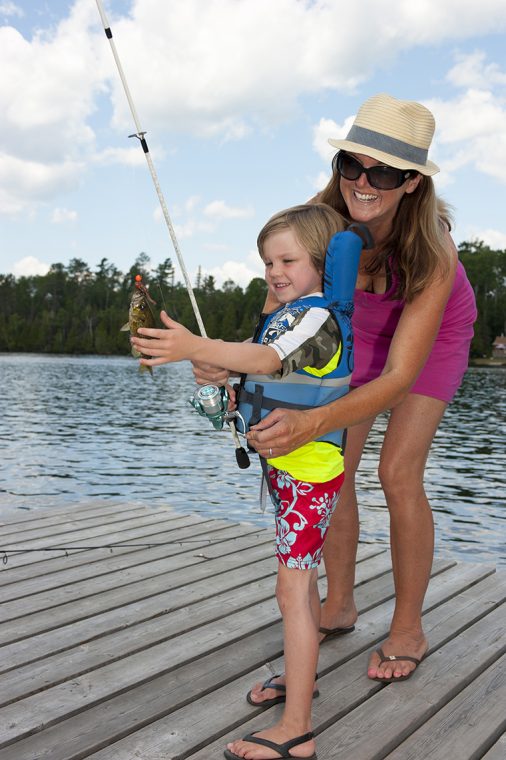 Angling headquarters
We double back, past the rocky cliffs and natural sand beaches of the park to where Highway 11 meets the town of Temagami at the northeastern extreme of the lake. Here Serge points to the marina, boat launch, restaurants, seaplane base, and canoe and camping outfitters at the waterfront town of fewer than 900 residents.
Back at the park, I spend the sun-drenched day exploring the angler-friendly campground. Not only is there a boat launch and protected boat slips, but I watch children catch rock bass from the docks and anglers process their catch at the fish-cleaning station. Accommodations include secluded tent sites, RV sites with electricity, and even a luxury waterfront cabin known as the Temagami Cabin, all laid out amongst towering red and white pines.
Foul-weather fishing
Serge is unfazed by the weather the next morning. Perhaps he knows that the slight breeze and heavy rain may trigger better fishing. We slide on rain gear and head to the walleye grounds. Almost immediately Serge is on the board with a beautiful 24-incher and the bite is on.
After landing several 3- to 4-pound walleye, I replace my spinner rig with an F13 Original Floating Rapala in black and gold. Serge's initial skepticism evaporates when I lean into a fat 26-inch fish that would end up being the largest of the morning.
It becomes obvious that we're both oblivious to the pouring rain, especially when angling large and aggressive fish. We discuss the wisdom of heading back to the campground throughout the morning but never act upon it. It's early afternoon before we return, after releasing half a dozen walleye over the 18.1 to 23.6 inch slot size and keeping a few fish to eat.
Scratching the surface of this immense system has been an 'eye-opener and I wonder how many more walleye spots await discovery.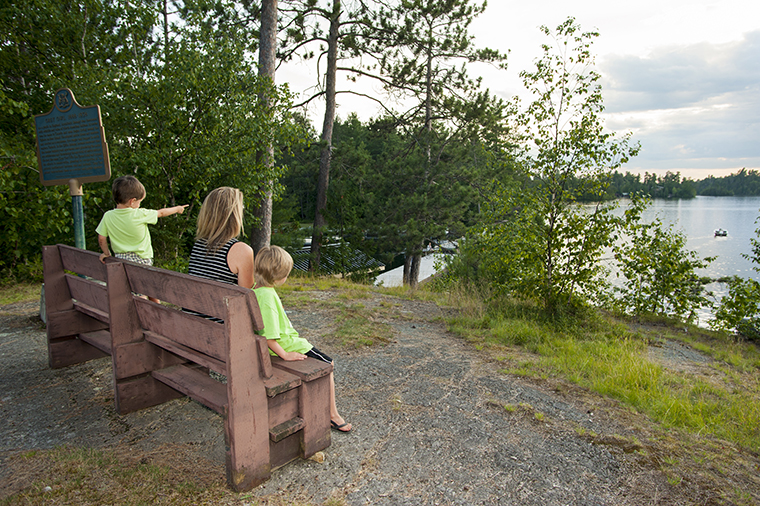 Get all the details on ice-out walleye on Rainy River here.