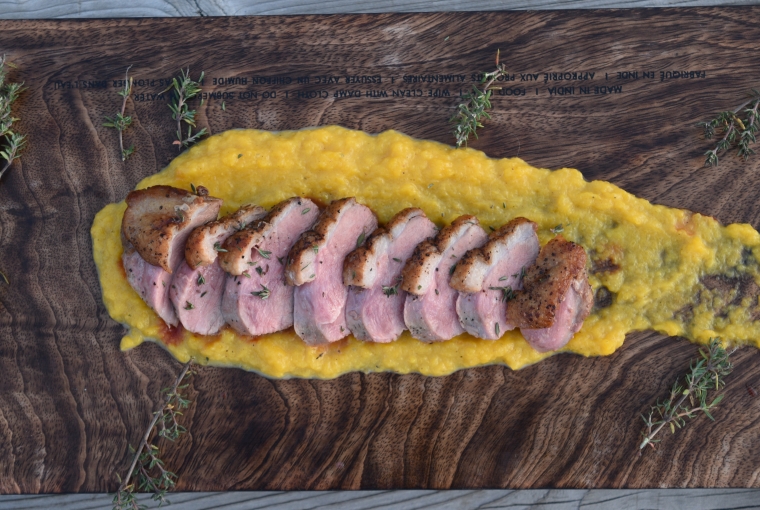 Since duck is actually a red meat, the breast should be served medium rare to keep it succulent and tasty. Feel free to try this recipe with other puddle ducks as well.
Ingredients
Serves 2
• 2 tbsp olive oil
• 4 mallard breasts, boneless, skin on
• 1 tsp garlic powder
• 1 tsp kosher salt
• 1 tsp cracked black pepper
• ½ orange, zest only
For squash purée
1 medium butternut squash, peeled, insides scooped out, chopped
2 tbsp butter
1/4 cup cup 35% cream
1/2 tsp ground nutmeg
1 tsp maple syrup
Salt and pepper to taste
Cooking
1. Bring 1 litre of water to a boil in a pot. Add butternut squash and boil until tender. Drain water.

2. Add butter, cream, nutmeg, and syrup. Mash all together until smooth.

3. Season with salt and pepper. Keep warm.

4. Score the skin side of the duck breast in a crisscross pattern.

5. Season duck breasts on both sides with garlic powder, salt, and pepper.

6. Place duck breasts, skin side down in a sauté pan. Place pan over low to medium-low heat until the fat has rendered and the skin is golden brown, 10-15 minutes. Internal temperature should be 125°F (rec­ommended doneness).

7. Remove duck from pan and set aside to rest for 5 minutes. Slice duck into 4 or 5 strips.

8. Spoon some of the squash puree onto a plate and place sliced duck on top.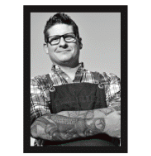 Andrew Rochon is OOD's food editor. You can follow more of his culinary adventures on Instagram: @wilderness_chef
Originally published in the Nov.-Dec 2019 issue of Ontario OUT of DOORS.
For more waterfowl stories, click here